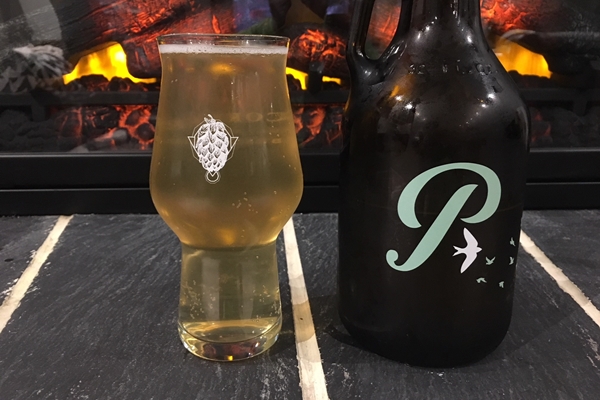 White Rock Brewing is a lesser known, but fairly interesting nanobrewery nestled in the heart of Surrey. They have a small tasting room with high ceilings and plenty of natural light. This is complemented by small-batch beers on tap, four at a time. Not even brewing a hectolitre, this gives White Rock Brewing the flexibility to change their beers regularly and to make changes to recipes on the fly.
B.C. Beer Reviews: White Rock Brewing – U13 White IPA
The White IPA is a style known for its light body and citrus and floral characteristics. It has a strong presence of both of these in the aromatics, and the bitterness can range from moderate to high, with citrus again being the main player in this.
Let's see if White Rock Brewing got this style spot on.
Colour
This beer poured a fantastically clear and pale yellow from the crowler I brought to fill. In the glass, the clarity stays much the same, and the colour only gets a bit deeper. A nice bright yellow colour with fantastic clarity. This makes for a very nice start to this beer.
Nose/Aroma
The first thing you get in the aromatics is a very bright citrus note. It could easily be interpreted as grapefruit. The fleshy body of the grapefruit with a slight hint of the bitter peel as well. It is a very nice note to start off with.
There is also a very distinct floral aromatic. It is hard to put a finger on what exactly it is, but it is quite nice and compliments the grapefruit notes very nicely as well.
The other note that you smell from this beer is coriander. Coriander can be very overwhelming in even the smallest of amounts, but this one has found the balance. The coriander does not monopolize the aromatics of this beer and is more of a side note than anything else.
Tasting Notes
Much like the nose/aroma, the tasting notes start off with grapefruit notes. This time around it comes off more as the bitter peel of the grapefruit rather than the fleshy fruit part. It has a pleasant level of bitterness to it from this note.
On your palate is where the coriander really starts to shine through. That spicy note and floral characteristic you can get from it comes right after the grapefruit and lingers long after you finish each sip. It does not overpower you, but it announces itself quite boisterously.
There is a crispness on the finish of each sip that is a nice balance of both the bitterness and the carbonation. There are cascading bubbles throughout that help to accentuate the level of bitterness.
Other Notes
Being a nanobrewery, White Rock Brewing has yet to can or bottle any of their beers. The branding of there logo, however, keeps it fairly simple. Almost cursive writing of their name in white lettering is underlined by red.
As stated in the tasting notes the carbonation level is quite high. There is a very noticeable bright and crisp note to the finish of each sip from both the hoppy and floral notes as well as the crisp level of carbonation. This beer is very nice in this aspect.
There is literally zero lacing on the glass from this beer. The glass is as clean as when you first poured it, and hopefully, that is nice and clean.
Final Grade
Grapefruit, floral and coriander notes come at you in both the aromatics and the tasting notes. This is complemented by the high level of carbonation that makes this a nice crisp beer for the warmer months of the year. Small things could be done to improve this one, but overall it points to the fact that White Rock Brewing makes some pretty decent adult beverages.
Grade: 7.2/10
Want to see a beer featured in B.C. Beer Reviews? Comment below with your suggestion.
And if you want to see all of the photos featured in these articles, and other awesome beer pictures, you can follow me on Instagram: nhendy5. You can also see much more concise versions of these reviews by adding me on Untappd: RedArmyNic.
Main photo by Nic Hendrickson, Lastword Inc., all rights reserved