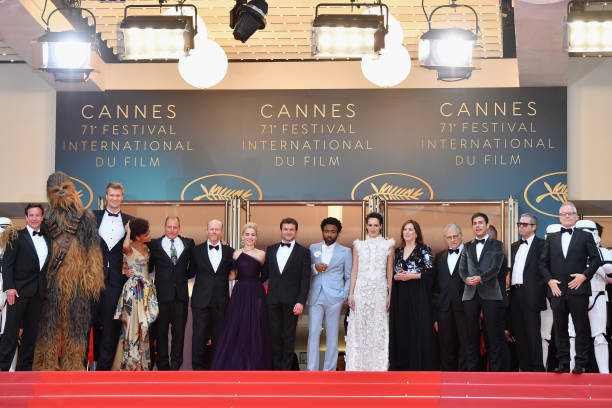 Solo: A Star Wars Story is the second Star Wars Story in the popular franchise. It was originally slated to be directed by Phil Lord and Christopher Miller, who notably directed both Jump Street films as well as The LEGO Movie. However, the directing duo was removed in the middle of production due to conflicting ideas with the studio, mostly regarding tone and style. Ron Howard was then brought in to reshoot the majority of what Lord and Miller had done and finish the film. This was one of a myriad of issues that plagued the production of this film. These production issues, combined with the divisiveness of The Last Jedi, had Star Wars fans on edge about this entry and wary about the final product.
PLAYING IT SAFE
SCRIPT
Solo: A Star Wars Story follows a young Han Solo (Alden Ehrenreich) and his journey to becoming the cocky pilot/scoundrel that fans met in A New Hope. The filmmakers chose to tell this story in the form of a heist film with a western flare. In the film, Han joins a heist crew on a job to intercept a shipment of "hyperfuel coaxium." He then plans to use his take of the heist to buy a ship to return home. From this premise, the story goes in to how Han met some other beloved characters, namely Lando Calrissian and Chewbacca.
The story itself, while entertaining, felt like one giant vessel for fan service. Some of these "fan service" elements happened rather organically, others felt brutally forced. While there were some twists and turns along the way, the story as a whole played it relatively safe. It happily stayed in the shadow of the original trilogy and never made much effort to explore new ground. While undoubtedly fun, the story itself left something to be desired.
CHARACTERS/PERFORMANCES
Solo: A Star Wars Story features many familiar faces (Han, Lando, Chewie) as well as some newer faces. These newer faces include Qi'ra (Emilia Clarke), Tobias Beckett (Woody Harrelson), and Dryden Voss (Paul Bettany). While these new characters were welcome additions and worked well in the overall story, the highlight was truly the portrayal of the original characters. Alden Ehrenreich quelled all worries about his abilities to portray Han Solo. He hit the perfect balance of capturing the attitude and feel of the character without doing a straight up Harrison Ford impression.
Donald Glover, as many suspected from the trailers, nailed it as Lando Calrissian. Joonas Suotamo, who picked up the mantle of Chewbacca in The Last Jedi, continued to prove that he is a worthy successor to Peter Mayhew. Chewie had a lot to do in this film and it was a blast to see him in action again. The performances, across the board, were the true strength of this film and a major reason why it ended up being as fun as it was.
DIRECTION/CINEMATOGRAPHY
As previously stated, Ron Howard took over the director's chair midway through production. I view Ron Howard as the ultimate "safe pick" at director. He rarely delivers a poor final cut but he just as rarely hits home runs. He's like the Marvin Lewis of directors. For this film, he teams up with cinematographer Bradford Young, who's coming off some fantastic work in Arrival. Much like in Arrival, Young chooses to utilize zoomed out wide shots for scale. While it doesn't work as well as it did in Arrival, that technique still serves some scenes in this movie well. Bradford Young is an up and coming cinematographer to watch.
VERDICT
Solo: A Star Wars Story, while a fun and entertaining ride, is very vanilla. The story has plenty of easter eggs for longtime Star Wars fans with very little in the way of substance. The performances were strong across the board, with the highlights being Alden Ehrenreich and Donald Glover. Overall, Solo: A Star Wars Story is a package of fan service wrapped in a heist film and tied in a space western bow and placed neatly under tree of the original trilogy.
3/5 Stars
66%
This article was originally published on Letterboxd. Follow my Letterboxd page at letterboxd.com/fanreport for more movie related content, including past reviews and various top 10 lists. As always, be sure to check back with LWOS.life for more movie articles and reviews coming your way.
Main image credit: