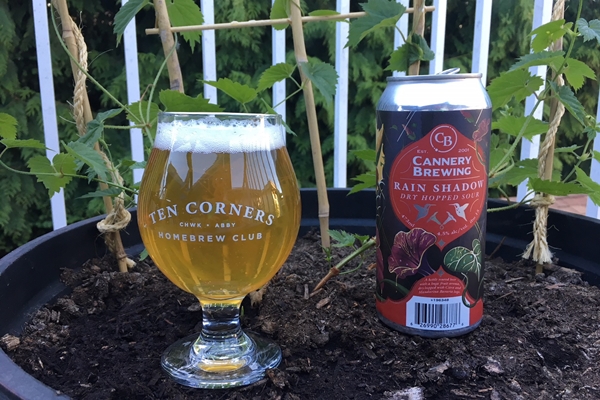 Cannery Brewing has recently undergone a makeover in their labeling, and the attention to their beers has followed suit. B.C. Beer Reviews is here today to take a look at Rain Shadow. This brew is a dry-hopped sour that has been dry-hopped with Citra and Mandarina Bavaria. Talk about a summertime beer.
B.C. Beer Reviews: Cannery Brewing – Rain Shadow Dry-Hopped Sour
The description at the bottom of the label reads as such: "A kettle soured beer with a huge fruit aroma, dry-hopped with Citra and Mandarina Bavaria hops." And today we will be seeing, smelling and tasting if it measures up to that.
Colour
This beer pours a rather clear golden straw colour from the can. In the glass it is much the same, having a fantastic clarity to it. It is very much within the SRM of a Berliner Weisse.
Nose/Aroma
The most distinct fruit aroma that you get from this one is mandarin orange, something that is a direct effect of the Mandarina Bavaria hops. It is a light sweet citrus aroma coupled with the tart scent of the beer. This combination is a very pleasant one overall.
There are other citrus fruit aromatics coming off this beer, but they are hard to put a finger on. Light hints of possibly lime or lemon are very much in the background. They are there just enough to be noticed, but not enough to say they are the main player in the aromatics of this beer.
Overall, this is a nice citrus fruit smelling beer with a noticeable scent of tartness and citric acid. This is definitely a beer made for the warmer months of the year.
Tasting Notes
The tasting notes are virtually identical to the nose/aroma. The mandarin orange aroma follows through in the tasting notes, undeniably becoming the strongest note here. Once again, this is complimented by a rather light tartness that is both approachable and pleasant.
Once again, on the back end is a light taste of citric acid that could very easily be categorized as either lime or lemon. This adds a refreshing character to what is an otherwise very tasty fermented beverage.
This is just an overall very easy-drinking and smooth sour beer. The Mandarina Bavaria hops are most certainly at the forefront of both the tasting notes and the aromatics.
Other Notes
The branding, as stated in the opening paragraph, of Cannery Brewing has undergone a recent facelift. A matte navy blue label has intercrossing thin lines with flowers and hummingbirds here and there. This is a very clean and nice label.
The head this beer pours is rather insignificant. The retention of that head is equally as insignificant as well. It dissipates as quickly as it shows up. This is not uncommon for tart or sour beers.
There is a slightly above average carbonation level to this beer. This is a pleasant note to add to a citrusy and tart beer. Makes for a very easy drinking beer.
Final Grade
The mandarin orange from the hops is the main player in both the aromatics and the tasting notes. This is accompanied by a light and approachable tartness that makes for a very nice sour. This one was made for summertime.
Grade: 7.7/10
Want to see a beer featured in B.C. Beer Reviews? Comment below with your suggestion.
And if you want to see all of the photos featured in these articles, and other awesome beer pictures, you can follow me on Instagram: nhendy5. You can also see much more concise versions of these reviews by adding me on Untappd: RedArmyNic.
Main photo by Nic Hendrickson, Lastword Inc., all rights reserved