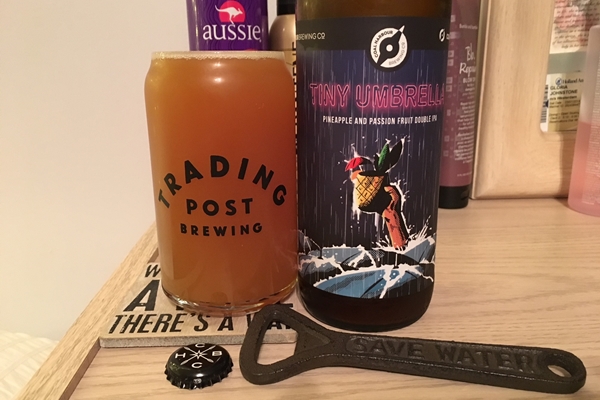 Coal Harbour Brewing has made themselves a well-known brewery in the past couple of years. Aside from all of the awards that Smoke & Mirrors has been winning they have been putting out quite a few tasty brews. B.C. Beer Reviews is here today to take a look at how they adapted a Douple IPA to be a summer brew. With pineapple and passion fruit, this is sure to be one heck of a wave to ride.
B.C. Beer Reviews: Coal Harbour Brewing – Tiny Umbrella Double IPA
Colour
This brew pours a deep orange colour from the bottle, and it is much of the same in the glass. This is a very close hue to what you would expect from South American Passion Fruit. It looks like the tropical juice bomb of an IPA that the B.C. beer scene has come to love over the past few years.
Nose/Aroma
The aromatics of this beer both match up with the name and what you expect from looking at it. Tropical notes of pineapple come through, and the passion fruit is also there, but very much in the background.
There is a light citric acid hunt to the aroma of this beer. This is a common characteristic for both of these fruits. It is nowhere near being powerful, but you certainly catch it after the initial juiciness of the fruits presented by this brew.
My mother always said to not judge a book by its cover, but that is not the case with this brew. What you see is what you get here. It is a tropical juice bomb of a Douple IPA. Both the passion fruit and the pineapple come out fantastically in the aromatics.
Tasting Notes
Once again, both notes of the pineapple and passion fruit come through nicely again. While they are somewhat competing with each other they do not overpower one another. Both are very noticeable here.
Aside from the tropical juicy notes there is a noticeable and approachable level of bitterness. While it is noticeable it is certainly not anywhere near a main player here. The juicy notes of tropical fruit help to mask it a bit and make this a very easy drinking summer brew.
There is a light citric acid tart note on the back end of your palate. It hits you at the end of each sip and it is a very nice note for this beer.
Other Notes
Unsurprisingly, primarily due to their track record here, the branding/labeling is very nice. There is a hand reaching out of a sea of larger umbrellas holding a drink in a pineapple with a very tiny umbrella to shield it from the pouring rain.
This beer does not have much head to it when poured. It could be aptly categorized as nonexistent and therefore there is no head retention to speak of.
There is a very light level of carbonation to this beer. It is just enough to suit the style, but not much else.
Despite a large amount of hops typically used in this style, there is very little lacing. Light patches of lacing can be seen here and there on the glass.
Final Grade
Both in the aromatics and the tasting notes this beer presents you with a tropical storm of pineapple and passion fruit. The light tart note in the aromatics and on the back end of your palate is very nice for a summer brew. While this is not exactly the style of beer many will stick to during the summer months, this is a tasty representation of the creativity of the B.C. beer scene.
Grade: 8.5/10
Want to see a beer featured in B.C. Beer Reviews? Comment below with your suggestion.
And if you want to see all of the photos featured in these articles, and other awesome beer pictures, you can follow me on Instagram: nhendy5. You can also see much more concise versions of these reviews by adding me on Untappd: RedArmyNic.
Main photo by Nic Hendrickson, Lastword Inc., all rights reserved