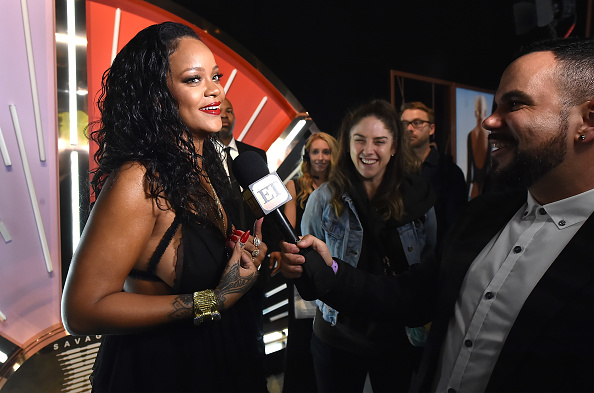 Rihanna is a great artist. People love Rihanna. Joel Embiid loves Rihanna. Basically, everybody loves Rihanna. But have you ever wondered what your day might be like if it were a Rihanna song? I bet you have. I bet you thought it would be pretty crazy – litty, perhaps even. Perhaps you thought Rihanna should announce the NBA Finals. Maybe you even thought Rihanna should host the Oscars ("Sit down ya little La La Land behinds, Moonlight is in the building! You get a Moonlight and you get a Moonlight and you get a Gosling!" -she turns into Oprah when she hosts the Oscars.) Let's see where RiRi takes us.
A Day as a Rihanna Song
I came fluttering in from Neverland (Consideration)
You arrive at work with a bang as you rock your favorite Tommy Bahama shirt to Casual Friday at the office.
b**** better have my money (B**** better have my money)
Next, you make your rounds to collect entry fees for this year's March Madness pool which you happened to win because you enjoyed Jay Wright's performance in Gravity.
b**** give me your money (B**** better have my money)
Dave does not have his entry fee which is a little annoying since you reminded everyone yesterday at the office's annual Mock Sock Hop hosted by Mel Kiper Jr. in which all attendees are required to wear mock turtlenecks.
pay me what you owe me (B**** better have my money)
After that, you take Dave's Rolex for collateral and point menacingly at a picture of his family.
now I'm four five seconds from wildin' (Fourfive seconds)
You have had it up to here *gestures above head* with your co-workers and you are about to go HAM on the office.
I swear I wish somebody would dare me (fourfive seconds)
You are on the edge.
oh, let the jameson sink in (cheers (drink to that))
From there, you mix a few shots of Jameson in your coffee and begin the process. Your nickname should be "The Process" because you are in the process of getting messed up at work.
I'm going dumb with all my friends (Pour it up)
You slip up and call your co-workers your friends to drink with you; you always were like a big, happy family anyway.
time to giddy up (rude Boy)
After a few drinks, you put a lampshade on your head and the rest of the office joins in on the fun.
patron shots can i get a refill? (Pour it Up)
Patty from accounting begins working the bar.
didn't they tell you that i was a savage? (needed me)
You mumble this to your boss.
white girl wasted on that brown liquor (wild thoughts)
Patty pours with a heavy hand, clear eyes, full heart and can't lose.
my b****** go bvalgari (Phresh out the runway)
Then, you think you are The Situation on Jersey Shore and begin showing off your abs at the drop of a fedora.
Looking so bomb, gonna find me a honey (Cheers (drink to that))
You decide to find you a honey in the office because of the way you rock that Tommy Bahama shirt like a Sears catalog model.
Go on, be gone, bye bye, so long (fading)
However, your advances are quickly rebuffed by Patty after you tell her her Moscow Mule copper mug compliments her fingernail polish and she tells you that her nails are not painted.
I'm too lit to dim down a notch (wild thoughts)
You curl up in the fetus position underneath your desk and begin The Process of not vomiting at work; another reason why Joel Embiid stole your nickname.
You know i got the sauce, you know i'm saucy (sex with me)
After a while, Dave comes in clutch and wins back your love with a massive Taco Bell order for the office garnished with many verde, mild, hot and fire sauce packets for your liking. You praise Dave for his sauciness and curse Patty for her prudishness.
Four o'clock and we ain't going home (pour it up)
Closing time has arrived at the same time as every other day, four o'clock, but today you are not going home because Dave took your keys when you were rummaging through sauce packets. So you set up a makeshift cot in your cubicle and tuck yourself in all cozy for 13 hours of intermittent sleep. Dave whispers, "Shine bright like a diamond", on a loop until you drift off into Neverland.
Main Image Credit:
Embed from Getty Images