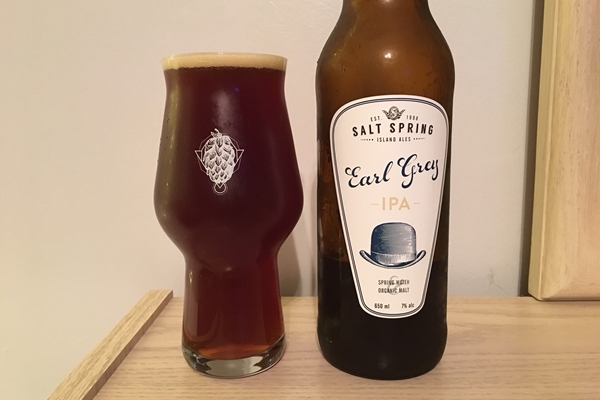 Coming off a small island that is home to seasonal tourism, Salt Spring Island Ales brings you the Earl Grey IPA. As it says on the label, this brew is the infusion of tea time and fermented wort. Infusing beers with teas is starting to become a popular trend and Salt Spring Island Ales may just be ahead of the trend.
B.C. Beer Reviews: Salt Spring Island Ales – Earl Grey IPA
While Salt Spring Island is not the most densely populated area of British Columbia that does not keep it from producing interesting and tasty beers. They infused a British IPA with bergamot, meaning this brew should be a well-balanced, floral and bitter one.
Let's crack the bottle open and see what Salt Spring Island Ales produced.
Colour
This beer pours a deep copper brown colour from the bottle. When the glass is full it is a much deeper brown colour that is common for a British IPA. This brew sticks to style nicely in its SRM, a good start towards producing a good brew.
Nose/Aroma
Much like the style dictates the malts are at the forefront of the aromatics of this beer. The specific notes you catch are caramel and bread from the malts. These are common aromatics of the style and of British beers in particular.
The bergamot aroma comes out as a side note to the malts. It is both subtle and present throughout. The bergamot aroma is smooth in its aroma and reminiscent of tea, which bergamot is very regularly used for. This is a nice note to go along with the malty backbone of the beer.
To put it more concisely, the malty and bergamot aromas are the more powerful of the aromatics. There is also a light floral aroma on the back end, but it is very much in behind the malts and bergamot.
Tasting Notes
There is a floral and herbal bitterness that comes at you immediately and stays with you throughout and after each sip of this brew. It hits the style nicely as it is not overpowering but is still a very clean bittering charge.
Once again the malts come out rather strongly in the tasting notes, much like they did in the aromatics. There is a light breadiness and a more noticeable caramel note from the malt/grain bill used for this brew. As stated multiple times before, this hits the style perfectly.
Other Notes
The labeling/branding is an off-white colour with navy blue lettering and a bowler hat on it. It is rather simple, but it gets the job done. This one is about as simple and straightforward as it gets.
There is a moderate to high level of carbonation to this beer. It is enough to give this beer a nice clean crisp finish. It is a very nice finishing note to a floral and more malt-forward brew.
The head this beer pours is moderate. The retention of that head is moderate as well with the head sticking around long enough to be noticeable.
Final Grade
This beer hits the style it aims for quite nicely. There is a caramel and bready characteristic that you get in both the aromatics and on your palate. The bergamot comes through nicely and there is a distinct herbal bitterness throughout each sip. This beer is quite a nice representation of the style.
Grade: 8.0/10
Want to see a beer featured in B.C. Beer Reviews? Comment below with your suggestion.
And if you want to see all of the photos featured in these articles, and other awesome beer pictures, you can follow me on Instagram: nhendy5. You can also see much more concise versions of these reviews by adding me on Untappd: RedArmyNic.