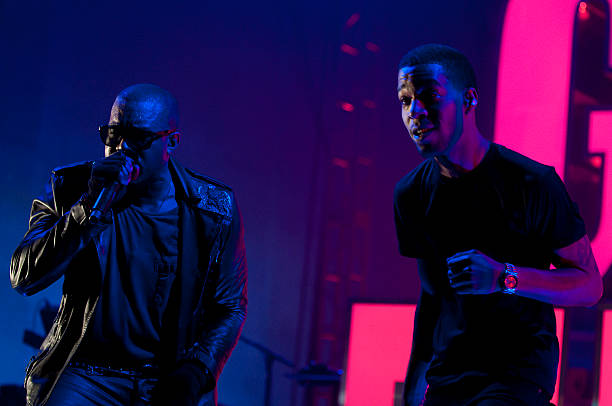 No matter what anybody says about Kanye West's outspokenness and brash personality, fans of West know to pay attention when he gets loud. Every Twitter rant and rash interview points to something big. West announced his collaboration with fellow artist Kid Cudi back in April to create the super-duo Kids See Ghosts. Together, the duo released Kids See Ghost, a bona fide coup de gras that will ensure the legacy of both artists. Kids See Ghosts triumphs with a crucial message of positivity, strong production, and rich lyrics.
Kids See Ghosts Brings Out the Best in Cudi And West
Power of Positivity
A week prior to the release of Kids See Ghosts, West released Ye to polarized reception. West's masterful production was bogged down by the abstract conceptualization of his own issues with bipolar disorder. Cudi has missed the critical success of 2010's Man on The Moon II: The Legend of Mr. Rager. Kids See Ghosts is the album that fans yearned for.
During a time of political unrest, cries of social injustice, and an overall feeling of negativity, the duo's ability to bring positivity to the forefront truly encapsulates the importance of the album. The opening title "Feel The Love" juxtaposes a yearning from Cudi who "can still feel the love" while West utters guttural screams of "grappa ga da da ga." This framework creates the base of the album: we need to keep positivity in mind in spite of constant negativity and disconnect in the world.
Feeling Free
Each song seeks to fix the beaten down. "Freeee (Ghost Town Pt. 2)" finds peace in being true to oneself. West and Cudi take confront their own issues: West's constant battles with his critic's views and Cudi's own demons that truly defines his own style. "Reborn" speaks to both of these issues more openly. West's verse seeks to find solace in his own isolation, a feeling of feeling that all of this is a game to Mario, referencing how fans see his life and personal views.
As much as West brings upon his own criticism, West puts forth a vulnerability of his own inability to be his vocal self. Meanwhile, Cudi looks inward to his own internal issues of feeling worthless and insecure. Yet, Cudi's desire to "keep moving forward" serves as the true north for troubled souls. Ultimately, the duo shines by being themselves and dismissing the negativity around them. Kanye West brings his signature aggression and brutal honesty that has made him a living legend. Cudi shines by exposing his vulnerability in an honest way that harkens back to Man on the Moon II.
Kid Cudi is the Heart of the Album
While it would be unfair to Kanye West to suggest he isn't as crucial to Kids See Ghosts as Kid Cudi, Cudi's presence in the album ultimately defines the trues success of the record. From the top, we hear the sonic influence of Cudi. Cudi's signature low-key beats haunt each track. Mixing spooky, spacey, and mellow beats balances out West's aggressive verses and style. The album feels like a more coherent mix of Ye, and Cudi serves as the anchor. Cudi serves as a thoughtful voice there to guide West's seemingly ranting verses and ultimately leads to a clear thematic focus.
This is perhaps most noticeable in the final track, "Cudi's Montage," in which Cudi frames the narrative to stay strong while facing adversity and pleas to God to keep his faith through difficult times. West comes in for his most powerful verse that tackles the systemic injustices of young African-Americans growing up in the street. West's verse has the ability to make a powerful statement and an amazing song in its own right, but Cudi's ability to ground the conflict internally demonstrates his value to the collaboration. Ultimately, Cudi is the glue that makes this album an improvement over Ye.
Last Word on Kids See Ghosts
Kids See Ghosts is a much-needed win for Kanye West and Kid Cudi. West seems more focused and true to form than his previous go in Ye and Cudi returns to an artistic vision that has been missing since Man on the Moon II. This album will surely be looked back as an essential part of their discography and hopefully, the two will continue making music of this caliber.
Main Image Credit: