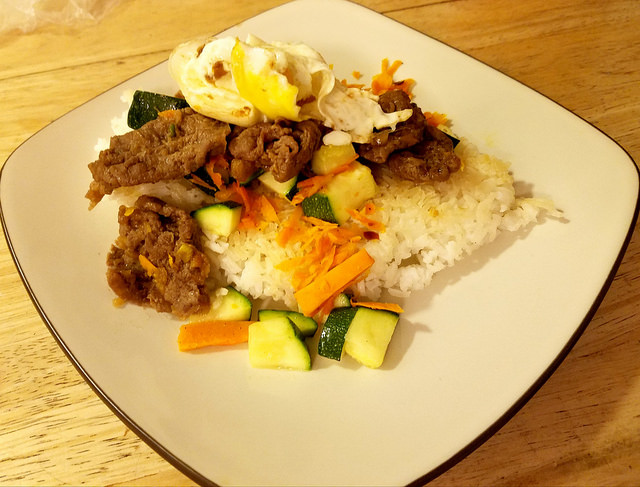 Spoon-Fed Facts is a weekly series that aims to share a few cooking tips alongside an enjoyable recipe to hone your cooking skills. It reviews the flavors, techniques, and equipment used in the culinary arts.
Spoon-Fed Facts: Bibimbap
Bibimbap is a traditional Korean dish involving a mixture of sauteed vegetables, thinly sliced beef, and white rice. Since its inception, the recipe has spread to many different countries and cultures, each with their own variations and interpretations. However, the fundamental components of bibimbap remain constant: prepared vegetables, rice, and thin meat. Coincidentally, many versions also go well with ginger root, which is the spice being profiled in this week's Spoon-Fed Facts. If you'd like to read more recipes and cooking tips using particular herbs and spices, check out the previous edition of Spoon-Fed Facts on Paprika.
Ginger root originally hails from South Asia, where it became an important part of many culinary genres, such as Chinese and Indian cooking. It can be used in either a fresh or powdered form, although the taste does vary. The dried form is more mellow and subtle, oftentimes appearing in sweet confectioneries like gingerbread, or drinks like ginger beer. Meanwhile, fresh ginger has a fragrant heat that doesn't perform well alongside sweet tastes.
Let's go ahead and try our hands at making this humble, worldly dish.
Ingredient List:
1 lb of thinly sliced rib-eye steak (1/8 of an inch)
2 1/2 cups of dry white rice
4 chives, sliced
3 cloves of garlic, crushed
1/2 of an Asian pear, grated
2 teaspoons of fresh ginger, grated
1/2 cup of soy sauce
1 tablespoon uncut cane sugar
4 tablespoons of sesame oil
2 carrots, grated
1 zucchini, cubed
1 teaspoon of red pepper flake
Fried eggs, one per plate
Salt and pepper to taste
Serving Size:
Serves six
Recommendations:
Choosing the veggies
As I said before, there are many different interpretations of this dish. We'll go over a rather common model for bibimbap in this week's Spoon-fed Facts, but feel free to deviate a bit with the ingredients. Maybe instead of zucchini and carrots, you'd prefer onions and spinach or cucumber and radishes; many options exist and are a quick search away. Try branching out from written instruction and explore a few tastes in the safety of your kitchen.
Slicing the meat
So the style of meat needed for bibimbap is called "bulgogi," and it is a thin cut of a steak (usually rib-eye, but sirloin is also acceptable) around 1/8 of an inch thick. Don't try to cut this yourself with a regular chef's knife; I don't care how sharp you think it is. Using a knife for cuts this thin could do a lot of damage to your fingers, the steak, or the consistency of the pieces. Instead of getting surgical, use an electric meat slicer or shop for pre-cut bulgogi at a Korean grocery store. Of course, if you're like me and you have neither of these things nearby, you can also simply ask your butcher to slice the meat for you when purchasing the steak.
Garnishing the dish
Ideally, the ingredients of bibimbap are presented in a sort of color wheel before being mixed together in the bowl. They are laid atop a bed of rice along with a single fried, or raw, egg. I've personally made this dish with both cooked and uncooked eggs, but I wholeheartedly recommend you fry yours. Raw egg does cook a bit when added to a hot dish, but it quickly creates a gummy consistency on the food which many would probably find unpleasant. Additionally, the crispiness of the rice also causes it to go well with a firm, fried egg.
Instructions:
Step 1)
Combine the soy sauce, pear, ginger, garlic, sugar, and chives in a mixing bowl, then add the beef. Stir to make sure the meat is evenly coated then chill and marinate, covered, overnight. Then, let the bulgogi mixture reach room temperature.
Step 2)
Prepare the rice according to the package instructions. Next, coat a large nonstick pan with a tablespoon of sesame oil and put it on medium heat, and then pat the cooked rice into an even layer. Rotate the pan periodically to avoid burning, but do not disturb the rice. Cook for 15 minutes to crisp the rice to a golden brown.
Step 3)
In another pan, cook the zucchini in a tablespoon of the oil over medium heat with the red pepper flake. Cook for about 15 minutes or until the zucchini is tender. In the final five minutes, add the carrots to the pan and saute. Use additional oil if necessary.
Step 4)
Finally, heat the bulgogi mixture in the remaining oil over medium heat in batches to avoid crowding the pan. Leave space to turn and move the pieces of steak. Brown and cook the meat all the way through, about 3 to 5 minutes per batch.
Step 5)
Place a bed of rice on a plate, then cover in beef, followed by add-ons with the egg on top.
Last Word on Bibimbap
My absolute favorite part about this recipe is the left-overs. It's a filling meal that can be spread out over the course of a week, and with the collection of unique variations of bibimbap, there's plenty of room for variety if you want to change it up a bit. A bit more heat could be added with some chopped peppers, or sweetness with some butternut squash. What's more, it's deceptively simple to cook once you've gathered the more unusual ingredients. All in all, the appeal and longevity of this Korean staple is certainly understandable after having a taste.