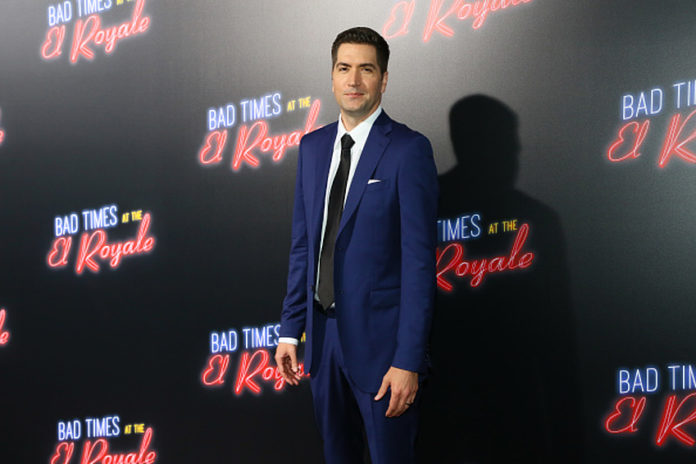 October is a competitive month. We have Oscar contenders like A Star Is Born, and First Man already staking their claim for awards season, Halloween fright nights like that Suspiria remake and, well, Halloween, and small-scale dramas like The Hate U Give, Wildlife, and Mid90s. This month is packed. So what did I go see? The next film by the guy who made Cabin in the Woods, that's what! 
Bad Times at the El Royale 
Review
Bad Times at the El Royale is an original, mid-budget drama, suspense thriller, about singers, priests, vacuum salesman, and liars. And some of those things are the same. The story follows seven strangers who all show up at the El Royale, a once thriving, now rundown motel, with a staff of exactly one, that lies directly on the border between California and Nevada. Why? Because it's colorful, that's why. Now sit down and watch.
The strangers each take to their rooms, and we learn (through flashbacks and delightful little title cards like something out of Clue) that absolutely none of these people are exactly who we thought they were. As day turns to night and blood and rain begin to pour in excess, these men and women come to realize that this is going to be the longest night of their lives and that nobody is coming to help them.
To give any of it away would be to spoil the fun. I already think that the trailer reveals far too much, but suffice to say, we are dealing with thieves, cult leaders, drug addicts, dreamers, and the US Government. As the title suggests, this is a pulp thriller, closer to Tarantino than Agatha Christie, in which multiple crimes happen simultaneously, and nothing is as it seems.
The Rap Sheet
Pressure cooker movies are only as good as their cast of characters, and Drew Goddard has assembled a game ensemble.
The arguable lead of the film is Father Daniel Flynn, played by the legendary Jeff Bridges. Bridges is perhaps the warmest actor in show business, second only to Tom Hanks. And with age, he has only become more sympathetic. He will forever be known as The Dude, and rightfully so, but here he plays a priest with a heavy conscience and a lot on his mind. There is a scene between himself and the singer, Darlene Sweet, over a couple of pies, that brought me to tears. If he gets nominated for an Oscar (he won't because these types of movies never get nominated for squat unless they're written by Tarantino) they will use a clip from this scene. You'll know it when you see it.
Jon Hamm plays a vacuum salesman with a slick tongue and an eager demeanor. I've really enjoyed Hamm's career post-Mad Men. He looks like he's just happy to be in anything, be it Black Mirror or Baby Driver, and I appreciate his enthusiasm. That man is destined to play Mr. Fantastic in Marvel's Fantastic Four reboot, so we should appreciate him while he's here.
Cynthia Erivo steals just about every scene she's in as a singer with pipes of gold in a country and time that doesn't appreciate her. Her character's quivering voice and enormous eyes speak to a world of pain and uncertainty.
Dakota Johnson shakes off any Fifty Shades of Grey baggage you may have brought in with you with a confident, don't-mess-with-me attitude and a few secrets in her trunk. She's also in Suspiria this month, and I can't wait to see what she does next.
Chris Hemsworth pops up towards the end as a Charles Manson-type, with gyrating hips and no buttons on his shirt, apparently. I'm not going to tell you what's up with him but he has some of the best, most white-knuckle intense moments of the film.
The only weak links in the movie belong to the film's youngsters, Lewis Pullman and Cailee Spaeny. Spaeny brings little to her role as a drugged up, damaged waif, and Pullman, while terrific in his more anxious scenes, starts playing his character at a 9 with almost nowhere to go. By the end, he's a shuddering, blubbering, mess, but it's all something we've seen before.
But the star of this movie is Goddard, who made his big screen debut with the 2012 masterpiece, Cabin in the Woods. If you haven't seen this movie yet, I hate you. But I also envy you. You only get to experience that movie for the first time once and it's a treat. Cabin in the Woods proved that Goddard was adept at balancing humor, suspense, and intrigue, and more than capable at helming the frights in the night, but there he is deconstructing the genre, here he is embracing it.
A Hotel to Spend the Night In
As I mentioned before, the El Royale is nestled exactly on the border of California and Nevada, a red line bisecting the establishment. Room keys are handed to the guests with state shaped keychains. Jukeboxes, rotating pie vending machines, and taxidermy wolves ensure that you're never out of things to look at at the El Royale, and while I'm not sure the location will ever have the infamy and instant recognition of The Overlook, production designer Martin Whist of Down With Love fame deserves an Oscar nomination for his work.
The cinematography by Seamus McGarvey is warm and inviting. His camera work is both patient and tense, in a way that brings Orson Welles' Touch of Evil to mind.
Michael Giacchino is on hand for the music. Giacchino is one of my favorite composers working today. He's one of the only musicians capable of standing out in Hollywood blockbusters, (the score for Ratatouille is one of the best soundtracks of all time,) but here he's taking a backseat to the vocals.  Apart from a few choice moments, there is nothing here that couldn't be done by Peter Bretter.
The Cons…
The one thing I think might keep people away from this movie is the length. Like Quentin Tarantino's The Hateful Eight, this movie boasts an enormous, almost self-indulgent runtime of almost two and a half hours. The movie is never slow, but I did feel the length, especially towards the end, when a poorly timed flashback grinds the momentum to a screeching halt.
There are several elements of Cabin in the Woods that show up here that I won't spoil, but involve voyeurism, which seems to be an obsession with Goddard. This isn't a negative in and of itself, but the movie introduces things like government conspiracies, film reels, and surveillance, and I can't say I found the payoffs to be satisfactory or even present.
It's a shame that Tarantino seems to have a monopoly on colorful criminals locked in a place together. Truth be told, he's only made that type of movie twice, but when it comes to pulp fiction, it's his name you think of first, for better or worse, and I'd be lying if I said those connections didn't come up in my mind. Still, this is a fun thrill ride that had me clutching my face in anticipation and dread and on more than one occasion had me yelping in surprise.
Last Word On
Bad Times at the El Royale
Here's a sobering fact. Audiences "demand" original material. They thirst for tales that aren't "based" on a true story, a comic book, a roller coaster, anything. But when a solid, original movie comes out, with a story and characters somebody sat down and came up with whole cloth, those people are nowhere to be seen. As Mitchell Bennett pointed out on Twitter: The Nice Guys, Kubo and the Two Strings, Hereditary, Game Night, and Bad Times At The El Royale were all wide-release films, and all made less than Venom made in its opening weekend.
Combined.
Get off your ass and go see this movie.
For more movie and television reviews, check out LWOS Life: Entertainment.
Main Image Credit: