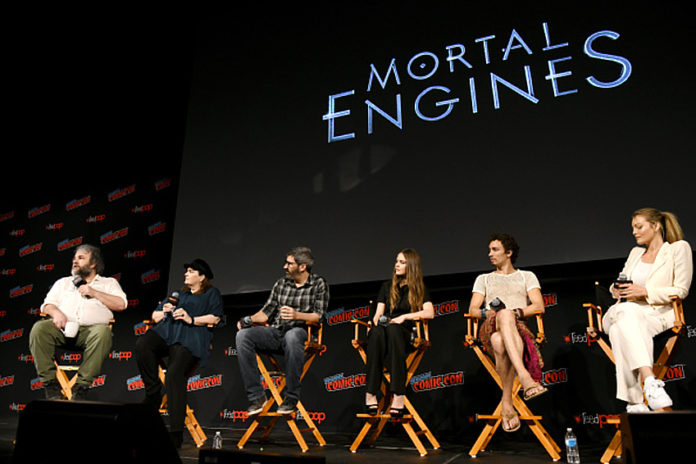 If you thought Allegiant marked the death of the Young Adult movie, think again! This month saw the release of the final trailer for Mortal Engines, the new film produced (key word) by Peter Jackson. What is the story? How does the film look? And why are people so outraged by a lead character with two eyeballs? Let's dive in.
MORTAL ENGINES Trailer Breakdown
The Story
Based on the 2001 dystopian Young Adult novel of the same name, Mortal Engines tells the story of Hester Shaw, a mysterious woman whose face is covered by a red scarf as she joins a rebellion lead by a slick outlaw named Anna Fang, to defeat the evil, tyrannical Thaddeus Valentine before he can devour the world. Oh, and he lives on a car the size of a city, or a city on wheels. It's pretty cool.
If you haven't guessed yet based on phrases like 'Young Adult novel,' Hester is more than meets the eye. She has a personal connection with Valentine, and she alone holds the key to the rebellion.
These movies have started to become like Mad-Libs in recent years, often feeling like movies you've seen before rather than their own thing, in much the same way that Divergent felt like a watered down The Hunger Games while The Hunger Games felt like a watered down Battle Royale.
A young woman with a mysterious past and a… SCARF must join forces with a woman named Anna… FANG to defeat the evil man who lives in… A MOVING CITY!
It also should not surprise you that this is the first in a series of novels, and that this movie is hoping to capitalize on the fading trend of YA material in an attempt to start a new franchise.
But what sets this movie apart from the rest is its pedigree.
The Crew
While the table-setting for this movie feels extremely familiar, the crew behind the picture is positively stacked with talent.
The film stars up and coming talent like Hera Hilmar as Hester Shaw, and Jihae as the preposterously cool looking Anna Fang. Seriously, she looks like a sidekick from Jupiter Ascending, and whether you liked it or not, that movie had a great aesthetic. And rounding out the cast is Hugo Weaving as Thaddeus Valentine, sporting excellent mutton chops we've not seen since his turn in The Wolfman.
But the real reason to see this movie is behind the camera. The film is directed by Christian Rivers, making his big screen (and big budget) debut after toiling in the art department of the Lord of the Rings movies for the past twenty years. He's also worked as a storyboard artist on The Hobbit series, The Lovely Bones, King Kong, The Frighteners, Heavenly Creatures, and Dead Alive.
Basically, what I'm saying is that he's been in the employ of Peter Jackson for his entire career and that seems to be the case this time, as Peter Jackson has his frequent screenwriting collaborators Fran Walsh and Philippa Boyens return to pen the screenplay for this picture.
The marketing certainly wants you to think Peter Jackson is directing this film, but he is serving as a producer, in much the same way as Steven Spielberg was involved in Back to the Future. Jackson has had his hands busy directing a World War I documentary, They Shall Not Grow Old, which was released in the UK earlier this month and looks astonishing. Fans of Peter Jackson will have to wait for his next picture, the long-awaited sequel to The Adventures of Tintin.
The film also features numerous Lord of the Rings alumni, including production designer Dan Hennah, costume designer Bob Buck, and cinematographer Simon Raby (who previously worked in the camera department for LOTR) as well as casting by Amy Hubbard and Liz Mullane. And all of this makes sense because the look of this film is terrific. The mobile cities, in particular, are a feast to behold (think Zodanga from John Carter but on wheels). I can't wait for the "Art Of" book to be released so I can pore over the concept art.
The Controversy
But not everyone is keen on this adaptation. As several articles have pointed out, this film has garnered a fair amount of controversy over the portrayal of Hester, with some fans crying foul.
The Hester of the books is described as being "like a portrait that had been furiously crossed out" with a permanent sneer, destroyed nose, and only one eye.
In an EW article, the director of the film has addressed this controversy but many fans, myself included, find the answer less than satisfying:
"It's fine in the book for Hester to be described to be ugly, hideous, and have lost a nose 'cause, even that, you reimagine it in your own mind as, 'Okay, yeah, she's ugly, but she's not really ugly.' Tom falls in love with her… and film is a visual medium. With a book you can take what you want and reimagine it in your head and put together your own picture. But when you put it on film, you are literalizing it. You are making it a literal thing, so it was just finding a balance where we need to believe that Tom and Hester fall in love. And her scar does need to be disfiguring enough that she thinks she's ugly — it can't just be a little scratch — and I think we've struck a good balance of it."
It is hard to look at this character who is horrifically described on the page and see her as anything other than beautiful in the finished product. This is not the first time characters that have been deformed on the page have been mercifully spared on screen, but it does reek of Hollywood's inability to present us with a heroine who isn't drop dead gorgeous.
It may be unrealistic to expect Hollywood to drop 100 million dollars on a movie about a deformed woman, but that doesn't mean that the fans' outrage isn't justified.
Will this controversy be enough to hinder the film at the box office? Have audiences had enough of young adult fantasy? Or will people come out in droves? It's hard to tell. For good or ill, this movie is emanating Jupiter Ascending vibes for me. Do you think this movie will fall into the same pit as so many other YA novels, or do you think this movie will break the mold and become the next Hunger Games? Check out the trailer and comment below!
Main Image Credit: