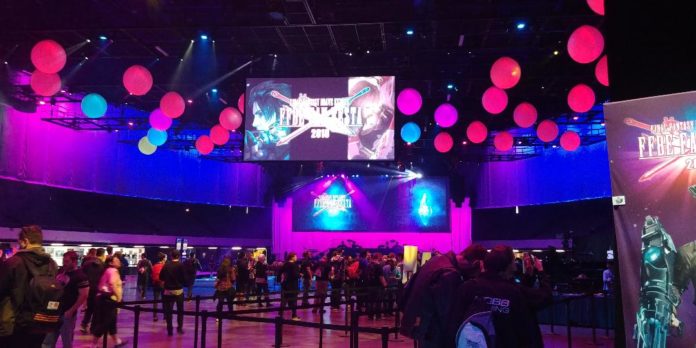 After what seemed like a long wait, finally, the 2018 Final Fantasy Brave Exvius Fan Festa kicked off today at the Long Beach Convention Center in Los Angeles, California. Fans of the game gathered from across the world in the name of their favorite mobile game. The event was hosted by the popular Twitch streamer, Claic Yuzolt, and Gumi Developer, Shaly. Japanese Producer Kei Hirono and Global Producer Hiroki Fujimoto were also front and center for most of the time. It was an action-packed day with plenty of announcements, activities, and even live music. Those who made it out definitely got their money's worth.
Ryan regularly contributes Final Fantasy Brave Exvius content. He recently put out an ode to the community, which can be read here.
Notes from Day One of the Final Fantasy Brave Exvius Fan Festa  
Setting the Stage
After attendees signed in and got all of their goodies and badge, they went into the main ballroom of the event. Immediately, they were greeted by a huge banner with life-sized versions of the game's protagonist vividly printed before them. The lights above were dim tints of blue and red, and fog machines near the stage gave a magical ambiance to the air. Each attendee donned the title of adventurer with a quest booklet to complete. These included finding hidden moogles throughout the area and participating in the many activities scattered about the place.
There was an inflatable obstacle course, a simulated 10+1 summon pull that let colorful rainbow crystals drop down on an enormous tablet screen. There was a place to take pictures with Malboros, a Behemoth, or even the lovable mage Sol. Players could enter virtual reality battles, or even take some of the Final Fantasy world with them by visiting the merch booth. Visiting various spots netted stickers of fan favorite Global exclusives like Chow and Christine.
There were cosplayers galore – from Brave Exvius originals like Fina and Nichol to classics like Cloud and Jecht. Some players exchanged game IDs to eternalize their friendship, while others took time before everything started to catch up on their digital quests. Anticipation was in the air.
New Content
The day started off by getting right into announcements for a ton of new content. First, there was an introduction to Fan Festa attendee's exclusive unit, Aurora Fryevia. She is a light-elemental version of many people's favorite Global Exclusive Unit, Fryevia. Many had already redeemed, leveled, and geared their unit, but just in case the team offered a crash course in how to use her. The highlight was the fact that if both Aurora and the original Fryevia are in a player's party at the same time, it unlocks a move called Aurora Storm, a light/ice hybrid damage move with a whopping 15x modifier. (The team also couldn't stress enough for attendees to redeem their ticket for Fryevia before 11:59 p.m. December, 9th.)
From there, the team went into the winter holiday event that will be coming soon. All old 5* bases White Knight Noel, Kryla, and Christine will get 7* awakenings. New units were announced as well, including Tiana, a magic attacker who will be able to quad-cast her magic (another Trance Terra chainer?). The other is Felix, who looks like a classic Nutcracker. The developers said that the will be a TDH hybrid chainer.
A Big Announcement
To conclude the new units announcements, Fujimoto did his best troll job. With a straight face, he proudly announced that Final Fantasy VII units Tifa and Vincent would soon be coming to global With them Cloud and Sephiroth will be able to be awakened to 7*. He asked if we were pleased by this. The crowd forced approval, already knowing full well that this was on the horizon from the Japanese game's schedule.
Then, Fujimoto spilled the beans – announcing to booming applause that Kingdom Hearts would soon be getting a collaboration event. A teaser trailer played on the projector detailing a sprite-version of the Kingdom Hearts protagonist, Sora. But it didn't stop there; Fujimoto also announced that Sora would not be the only Kingdom Hearts character that would be coming to Global. He left it for the fans to speculate on exactly who that might be.
Vision for 2019
As if the unit announcements were not enough, the team immediately went into what they called Visions for 2019. Basically, these are some Quality of Life improvements that are coming to Global soon into next year. A big one that many will love is that users will be able to link their game data to their Google account. Currently, players have to use either Facebook or their phone's storage for this, forcing many people to create Facebook accounts just to safeguard their data. This gives more options and will allow those who want to leave behind Facebook forever.
As far as in-game improvements, players should be on the lookout for an arena orb timer, so they know exactly when their orbs will replenish, much like raid orbs. Also, unit inventories will be split between battle units and enhancement units. This is great because with so many units in the game now, it can be tough to collect all of them, while still leaving room for Cactuars, Gil Snappers, and Stat Pots. Another great addition will be specific details of abilities. Players will no longer have to guess or go online to look up exactly what the percentage of an increase to stats a piece of equipment or materia gives.
Players should also be extremely happy to hear that Trust coins will soon be making their debut in Global. Trust coins allow players to exchange their fully Trust-Mastered units for coins that can be exchanged for things like Super Trust Master Moogles, or even prisms to awaken limited time units. Now players don't have to feel as bad with coming away with only one copy of a limited time unit like 2B, or Demon Rain.
Chocobo Appearance and More
No Final Fantasy event is complete without chocobos! The developers let the crowd of attendees know that Chocobo Quests, which are currently exclusive only to the Japanese game, will be coming to Global. These quests will let the units that are sent off gain trust during their time away. Finally, just when people thought it was safe to leave Facebook, the team demoed a new Chocobo racing game that would run on the platform.
Other highlights of the day included panels on story, lore, and art. There was a quiz that allowed everyone, even those watching the stream to contribute for in-game rewards. All of the cosplayers gathered together on stage to be judged by the developers. There was even a family of cosplayers that included Cloud, Tifa, a Chocobo, and a moogle. The night ended with a delightful symphonic concert hosted by The Orders. It showcased some of the best songs from the FFBE universe.
Last Word on FFBE Fan Festa Day One
Even with the wealth of information given during day one of the Fan Festa, Fujimoto proclaimed at the end that this was just the tip of the iceberg. He invited everyone back bright and early tomorrow. However, he warned that those who decided one day was enough would "regret it for the rest of their lives." Admittedly, many of the activities around the showroom were at capacity for most of the day. So, many of the adventurers will surely want to go back and finish what they started.
For a recap of day two's FFBE Fan Festa Click here!
Main Image Credit: