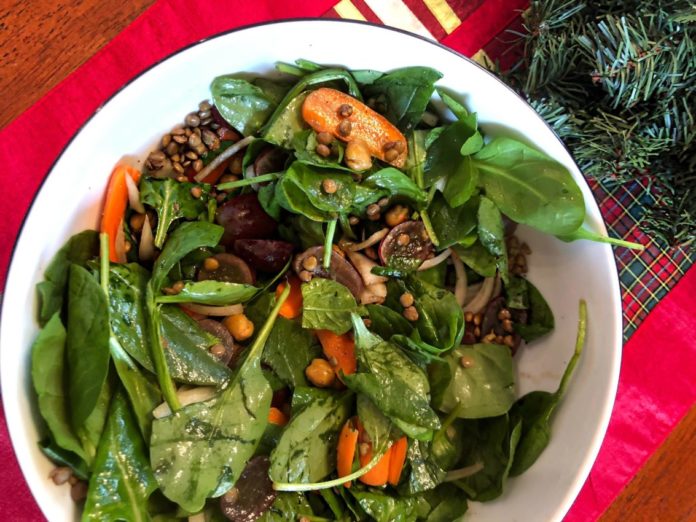 Reset your body and get your 2019 goals on track with this EASY spinach and lentil salad. All you need are simple ingredients and fifteen minutes.
Start 2019 off Right With Quick and Easy Spinach and Lentil Salad
If you clicked on this article, you either:
Enjoy eating salads and are excited to try a new recipe! Or…
Ate way too many pies, cookies, and cakes that your family made for the holidays and desperately need some greens in your body.
Either way, this spinach and lentil salad will refuel your body with necessary nutrients and give you the health kick you need. Packed with fruits and veggies you probably have on hand like carrots, onions, and grapes, it's almost too simple to throw together.
This salad can be enjoyed as a side dish or the main meal, which makes this the perfect pairing for any last-minute holiday parties or the lunch before the party!
This salad is:
Refreshing
Light
Crisp
Filling
Flavorful
and Juicy
Every good salad needs at least one fruit, so this salad is complemented with juicy red grapes. Tossed with carrots, onions, lentils, and spinach—you can't go wrong!
Plus, you can easily clean out your fridge with this salad and eat the rest of those vegetables you used for your Christmas meal. Some leftover celery from the stuffing would pair wonderfully in this salad!
As always, feel free to get creative and substitute or add ingredients you already have on hand. Cooking should be enjoyable, so don't stress if you have green grapes instead of red grapes. Make this recipe your own!
This spinach and lentil salad is tossed in a simple dressing of olive oil, balsamic vinegar, and cracked black pepper; it's almost too easy. Let's get started!
Spinach & Lentil Salad
Adjust these measurements as needed for your crowd size. This recipe will make a large, hearty salad for one or a side salad for two to four people. This salad tastes best when served fresh, but with a 15 minute prep time, you can throw it together in a pinch!
For the salad:
3 generous handfuls of spinach
¼ cup cooked lentils
1 cup red grapes
1 cup baby carrots*
½ Onion (I used a Vidalia! The sweetest onions.)
For the dressing:
2 tbs olive oil
1 tbs balsamic vinegar
Black pepper and sea salt to taste
Instructions:
If you haven't already, start by cooking your lentils. Add ¼ cup of lentils to a pot with ½ cup of vegetable stock or water and bring it to a boil. Once boiling, reduce to a simmer until lentils are cooked, about 15-20 minutes. Set aside to cool.*
Prepare a bowl and place your spinach inside of it. After slicing each ingredient, add it to the top of the spinach, waiting until all ingredients are added to toss.
Slice your baby carrots thin longways. You want them to be in thin enough strips that if someone bit into it off of their fork, they wouldn't be overwhelmed.
Slice your onion into thin strips longways. Break apart the layers as you add them to the bowl.
Slice your grapes in half lengthwise and add them into the bowl.
Finally, once your lentils have cooled, add them to the bowl of spinach as well.
Toss your salad with the olive oil, balsamic, and cracked black pepper to taste.
Notes:
If you don't have baby carrots on hand, don't sweat it! This recipe will work well with any kind of carrots. Just make sure to thinly slice them. You could even roast them in some olive oil, honey, and thyme for an extra hearty kick.
Prep your lentils in advance to make this salad even easier to throw together! Lentils are incredibly easy to cook, so put them on the stove in advance!
For more delicious recipes, check out LWOS Life: Food & Drink!
For more health tips, check out LWOS Life: Health & Fitness!