It's the weekend and you're staring at round two of the NFL playoffs. Hopefully, your team is still alive and you are hosting a house full of friends and family for the game. Or maybe you are having some of your die-hard football friends over to watch the second-round games. Either way, you are going to want a menu to that brings out your best. Last week we featured an easy menu for the Game Day Grillers who deserved a break after hosting a long season of tailgate delicacies.
This week we are bringing you menus that honor two teams alive in the playoffs. These are the New Orleans Saints and the Dallas Cowboys. To honor the Saints we have our Creole Pasta, and for the Cowboys our Grilled Texas Chili. We'll also have our infamous Cajun Mushrooms recipe to ride shotgun for your main courses.
Game Day Menu Tackles Round Two
Creole Pasta
1 large red onion cut into thin slices
1 large red pepper cut into thin slices
3 stalks of celery cut up (optional)
8-10 asparagus spears cut up (optional)
2-3 tablespoons olive oil
1 lb. smoked or Andouille sausage cut up
1 lb. medium 31-40 count raw shrimp peeled & deveined
1/4 lb. stick of butter
2 chicken breasts cut into thin slices
Grated parmesan cheese
1 lb. package of your favorite pasta (penne or angel hair work best)
Season to taste with Cajun seasoning, Lawry's, granulated garlic, black pepper, cayenne pepper (optional)
Pasta Time
Use a stock pot or extra-large skillet. Sauté the red pepper and red onion with your seasonings in olive oil until they're almost soft. Add the chicken breast and sausage, and simmer 10-15 minutes or until cooked through. Add in the shrimp and simmer until done. Cut the stick of butter up and add it into the pot, then turn the heat down to low. Follow the directions for the pasta you chose and drain when finished.
Once the pasta is drained, add it into the pot. Toss everything gently until it is covered with the melted butter and juices. Sprinkle grated parmesan as you toss the pasta.
Your guests will be immediately taken to Bourbon Street as they enjoy your Creole Pasta. Serve with the world-renowned Hurricane cocktail and then "Laissez les bons temps rouler!" = "Let The Good Times Roll!"
Grilled Texas Chili
Your guests may wonder why this recipe is called Grilled Texas Chili, but they won't after they taste it. Luckily for you, the only grilling needed is for the steak and peppers used in your chili. You'll be amazed at how your chili flavor changes using this grilling method. The meat and peppers bring that grilled goodness to the pot with them, which is nice. 
This recipe is made for a two-gallon pot, so you may need to adjust the recipe to fit the size of the pot you're using. You will also have to adjust the amount of spice and peppers to suit your tolerance for heat. This batch is around medium on the heat scale. Enjoy!
Ingredients
3 lbs. ground beef
3 thin sirloin or "charcoal" steaks
1 large/jumbo can of crushed tomatoes
1 large can of diced tomatoes
3 large cans (or one jumbo can) of Brooks chili hot beans
2 cans of red kidney beans
5 

jalapenos

 whole
5 

serranos

 whole
1 large onion chopped
1 12-oz can of your favorite beer (I prefer Labatt Blue!)
Chili powder
Granulated garlic
Cumin
Lawry's seasoning salt
Pepper
Ground cayenne pepper for more heat
Grill Time
Set up your grill with 25 coals in the center and light it up. While the coals are getting ready, toss your peppers in a plastic bag. Add in a drizzle of olive oil and all of your spices, then toss the peppers to spread the spices evenly.
Season your steaks on both sides with the same spices. Once the coals are ready spread them around evenly in the middle. Grill your steaks directly over the coals and place the peppers around the outside area. Cook your steaks to medium-well and the peppers until done with a slight char outside. Remove them and allow to cool.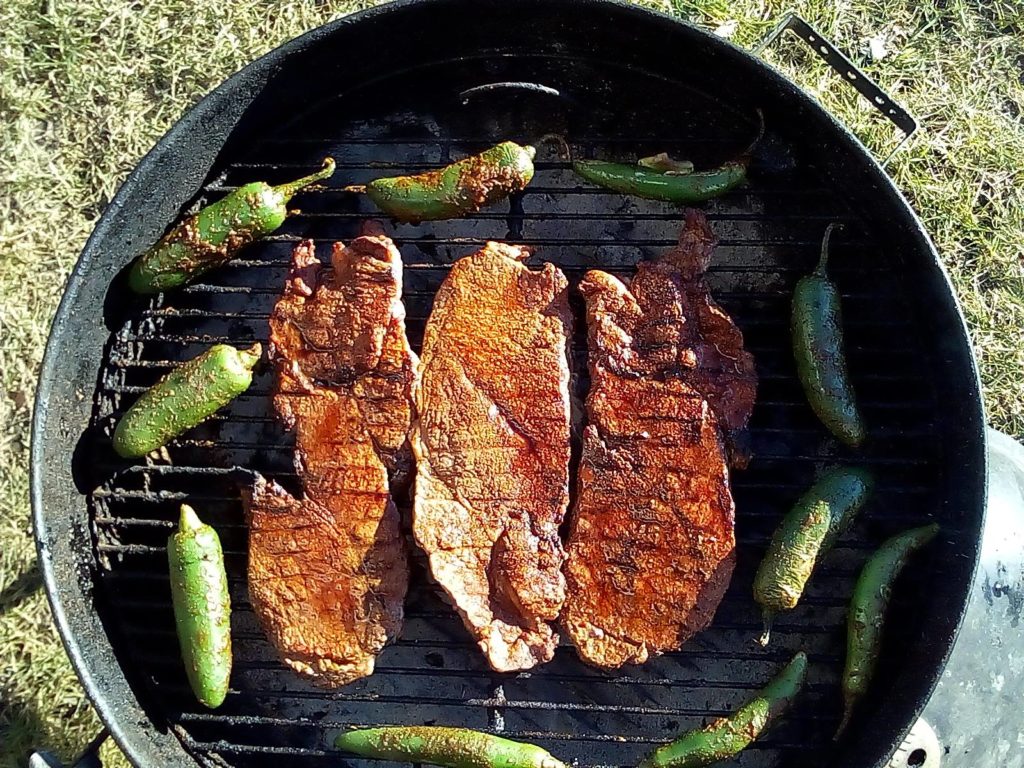 Once cool cut off the pepper stems and chop into small pieces. Do the same with the steaks making sure to sample a bit for quality control purposes. 
Chili Time
Add two tablespoons olive oil to the pot and sauté half of your chopped onion and the ground beef. Mash the beef as it cooks and add in your seasonings. After the beef is cooked, add in the peppers and steak bits. Stir and saute on low for 2-3 minutes. You'll notice the steak absorbs most of the beef fat, so this is the perfect time to add in the 12-ounce beer.
Continue to simmer and add the crushed tomatoes, diced tomatoes, and all beans. Taste and re-season as needed and simmer for an hour stirring the pot every 10-15 minutes.
After an hour, taste and add more seasoning if needed. Serve your Grilled Texas Chili with chopped onions, oyster crackers, and shredded cheese. 
Cajun Mushrooms
For those who love mushrooms, grilling Cajun Mushrooms will be a huge hit.
What You'll Need
White Mushrooms or Baby Portobello Mushrooms
Olive Oil
Salt & Pepper
Lawry's Seasoning Salt
Cajun Spice
Cayenne Pepper (optional)
Chili Powder (optional)
Cumin (optional)
Take the mushrooms and give them a good rinse under cold water, then snip off the end of the stems. Air dry or paper towel dry the mushrooms.
For easy cleanup, place the dried mushrooms in a gallon size plastic baggie. Drizzle in enough olive oil to coat the mushrooms thoroughly, Then sprinkle in the desired seasonings, and close the baggie. Shake the mushrooms until they are all coated in the seasonings.
Remove the mushrooms and grill them directly on your charcoal or gas grill. Be sure to grill them on all sides and remove them after they get a good grilled crust on the outside. Be sure not to overcook them!
Serve them with ranch or blue cheese dipping sauce or enjoy them plain. 
Game Day Menu Round Two
We have provided you an incredible menu for round two of the NFL playoffs. We'll be back next week for the NFL championship games honoring two more teams. Will the Saints or Dallas make it to the Championship round? I know a certain someone at LWOS Life who is begging for another feature of our Cajun and Fajita recipes if they do. Enjoy your weekend and get grilling!