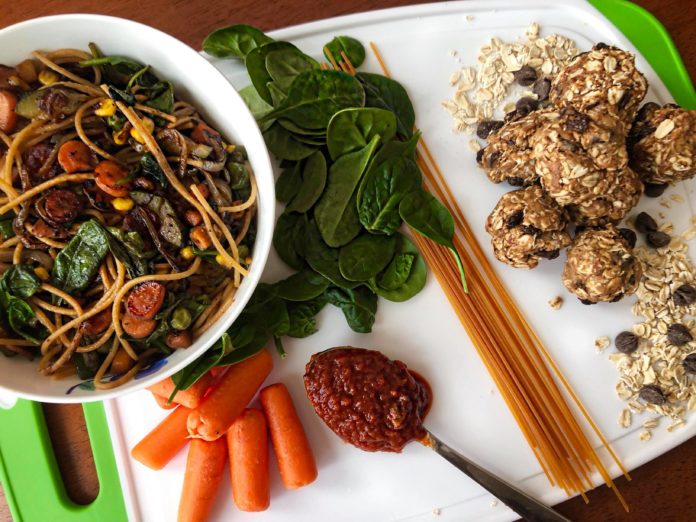 You've been curious about it for some time. Is eating gluten-free in one day really possible? With this full day's menu stocked with delicious gluten-free recipes, you might actually ditch gluten for a year. Or, maybe just a day.
Make Your Day Gluten Free!
You don't have to sacrifice flavor, taste, or the satiating qualities of a gluten-full diet to eat a day without gluten! This menu includes a breakfast, lunch, snack ideas, and a dinner. All of these recipes take minimal effort on your part so you can spend less time cooking and cleaning up. We're also keeping the cost low by using foods that are naturally gluten-free. Good food doesn't have to break the bank! Let's get started!
BREAKFAST
Morning smoothie:
Starting your day with a fruit and vegetable smoothie is a sure way to make you feel on top of the world.
Ingredients:
1 banana
1 handful of spinach
1 cup mixed berries (raspberries, strawberries, blueberries, blackberries!)
1 scoop of protein powder (Optional – SunWarrior is a great post-workout blend and gluten-free!)
1 cup of almond milk
Instructions:
Peel the banana and break it into pieces using your hands. Place in the blender along with spinach, berries, protein powder, and almond milk. Blend.
Pour this delicacy into a bowl and top it with your favorite gluten-free granola, or sip it on the go!
Notes:
For a darker, sweeter smoothie skip the strawberries! You can stick to blackberries and blueberries with a few raspberries. For a more bitter taste, add more raspberries.
Adjust the volume of almond milk to make your smoothie thicker or thinner to taste.
Morning snacks can include fresh fruit with nut butter, dried fruit, or even a handful of nuts!
LUNCH
Easy Vegetable Pasta:
For lunch, we're having pasta, because why not?! Using one of the many gluten-free pastas made with beans and grains, you can still enjoy this classic dish! If you live near a Trader Joe's, check out their brown rice and quinoa pasta, which is used here.
One of the best parts of these gluten-free pastas is how high in protein they are. But hey, we're not knocking classic pasta! It's important to keep in mind gluten-filled noodles are not unhealthy — this is just another fun way to enjoy pasta.
This pasta requires any veggies you've got on hand. Use some of that leftover spinach from the smoothie here. Mushrooms, onion, and bell peppers would also be delicious add-ins!
This pasta can be prepared in advance and reheated or served cold (hey
high school students
!). Grab a pot for your noodles and a pan for your veggies, and let's get started!
Ingredients:
For the pasta:
1 serving of pasta
2 cups of water
For the veggies:
1 tbs oil
1 tsp garlic
Carrots, zucchini, spinach, corn, peas, green beans, and onion were used in the pasta featured above, but feel free to use what you have on hand! Just grab a handful or so of each vegetable you're looking to add.
1 tbs balsamic vinegar
1/4 tsp black pepper
Instructions:
Add roughly two cups of water into a pot and bring it to a boil. Once boiling, add pasta and cook until al dente.
While the water boils, dice your vegetables. Heat a little olive oil in a pan with garlic. Once warm, add veggies.
Cook your veggies until tender. If you're adding spinach, wait until the end as spinach wilts quickly.
Once your veggies are tender, pour the balsamic vinegar over them in the pan and add your black pepper. Continue to cook until the flavor seeps through.
Once your noodles are done, add them into the pan with veggies and drizzle with olive oil. If you like red sauce, you can toss your pasta with it here!
Finally, place your veggie pasta in a bowl to be served. Voila!
SNACK TIME
It's 3:00. Snack time. What on earth will you do?
Energy balls are an easy snack to make and take on the go. You can make these the night before and grab 2-3 for a snack when you're running out the door.
This is another recipe requiring minimal ingredients and effort. You'll also make around 6-8 energy balls, which means you'll have snacks for days. Let's make it!
Chocolate Peanut Butter Energy Balls
Ingredients:
3/4 cup oats
1/2 cup peanut butter
2 tsp honey
1/4 cup chocolate chips
1 teaspoon cinnamon
1/4 cup raisins
Instructions:
Add oats, peanut butter, honey, chocolate chips, cinnamon, and raisins into a bowl. Stir with a spatula to prevent the mixture from sticking to the spoon.
Refrigerate for 10-15 minutes. Once the mixture has solidified, roll the mixture into one-inch balls. Store in the fridge to keep them fresh. Enjoy!
Notes:
Raisins get a bad rep in cookies, but they add a refreshing sweetness in these energy balls (and certainly don't dominate the chocolate!)
If making energy balls isn't your thing, try carrots and hummus, mixed nuts, or roasted sweet potatoes!
DINNER
It doesn't have to be Taco Tuesday for you to enjoy this simple dinner. Once again, minimal ingredients, minimal steps, faster tacos with a sweet and smokey flavor! Let's get started.
Gluten-Free Tacos
Ingredients:
1/2 cup of rice or 1/2 cup of quinoa, depending on preference.
1 cup of water
1 can of black beans
1 tsp garlic
A couple handfuls of your favorite vegetables (or a frozen vegetable medley!)
1 tsp paprika
2 tsp chili powder
1/2 tsp cinnamon
Salt and pepper to taste
Corn tortillas
Some fun topping ideas:
Salsa, cashew cheese, green onions, tomatoes, onions, or taco sauce!
Instructions:
Begin by cooking your rice or quinoa. Add one part grain to two parts water (or 1/2 cup quinoa to 1 cup water). Bring it to a boil, then reduce to a simmer until cooked — approximately 15-20 minutes.
In a pan, heat a little oil and garlic. Add your veggies and cook until tender.
Drain and rinse the black beans, and add them to the mixture.
Season with paprika, chili powder, cinnamon, and salt and pepper to taste.
Pile your tortillas high and enjoy!
Notes:
If adding frozen veggies, cook without the oil until they defrost in the pan. This way the oil won't splatter. Once defrosted, add oil and garlic.
Last Word on Eating Gluten-Free
At the end of your adventurous gluten-free day, unwind with some dark chocolate or another energy ball from this afternoon!
Treat today as an opportunity to recognize how you can incorporate more vegetables and gluten-free meals into your diet easily. Remember,
small changes
can lead to
big progress
!