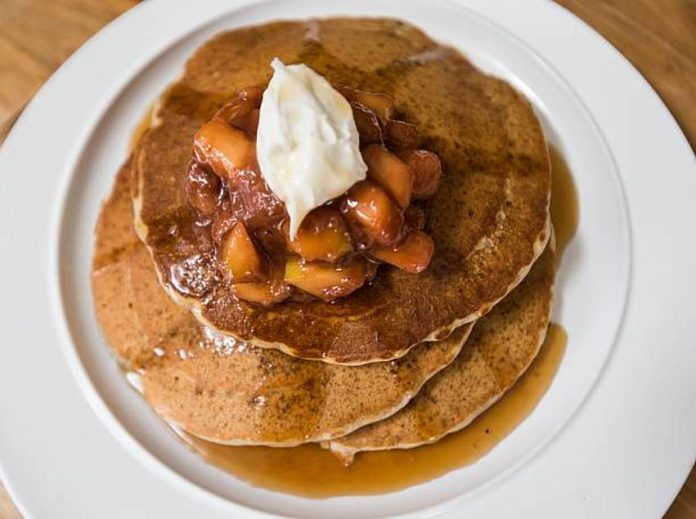 Pancakes are simply divine on a Sunday morning. They're fluffy, warm, and beckoning for a drizzle of maple syrup. Unfortunately, we don't all have extra time in the mornings to make gourmet pancakes. Fortunately, with this easy make-ahead batter, you can have healthy oat pancakes any morning you'd like! Even Monday mornings.
Maximize Your Morning with Overnight Oats Turned Pancakes
Maybe the pancakes you're thinking of are loaded with buttermilk, sugar, and all the good stuff. No one's knocking indulgent pancakes, but if you're trying to eat healthy and want to enjoy pancakes in the meantime, this is the recipe for you.
Last week, an easy overnight oats recipe graced our feed to show us that we can maximize our mornings and fill our stomach. This week, we're throwing that mixture into a blender to make a batter—revolutionary.
If you are waking up and just now realizing you should have made overnight oats last night, don't sweat it! You can easily throw these ingredients into a blender and make the batter the morning of. Healthy pancakes are always possible!
What Makes These Pancakes Special?
These pancakes are a little different than your Sunday-morning buttermilk delights. These pancakes rely on oats, so they taste similar to an oat cake. If you thrive on buttermilk, be forewarned: they will taste different. Once you add syrup, fruit, and nuts, you'll be looking for seconds!
These pancakes are:
Hearty
Fluffy
Dense
Filling
And Sweet
If you like pancakes with mix-ins, you can add chocolate chips, fruit, or even peanut butter into the batter before placing it on the pan!
They're shockingly made with one serving size of oatmeal. Let's be honest, wouldn't we all prefer pancakes over oatmeal? Umm…yes! Prep your blender and pan, let's make some pancake magic!
Let's get this recipe started!
Make Overnight Oat Pancakes
Ingredients for the batter:
1 serving of overnight oats*
Or:
½ cup oats
1 banana
1 scoop of vanilla protein powder
1 teaspoon of cinnamon
3-5 tablespoons of almond milk
Suggested Toppings:
Syrup, honey, or agave!
Blueberries, strawberries, raspberries, blackberries, bananas or even warm apples with cinnamon!
Your favorite nut butter!
Seeds or nuts!
Instructions:
Heat a pan with a little oil over low-medium heat.
Add all ingredients to the blender and blend until creamy.
Pour the batter onto the warm pan into medium-sized circles.
Once bubbles appear, check the sides and flip the pancakes.
Once cooked, transfer to a pan, add desired toppings, and enjoy!
Notes:
Make sure to leave out the fruit when adding it into the blender! You can set it aside for after the pancakes are made.
For more delicious recipes, check out LWOS Life: Food & Drink.
For more health tips, check out LWOS Life: Health & Fitness.
Main Image Credit: