Welcome to CENTER STAGE, where I interview individuals who work in the film industry. From actors to production assistants, from writers to the camera crew, from makeup artists to assistant directors, this is where I tap into the insight of folks working in Hollywood.

An Interview with Kendelle Chaimungkla
Have you ever been to Universal Studios Hollywood and wondered about the faces behind the characters you meet? Kendelle Chaimungkla is one of those faces. We met while working as "scareactors" for Halloween Horror Nights at Universal last fall. I sat down with Kendelle to talk about her performing career and her presence online as a Twitch streamer and video game lover.
PZ: Where are you from and how did your love of video games begin?
KC: I was born in New York and when I was about eight or nine, I moved to Arizona. Then I jumped to Florida and back to Arizona a few times, then to LA where I currently am. My uncle, who's my father figure, loved video games. He was all about James Bond and the battle royale FPSs like Call of Duty. I would always watch him play and he would often hand me the controller. I sucked at it, but it was something I loved. My sister Kristine loved the sport of gaming, but FPS and scary games weren't her style, then she realized she loved RPGs and I loved watching her play RPGs. We brought it up on the family together as loving video games and movies, maybe it was just the cinematic aspect of it all.
PZ: And would you say that's what got you into streaming?
KC: I never thought about being a streamer, but everyone pushed me towards it. Then, two years ago, I just bought some equipment for it. I did already have some through filmmaking, but I bought myself a webcam and got the programs. I basically researched everything I could on Twitch and streamers, and here I am!
PZ: For those who don't know, what is Twitch?
KC: It's an online platform and app where people can live stream themselves doing anything. I joined two years ago around April 2017, but I didn't actually become a streamer until spring 2018. The website's 90% video games. So you watch people play video games and can interact with them through chat. There are also certain benefits that you or they can have if you subscribe to them. The perks can be something like daily hangout sessions or personal chat inboxes, it depends on the streamer. Basically, people can live stream themselves dancing, singing, cooking, or just at a coffee shop and just talking to viewers. But most just people playing video games.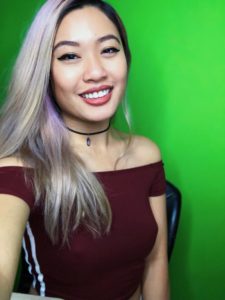 PZ: Which games do you play the most on Twitch and from growing up?
KC: On Twitch, I mostly play Fortnite, that's the huge thing right now. But ever since Apex Legends came out, we've all been switching over. You can also see me playing Sims. I also try to play independent games every once in a while. And the big new games, like Kingdom Hearts III, Spider-Man, Detroit: Become Human; those narrative-type games, but mostly a bunch of first-person shooter, multiplayer battle royales. Back then and still now, those were my favorite types of games. My sister was always the RPG player and I would watch her play those. FPS is still my thing though.
PZ: And if you had to pick your all-time favorite video game, what would it be?
KC: The Assassin's Creed series! I know there's a period where it sucked, but that was the game series that got me started. I'm in love with Assassin's Creed, especially the early games. The movie sucked and that was really sad.
PZ: What was your first game console?
KC: It was a PlayStation 1. I played Assassin's Creed on there; good times. I was always a console player, and when I started streaming, I switched over to PC. Everybody told me PC was better. When you watch a streamer, you also watch their gameplay and style, and most people watch PC players.
PZ: How about your favorite movies?
KC: Spirited Away and Pan's Labyrinth. Anybody asks, I pick those two. Also, my favorite director is Guillermo del Toro.
PZ: Compared to growing up and watching our friends play video games in our living rooms, what do you think is appealing about online gamers, streamers, and let's-players?
KC: Honestly, it's about being a part of their community. Each streamer has their own community, rules, and etiquette. You watch it for the people and personalities. If you go into a stream, you will find a different type of atmosphere every single time, whether it be toxic or friendly or on the sexy side or cute, you're always gonna be a part of that community and stay for it. But it's also about consistency. People enjoy watching someone if they're consistent with their viewership and aesthetic, as well as their schedule. You wouldn't wanna watch someone who only plays once a week or month, you wanna be a part of something.
PZ: What's your streaming schedule?
KC: Every Sunday, Monday, Wednesday, and Friday. It usually depends, but I'm a night streamer, and everybody knows that.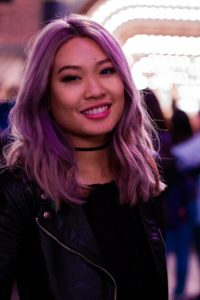 PZ: Besides Twitch, have you also been active on YouTube?
KC: Yeah, I've been a part of a couple of YouTube channels. Only one of them is active, a beauty channel called Matcha Please. It was founded by my sister. I've done some work on there. I was part of one channel called Not Enough Coverage. That was between me and my college friends, we thought it was perfect to collaborate and film together. We did have a falling out with one guy and that kinda ruined the whole thing. But that channel was about nerd culture, movies and television, podcasts about everything geeky, and we did Let's Plays.
PZ: Now video game culture does have this dark and sexist side to it. So kind of a loaded question, but what's your response to that?
KC: (Laughs) Okay, so every time I see a girl playing Call of Duty or Halo live, they always have this experience of people helping them in the game, giving them ammo or armor. I've never had that experience. I've always had the brutal side of it, like "Oh, you're just a girl, you can't play video games!" or "You're just a boy with a high voice!" It bothered me, but then as you grow up, you realize they're just dumb. So as soon as I started streaming, I started getting the opposite response. Everybody wanted to help me and be on my team because I am a girl. It was that juxtaposition of someone who has their face out there. But it was this weird thing where if you're a girl and gamer, you obviously suck or you're lying or you'd probably just sit on the side and watch your boyfriend play games instead. They don't believe we're a part of the culture and know what we're talking about. There's this funny meme I love so much. It's of a guy talking to a girl gamer, and it's like "Oh so you're a girl gamer, what's the length of Mario's inseam?" That what I feel how it is because once you say you're a girl gamer, they start asking all these questions to prove that you're not. It's like, why? You'd think you want more girls in the scene.
PZ: So do you feel like there's been some progress made in video game culture?
KC: Of course! There's one hundred percent progress. It's like anything where you can have a lot of setbacks and have problems resolved, but then in the community, there are more problems that arise. It's like sexism in the workplace. We totally progressed since the '90s and early 2000s. There are so many girls now part of esport leagues and I'm really proud of that.
PZ: When did you move to LA and what did you first start working towards?
KC: I moved in February 2017 and I basically tried to find some sort of performance job. That's what I used to do in high school and college, I was always a performer and content creator. I saw an audition for Universal Studios and thought it'd be something I could do since I'd already been a character performer in Florida. I've been at Universal since then and I've just focused on trying to be an entertainer.
PZ: What performance work did you do in Florida?
KC: I did the Disney College Program back in 2015. I got hired as a character performer. I was in all four Disney parks, mostly animal Kingdom. I was Mickey, Minnie, Donald, Stitch, the White Rabbit. I was what you considered a "tall mouse."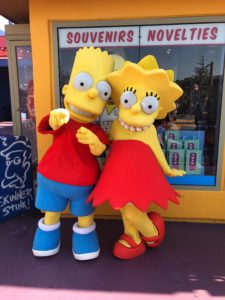 PZ: How does one prepare for getting into these performance roles at the parks?
KC: Honestly, it's a lot of hard physical labor. I perform as many of the animated characters at Universal. It definitely helps that I'm a dancer, because I understand my body and when it hurts, what to do, and how to fix that. You have to be the most lively person in character, but not in general. They want something big and animated, you have to have true character integrity and not afraid to be embarrassed by what they do. They want someone who can create stories with their body. It's different at both parks. At Disney, before each shift, you had a free mini workout to help prepare your body for the day. At Universal, you have to keep up on your own. If you don't, then you're gonna be limited with what you do. You have to be true to yourself and how much you can handle.
PZ: How long have you been dancing for?
KC: I started dancing at around ten years old, I was self-taught in hip-hop. I went to an art high school was trained in ballet and modern. In college, I did the same thing with hip-hop and modern dance classes. Then I moved out to California, and unfortunately, it's so expensive and hard to take classes. But it helps that I have this character job because it still feels like I'm one with my body (laughs).
PZ: What do you enjoy most about performing at Universal?
KC: It's different things. I love the people I work with, the company, and the characters. But also it's being able to perform and express myself. With every performance, there is a part of me in that. I love making people smile and being able to give them a hug as Puss in Boots. Even when kids cry, I just gently let them know them I'm a safe character, then they end up loving you. It's the best feeling in the world.
PZ: What's your favorite ride at Universal?
KC: The Mummy! It's too quick, it needs to be longer. But it's the best ride for sure!

PZ: In regards to Halloween Horror Nights, would you say just working at the park inspired you to audition for it?
KC: Oh, yeah. They've always encouraged us to audition for Horror Nights. This past year, I got in and it's such a different experience! People are scared of you. They wanna push your buttons and they're trying to be tough. They'd push you around and yell in your face saying "You're not scary!" But then there are the true horror fans who love it and they make the job awesome.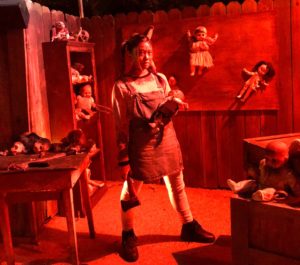 PZ: Describe your role and maze at Horror Nights.
KC: I worked at the Bates Motel area on the studio lot, which was turned into what they call the Terror Tram. I was a killer hillbilly (killbilly) daughter with a bunch of scary dolls around me. I had a prop, which people would always try to pull off of me (laughs). You basically take the Universal Studio Tour tram and get dropped off at the Bates Motel, which had been turned into a scary maze. You walk through the motel and it's dark, smoky, and loud. There are people trying to "kill" you, and you see them skinned and bleeding and their faces are peeled off.
PZ: Did you get to work at any of the other mazes there?
KC: Yeah, I did Trick 'r Treat, as Sam. That was completely different from Terror Tram. I stood in one spot with a trigger, and I was behind a curtain. I would come from behind it while stepping on the trigger and that would scare people. I also did Poltergeist, which was fun. I was in a coffin pretending to be a statue, and I would jump out and scare people.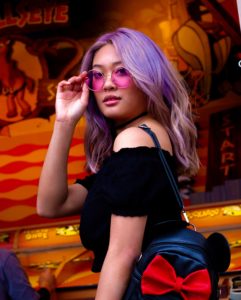 PZ: How does the Horror Nights physical endurance differ from working in the park?
KC: Being a day operations (day ops) versus night operations (night ops) performer was so different. During the day, you can only be out there for 30 minutes during your set times. You have to continue performing for 30 minutes with no break, depending on where you are. Whereas during Horror Nights, it also depends where you are. So at my location, there were times where we had no guests come through for five minutes. It was also a different type of physical labor. During day ops, whatever character I'm in, I'm huge, lovable, and bouncy, but at Horror Nights, I had to be lowered, clenched, and scary. The moves had to be sharper.
PZ: Do you have any favorite moments from working day and night ops?
KC: During day ops, there's no one favorite moment. There are just favorite moments of having kids love you and hug you and having adults cry because they're meeting a character they grew up with and had never seen them in real life. At Horror Nights, it's the best feeling to have someone so scared that they fall to the ground. I counted, I had that happen twice during the whole run! (Laughs). It was like "Yeah, you should probably check that because you might have a sprained ankle." And they'd high-five me and it was the best feeling!
PZ: Would you do Horror Nights again?
KC: Yes! Unless Twitch got big enough for me and I couldn't do both. I have so many favorite memories of my coworkers there.
PZ: So given your park performances and streaming, how about dabbling in screen acting?
KC: I feel like it's so different because I can definitely be that happy-go-lucky, bouncy actor, but when you want me to be dramatic, there's this wall that's hard for me to go through. I think that's because I'm so used to being a big animated and happy person that it almost affected my acting abilities when it comes to the complete opposite. The same goes for Twitch, I have to be energetic and talking to people constantly. I feel more comfortable without limitations, which is why I like being more of a physical performer than reading lines from a script. But I've mostly just done student films and extra work. The first year, I did a lot of background acting with Central Casting. They would often text me, but I'm always unavailable. I'm SAG-eligible now, though.
PZ: What are your additional interests or hobbies?
KC: (Laughs) Sounds really weird, but I love constantly working. My sister is creating a T-shirt company and I immediately jumped on it. I just love being a part of someone's new idea or collaboration. I love movie-going and being part of content creation, whether being on set or someone's new YouTube idea. It's always on the marketing side, too. And in regards to social media influencing, it's more in line with my goal. I'm basically marketing myself and what my community can offer. Can coffee be an interest?
PZ: Yes, it can!
KC: (Laughs) Great! Which makes sense, because I'm always hyper.
PZ: Do you see yourself performing in bigger roles outside of theme parks? Like like theater or touring shows?
KC: I constantly look at cruises. I've always wanted to be part of a cruise show. You're not on the ground, you're floating and you're there for months. It's such a cool idea to have different people to come and see you on a boat. It's a whole different experience than just touring to different states.
PZ: What would you say has been the biggest obstacle in your career and how did you overcome it?
KC: Depression is the biggest obstacle. It stops you from doing all the things you wanna do. In my case, there were two months where I stopped streaming. I lost all my subscribers and had to regain all my viewers. A lot of that had to do with the living situation I was in back then. Then I started talking to my community on Twitch and they were the ones that helped me out of that hole. I love them, they love me, and they were there for me. I thought that was amazing because it wasn't even a year into streaming and I had this whole community inspiring me to do more. I'm not just some person on screen, I was their friend.
PZ: How do you deal with trolls online?
KC: Oh, you just brush them off. You know that they're only there to push your buttons. You just can't let them get to you. After a while of being a part of the gaming community and culture, you just understand and grow to be a stronger person. Especially in my community, it's not tolerated. You make one sexist joke, you get a warning based on how brutal it is. If it's completely inappropriate, you get banned immediately.
PZ: It's unfortunate. So many folks online feel that they're safe behind the computer.
KC: Yeah, and I understand toxic communities. You go there to be toxic. The streamer knows it's a toxic community. Until you realize not all communities are toxic, then you're just some kid behind a computer being stupid.
PZ: I know you're working on a new project right now. What can you tell me about it?
KC: It's my boyfriend's film. Most of the people working on it are my roommates or past crewmen. We're trying to find a way where we can make a film every two months. We've been talking about creating a new YouTube channel, kinda like Not Enough Coverage 2.0. It'll still be Let's Plays, interviews, movies and TV, and podcasts, but we wanna add short films to it because we're all filmmakers and that's what we wanna do. This film is a comedic take on societal pressure and racism, but in a zombies-versus-people way.
PZ: What's your role on this project?
KC: I'm working wardrobe. I actually used to dabble in special FX makeup. I was gonna do that here, but we're bringing on more people here because we wanna be more of a collaborative group. Makeup was more of a hobby back then. I still have my kit, but I don't really use it.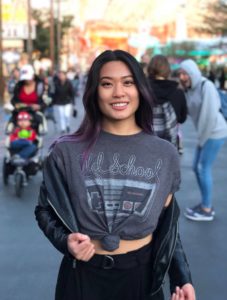 PZ: Where do you see yourself in five to ten years?
KC: I see myself having my own type of community or platform online, with Twitch and YouTube. I see myself being someone that others may look up to. Whether I make their day, give advice, or they'd wanna see me play video games. I see myself only having to do Twitch and YouTube, creating content for me and not anyone else. I wanna be my own boss.
PZ: If you could give advice to anybody who wanted to pursue what they loved in any industry, what would it be?
KC: Do what you have to do as long as it doesn't harm you or anybody else. Do something that makes you happy. That's always my number-one advice for anything. And network, get yourself out there.
PZ: Anything to plug in?
KC: My Instagram and Twitch, because those are the two main places where you can find my content. I'm actually trying to rework my social media right now because I wanna make it a safe space and promote a healthy lifestyle.