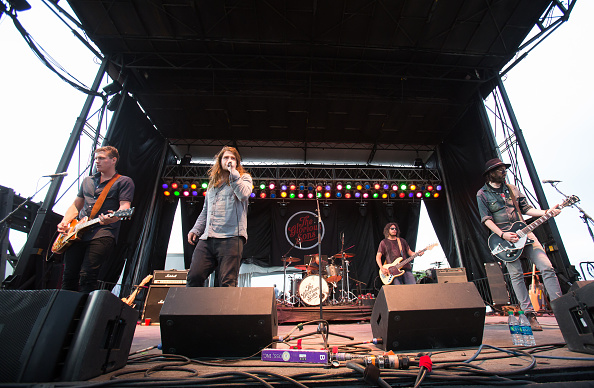 The Glorious Sons are a chart-topping Canadian rock band from Kingston, Ontario. This weekend they brought their talents and unique sound to the Hamilton Golf and Country Club as they put on a show for their fans during the RBC Canadian Open.
Grammy-nominated Florida Georgia Line headlined the Friday night concert, while The Glorious Sons headlined the Saturday night concert.
The organizers of this year's RBC Canadian Open scheduled the two concerts as part of the renown golf tournament with the goal of attracting a more diverse and younger audience.
The Glorious Sons Bring Unique Sounds to Hamilton Golf and Country Club
Popular Kingston Band Headlined Saturday Night Concert
The Glorious Sons – who were founded in 2011 – won the 2018 Juno Award for Rock Album of the Year and are perhaps best known for their chart-topping song "Everything is Alright."
Saturday night's rock concert saw the Canadian Indie Rock Band, Cleopatrick, open up for the popular band from Kingston.  The Glorious Sons took to the stage a little after 9 pm to the delight of their Canadian fans.
"They have an awesome sound and they are a great band to headline our Saturday night concert," said Golf Canada CEO, Laurence Applebaum about the popular Canadian band.
"It's great that they are also golf fans, so that's a great mix."
Live Concerts Meant to Elevate Fan Experience
Both of the concerts took place approximately 90 minutes after the completion of play on Friday and Saturday. Thus, giving ticket holders ample time to make their way to the concert venue – located on the golf course.
"Adding the concert series is another special moment in continuing to elevate the RBC Canadian Open experience, and welcoming new audiences to the golf course," says Applebaum.
The Glorious Sons Finding Success
The Kingston band has come a long way from their humble beginnings in 2011. The five current members of the band are Brett Emmons, Jay Emmons, Chris Koster, Adam Paquette, and Chris Hout. They've enjoyed a lot of success recently, tallying up ten consecutive top-10 hits on Canadian Rock Radio.
They are also coming off their recent SOS Tour which has seen them play sold-out shows across various cities in the United States.
Great Music and World Class Golf
Of course, attendees of the RBC Canadian Open were not only treated to top-notch entertainment through the two concerts – but also through the world-class golf.
According to Canada's top-ranked PGA golfer, Adam Hadwin, the atmosphere at the Hamilton Golf and Country Club during the golf tournament has been electric.
"We love golf up here (in Canada) and the fans love it. I think anybody that comes up and plays can see how passionate we are about it.
Main Image:
Embed from Getty Images