The road trip to Kansas City was devised as a way to share family time, some incredible BBQ food, a baseball game complete with a tailgate party, and above all a lot of fun. Planning started several months ago and was finalized very quickly. First off, Kansas City BBQ food was certainly number one on the list of things to do while in town. Second, a baseball game between the Chicago White Sox and the Kansas City Royals was a must-see during the visit. The baseball game, of course, required a plan for tailgating to be developed. We do not go to live sporting events without our grill, canopy, coolers, and delicious food. The rest of the weekend was spent having fun, watching more sports, with a visit to a local bar or two thrown in.
Adventures in Grilling: Kansas City Edition
The First Course
Our Road Trip To Kansas City kicked off with an 8-hour drive from Chicago. Our group arrived both hungry and thirsty. The plan for Friday was to sample some delicious local BBQ and then head out for the evening to enjoy the local atmosphere. Our dinner plans involved ordering BBQ from a local institution called Joe's Kansas City Bar-B-Que. They are renowned for their pulled pork, burnt ends, brisket, ribs, and an infamous sandwich called "The Z-Man." The Z-Man is a sandwich creation that melds together succulent beef brisket, smoked provolone cheese, onion rings, some of Joe's delicious BBQ sauce, all piled high on a kaiser roll. It has been a popular sandwich at Joe's since 1997 with a rich history and delicious taste and was a lock to be on our menu for dinner.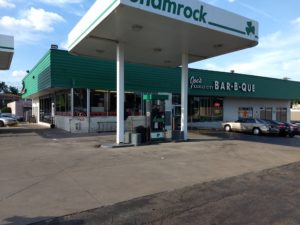 The order of brisket, onion rings, baby back ribs, pulled pork, and burnt ends was called into Joe's and the culinary adventure was underway. We made it to Joe's located at the corner of 47th & Mission in Kansas City, Kansas.  The first thing you notice is that Joe's resembles a gas station on the corner.
Once you enter into Joe's you are transformed into a very busy restaurant with two lines to serve you. One line is for sit-down eating, and the other is for take-out.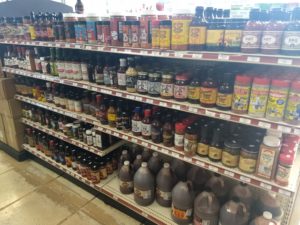 While you are waiting Joe's offers a large selection of various BBQ sauces, spices, and BBQ rubs to take home for your own grilling. We purchased several rubs and a spicy BBQ sauce to take home. Those will certainly come in hand this summer for sure!
Road Trip To Kansas City BBQ Dinner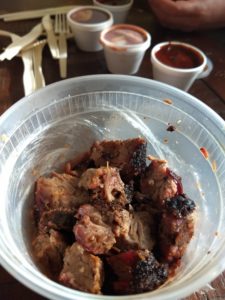 The incredible dinner items were picked up and off we went. At home, everything was spread out for everyone to enjoy. There was a tub of burnt ends that were incredible.
After snacking on the burnt ends it was time to eat the main courses. We had all of the "fixin's" for the infamous Z-Mans as well as other BBQ delicacies. We enjoyed a spread with baby back ribs, pulled pork, brisket, and onion rings.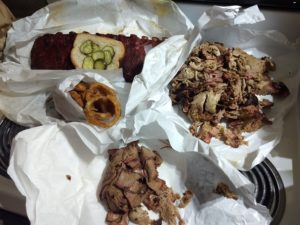 Everything made by Joe's was incredible and certainly made excellent leftovers too! It was a BBQ feast for the ages and hit the spot after a day of driving. After a night on the town, it was time to prep for the baseball tailgate party the next day.
A Day At The Ballpark
The first order of business Saturday morning was to buy ground chuck for the tailgate party burgers. In Kansas City, there is only one place to buy ground beef, and it's called McGonicle's Market. They are famous in Kansas City for their steaks, ground chuck, pork, and all other butcher-type products. Our burgers had to be the best, so we headed to McGonicle's.
We used our classic burger recipe which included Lawry's Seasoning Salt, granulated garlic, pepper, and a cup of Joe's BBQ sauce. In addition, to top the burgers, we got cheddar cheese, provolone cheese, and pepper jack cheese. After the burgers were ready it was off to the ballpark for the tailgate party at 10 a.m.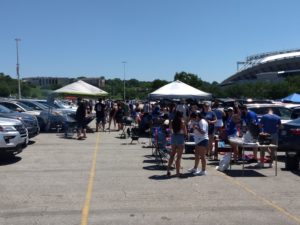 Tailgate Party
After we set up it was time to light the grill. We were one group of many baseball fans tailgating that morning. The smells were incredible and everyone was comparing and sharing menu items during the tailgating.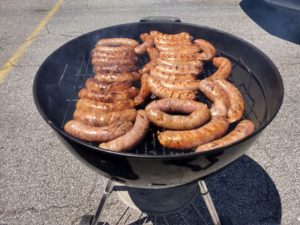 Our tailgate party would also feature some other culinary classics. We brought Italian sausage with us from Chicago. The Italian sausage of choice is from Valli Produce. Valli's is family owned local grocery chain in the Chicago suburbs. They offer some of the best tasting Italian sausages around town and are always featured in our sausage & peppers recipe. They have several types of Italian sausage including mild, hot, provolone & green peppers, and giardiniera. To clarify, there is not great Italian sausage available in Kansas City so we brought all of the above and grilled them up. We had people staring at the grill and begging for samples.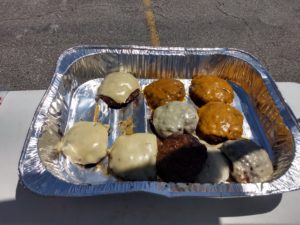 Once the sausage was done it was time for the hamburgers. They were grilled to perfection and the envy of many nearby tailgaters. Our tailgate table caused multiple people to stop and admire our creations. We were certainly one of the more popular stops as they cruised the bustling parking lot.
Game Time
Everything was put away as game time neared. We then headed inside to our incredible seats in the Diamond Club section of Kauffman Stadium. These premium seats were a gift for our group from our friend's cousin. The accommodations and amenities were amazing. We sat down in our seats and were welcomed with open arms even though we were wearing White Sox colors. In addition, the seats were the best we ever had and the view of the field was second to none.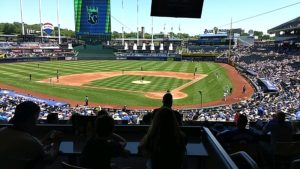 The game itself was a pitchers duel. White Sox ace Lucas Giolito prevailed with an eight-strikeout performance and more importantly, he gave up zero runs. As a result, the 2-0 shutout put the exclamation point on a fun day at the ballpark.
The End of the Road
Our last day was spent enjoying a semi-quiet day of baseball on TV followed by a night out to watch game six of the Stanley Cup Final while enjoying another wonderful meal. We chose the Westport Flea Market Bar & Grill for dinner. The Flea Market is known for the best burgers in town featuring McGonicle's beef. A hint to the wise: the burgers are half-off after 8 p.m. on Sundays! It was a great way to end a road trip that will certainly be remembered for a long time.
Road trips are organized all year long for sporting events around the country. Above all combining family time with incredible food and a live sporting event made this Road Trip To Kansas City one of the best ever. There is no doubt that another road trip is in the near future for this crew. Take some time and organize one yourself!