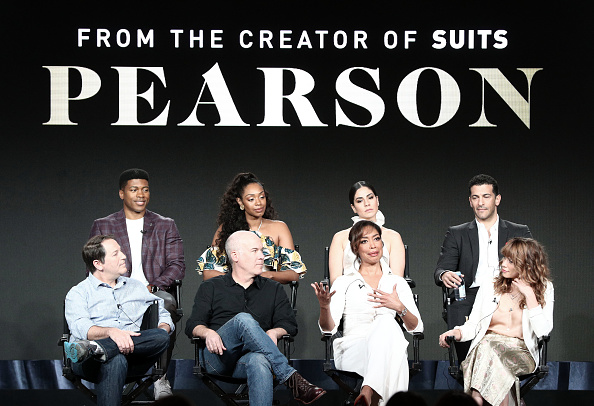 Welcome to "Getting .LIFE Together," a weekly column focused on exploring recent sports and culture-related events. Last week, I reasoned why the U.S. Soccer Federation should should pay up to the Women's National Team following their World Cup victory. This week, I let you know on everything you need to know about USA Network's newest show, Pearson, while remembering the legacy of its predecessor that's about to end, Suits.
Getting .LIFE Together: The Legacy of Suits, and the shift to Pearson
With the premiere of the final season of Suits and the premiere of the first season of its spin-off Pearson, one era of cable television is closing while another begins. Both are productions of Universal Cable Productions (UCP) and air on the USA Network, Suits at 9 p.m. EST and Pearson following at 10 p.m. EST. Here's what you'll need to know about both shows going in.
The Legacy of Suits
There was a moment in time where Suits was the apex of cable television. When the show premiered in 2011, most of its main cast (Gabriel Macht, Patrick J. Adams, Rick E. Hoffman, Sarah Rafferty) weren't household names. However, 8 years later, the show has made stars of these actors, including Gina Torres, who before was more recognized for starring aside her future ex-husband Laurence Fishburne in The Matrix franchise. More notable names – Katherine Heigl, Dule Hill, Diane Neal, Wendell Pierce, Gary Cole, and Bruce McGill – have passed through the halls of the series. Not to mention, it gave recognition to Meghan Markle, who is known now as the Duchess of Sussex.
The show's main storyline starting out focused on Mike Ross (Adams), who scored a job working with Harvey Specter (Macht), a successful lawyer at a Harvard-only hiring law firm. The issue was, Mike not only didn't have a degree from Harvard – he hadn't even gone to law school, or finished. This secret led the show's first four seasons to pull in over two million viewers in its first 58 episodes. Mike's secret was eventually found out by Specter, and later, Specter's then-boss and later, fellow partner, Jessica Pearson (Torres). In the end, Mike was eventually caught and arrested for illegally practicing law, but he used his connections and legal expertise to bargain his way out of prison, pass the bar once and for all, and become a legitimate practicing lawyer.
Suits Bids Adieu
While the show has shifted away from its initial focus, and its massive viewership drifted, it still has some of the magic that attached audiences to the series for so long. The quirkiness but passionate Louis Litt (Hoffman), the hard-working spirit of Rachel Zane (Markle), and the intuitive mastermind Donna Paulsen (Rafferty) kept a cult audience captivated week after week, even when the show split its seasons between late summer and early spring.
It was the acting of the show's biggest names going in – Gabriel Macht and Gina Torres – that kept Suits in the top tier of network television in this past decade. Macht's Harvey is considered by some as one of the top TV lawyers ever, known for his swift maneuvering and top-notch comebacks. Torres' character, Jessica, was the queen of fierceness that almost always out-dueled every other opponent, both outside and within the halls of her firm (which has had too many names to recount). Unfortunately, every hero has their fall – Jessica leaves to return to her hometown of Chicago, and she returns to the series only to sacrifice her license to protect her ex-firm for its complacency of Mike's illegal practicing. In real life, Torres wanted more free time from the constant, sporadic filming of the show in Toronto to spend more time at home and pursue other projects – such as her roles on Hannibal and The Catch.
Pearson Goes On
Now, as one Aaron Korsh-created series is riding into its farewell season, another will leave a reminder of its impact in its wake: the spin-off Pearson, following Jessica Pearson's new role as the fix-it woman to the mayor of Chicago. As Korsh recently revealed to The Hollywood Reporter, Pearson almost didn't happen, as he had it planned that Jessica was to be killed off-screen until the network begged him not to. This is one time we should be glad that a cable network interfered with an executive producer's vision – audiences everywhere are craving more badass women, especially black women and those in the legal profession, à la Kerry Washington on Scandal, Viola Davis on How To Get Away With Murder, and Garcelle Beauvais on NYPD Blue and Franklin & Bash. Plus, this is a great opportunity to learn much more about Jessica outside the binary of lawyering and see her face much worse situations than losing a job or license, something that we couldn't see on Suits.
Pearson is almost two years in the making, and it's Torres' debut as an Executive Producer. The titular character has accepted a role in the political administration of Chicago mayor Bobby Novak (Morgan Spector), and fighting within and outside of City Hall to forge positive change for those who live in the corrupt town.
If you're asking if you need to have watched any of Suits before tuning into Pearson, almost all signs point to the answer being no. So much time has passed since Jessica's sacrifice in Season 7 of Suits and there's little left connecting Pearson to that series other than her legal experience that there isn't much material to flesh into turning this new series into a "Suits 2.0," as TV Guide reviewed it. However, watch out for some familiar faces to turn up eventually. As Korsh explains, "the tone of Pearson is not the same, and [showrunner] Dan Arkin and I both agreed that it needs to find its own footing for the first season…it doesn't mean there might not be a surprise or two…"
"Everything's Changed"
Between Suits' June 2011 premiere and now, many other critically acclaimed shows (Breaking Bad, Killing Eve, etc.) came and captured much of the attention on cable, leaving this T.V. drama in the background; however, it managed to not betray its fans and serve as a commendable model for others to follow. It's signing-off will also signal the end of the 2010s brand of USA Network programming that included syndicated favorites Burn Notice, Royal Pains, and Psych as well as cult favorites White Collar, Fairly Legal, and Necessary Roughness, as the network has shifted toward syndication dramas and reality shows. The first episode of this last season will fittingly be titled, "Everything's Changed." It will be hard watching future spring or summer TV seasons without Suits, but Pearson is a great opportunity for us to get a grittier, more nuanced narrative to match present society. As Suits' tagline goes, "Nothing's ever black and white." Suits is incomparable, and we can only expect Pearson to be the same.
Other Happenings in .LIFE
Here's what else is happening in .LIFE: