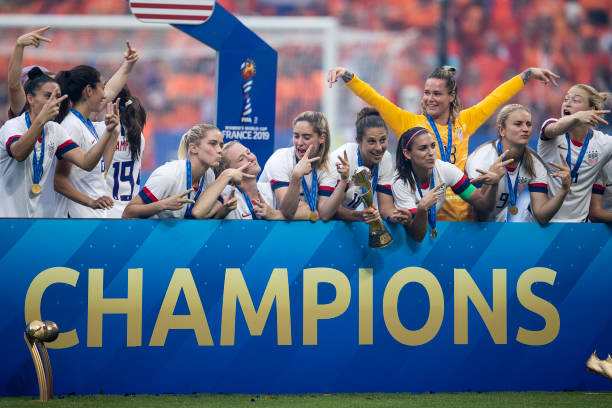 Welcome to "Getting .LIFE Together," a weekly column focused on exploring recent sports and culture-related events. Last week, I discussed Lil Nas X's coming out. This week's topic is in recognition of the United States Women's National Team, who won their fourth World Cup title Sunday, their second in a row. Their sustained success makes them one of the most prolific and powerful sports teams not just in soccer, but sports everywhere.
Getting .LIFE Together: America, Pay Up to USWNT
The 2019 Women's World Cup Tournament seemed to be the American's trophy to lose from the beginning, as all attention and expectations were on them. Despite injury and controversy, the 22 women cruised to victory.
Women's World Cup Tournament
The US Women's National Team (commonly referred to as USWNT) opened up Group Play of the Tournament with an astounding 13-0 routing of Thailand. After making it out of Group F, they made it through Spain, France, and England to face the Netherlands in the Cup Final, which they won 2-0. Read more about this victory from our Last Word on Soccer colleagues here.
With Success comes Noise
The attention around USWNT came with controversy. Critics took note of their continued scoring and celebrating in their win over Thailand as a sign that the team lacked sportsmanship. Megan Rapinoe's criticism of President Donald Trump also stirred uproar, as she said she would not return to the White House even if invited if they were to repeat as champions. If that wasn't enough, Alex Morgan's tea-sipping gesture in celebration of a goal she scored against England in the World Cup semifinals was also scrutinized.
If these were meant to distract the American team, it failed. They cruised through the tournament, leaving little doubt they were the dominant crew of women's soccer.
Why Their Pay Should Increase
If you weren't aware, the USWNT started publicly disapproving of their salaries after their 2015 championship, and the following year they collectively filed a complaint with the U.S. Equal Employment Opportunity Commission claiming their pay is unequal to their male counterparts. The governing American soccer body, U.S. Soccer, defended the USWNT's current payment with claims that they do not drive the same level of revenue that the Men's National Team does, although the Wall Street Journal refuted those claims with a June investigation. They reached a collective bargaining agreement in 2017 that runs through 2021 and significantly improved their possible payouts. But, it is still significantly less than the earning of those on the U.S. Men's National Team. If that's not enough, FIFA's prize money payout for the Women's World Cup is at least 13 times less than the Men's World Cup group.
All 28 women on the National Team roster filed a federal lawsuit against U.S. Soccer in March, then they agreed recently to mediate the case after the conclusion of the World Cup tournament. The women are still very successful and well paid, and it shouldn't be disputed that they are doing financially well compared to millions of others in this country. However, here are my arguments as to why they deserve to be paid more:
The USWNT is as decorated as any other national soccer team, men or women
The women not only have the most Women's World Cup titles with four, but they have appeared in – and finished in the Top 3 of – all 8 Women's World Cups. That's a 100% Top 3 finish rate. The US Men's Soccer Team has only finished in the Top 3 once in 10 appearances in the qualifying rounds of their World Cup and has zero titles. In fact, no other team in the CONCACAF (the US Men's team conference) has a Top 3 finish in the World Cup other than the US's one in 1930.
The USWNT's four titles ties them with Germany and Italy's men's team for second-most championships, only behind Brazil's Men team with five.
They have one of the largest followings in soccer or women's sports.
Despite the Women's World Cup Final starting at 11 AM EST, millions of fans tuned in and watched them from America and at the actual tournament in Lyon, France. Crowds gathered to fill stadiums across the nation to watch the USWNT from Kansas City to Boston to cheer on their national team with pride. FIFA estimated last month that 433 million viewers were tuning in to the Women's World Cup – and that was before the final tournament rounds.
For comparison, another football final championship received 98 million viewers this year – American football, that is – Super Bowl 53. The Hollywood Reporter states that Fox Sports estimates they received 211,000 viewers every minute between their channels, streaming services, and Twitter feeds. The same report also says that Italy recorded an audience in their country this tournament that was 36 times larger than that of 2011's Women's Cup.
In conclusion, people across the world love soccer, men or women. Since the US Women's Team is the most decorated group in the tournament, it makes sense that they are its most popular and draw a large audience beyond American borders.
The US should set a better example.
Just because FIFA chooses to give out significantly less equitable prize money to the Women's World Cup in comparison to the Men's, doesn't make it right for the national teams to follow suit in their pay wages. For starters, FIFA is not a governing organization of much integrity, especially recently. After the USWNT's win, The Atlantic called for U.S. Soccer to cancel the Men's National Team's appearance in the 2022 World Cup in Qatar (a state accused of corruption and human rights violations to host the tournament) and instead invest those funds in the Women's Team.
The prize money disparity managed by FIFA for both World Cups should not be used as a marker to determine salaries and contract-guaranteed incentives. Our women athletes are extremely successful – and even if they weren't, they should be paid handsomely. They work tirelessly like any other athlete and are tasked with representing an entire nation. Plus, they have to play multiple games of the most competitive sport in the world, on mere days of rest. Have you ever played soccer for a full 90 minutes? It takes a lot.
Imagine if you were recognized as one of the most decorated and respected in your job or hobby, and you were offered 13 times less than someone you were 4 times more successful than. The United States should take more pride in its champions and give them wages that reflect their status as role models to the entire world. There's only so much that can be done about FIFA's rules, so it's up to U.S. Soccer to make the difference for its players here. For a country that claims to be the worldwide leader in freedom, promoting equality, and being developed, their representatives in the world's most popular sport are paid less solely based on their gender. Champions of their caliber shouldn't have to fight to be paid to reflect their status, regardless of if that's in sports or any other cultural entity, for men or for women. U.S. Representative Alexandria Ocasio-Cortez puts it in simpler terms:
At this point we shouldn't even be asking for #EqualPay for the #USWMNT – we should demand they be paid at least twice as much 😉 https://t.co/VXITg24UB3

— Alexandria Ocasio-Cortez (@AOC) July 7, 2019
My concluding argument is this – A majority of the women on the National Team won't hurt financially anytime soon, even though we need to consider that not every player on the roster will have an opportunity to cash in on the stardom and attention around them right now. The fact is the United States puts plenty of money into other questionable ventures, so a couple million more to actual champion and adored representatives of our country shouldn't bother anyone.
Other Happenings in .LIFE
Here's what else is happening in .LIFE:
Main Image Credit:
Embed from Getty Images