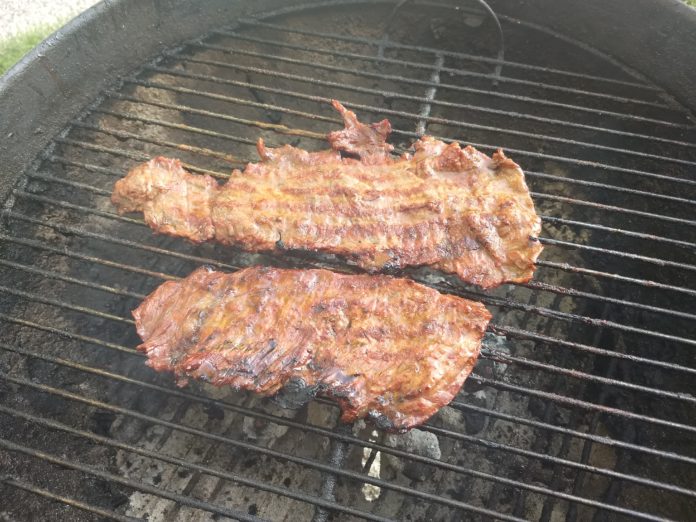 Grilled Skirt Steak Fajitas are on the menu today. In keeping with the recent steak theme as written in our last piece, we are bringing grilled skirt steak fajitas as well as our black beans & grilled chorizo. This delicious south of the border theme will be a big hit at your BBQ.
Grilled Skirt Steak Fajitas
Grilled skirt steak fajitas are a very popular item to grill. Skirt steak is a cut of meat that is often misunderstood and underappreciated. Known in Mexico as "arrachera," skirt steak is one of the most often used meats in tacos and fajitas. While it can sometimes be a bit chewy, skirt steak's grilled flavor is incredible. To combat the chewiness, many people request their butcher to run the skirt steak in the meat tenderizer machine once or twice. Today we are going to provide another option, the marinade.
Ingredients
2-4 pounds of skirt steak
chili powder, black pepper, cumin, and granulated garlic
2 sweet onions and 4 red peppers cut into 1/2 inch strips
1 jalapeno cut into thin slices (optional)
olive oil
Marinade Ingredients
juice of one squeezed orange, lemon, and lime
6 garlic cloves chopped fine
1 sweet onion chopped
6 ounces of your favorite beer – I recommend Modelo Especial
1/2 cup of chopped cilantro
Take your skirt steak and place it in a large resealable baggie, use two if necessary. Add in the marinade ingredients and close up the baggie. Do this 2-3 hours before you grill. You will also want to place the baggie into a plastic bowl to prevent any leakage. While it is marinading, give the baggie a turn every 30 minutes to coat everything evenly.
Grill Time
Set up your grill for direct grilling with a pile of 20-25 briquets in the center. You will want high heat for the skirt steak. You should also plan around grilling the chorizo links as described below to avoid having to grill twice!
Take the skirt steak out of the baggie and season both sides with your spices. Place the skirt steak directly over the coals and grill for 4-5 minutes per side. Once grilled to perfection, remove and allow to cool. Once cooled, cut the skirt steak into thin strips and reserve.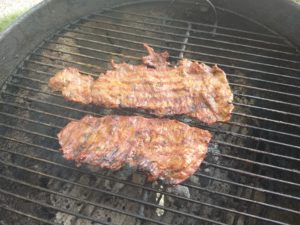 Fajitas Time
In a large skillet place the onions, red peppers, and jalapeno (optional), then drizzle with olive oil and the spices. Saute these on medium heat for 7-10 minutes, then add in the skirt steak. If you would like juicier fajitas, add in a cup of the marinade. Continue to saute everything for another 10-15 minutes making sure to toss everything several times to coat.
Serve your fajitas on a plate along with burrito size wraps, shredded chihuahua or cheddar cheese, and your favorite salsa.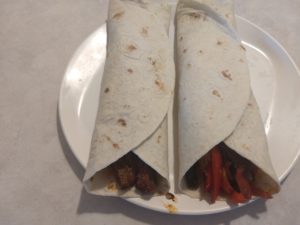 Black Beans & Grilled Chorizo
Ingredients
4 chorizo links
2 pounds of dry black beans (washed)
1 onion chopped
1 jalapeno chopped (optional)
olive oil
black pepper, chili powder, cumin, cayenne pepper (optional)
2 cups of cooked white or brown rice
For this black beans & chorizo dish, we are using links instead of ground chorizo. Grilling the chorizo links adds even more flavor to this incredible side dish. If you prefer, you can skip the grilling and use the ground chorizo instead. Mark my words though, the grilled chorizo flavor is much better.
Cooking Time
Grill up the chorizo links until cooked through, then set aside to cool. While the chorizo is grilling, saute the chopped onion and jalapeno in a large pot with a drizzle of olive oil. The jalapeno will add some serious heat and spice to this, that is why it is an optional ingredient.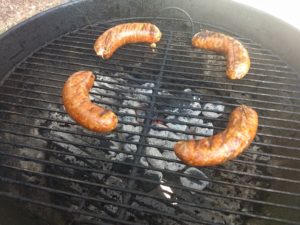 Add in the dried black beans, season to taste, and then add enough water to cover an inch over the beans. Cover the pot and simmer the beans on medium-high until they boil. It is now time to add in the chorizo. Take the cooled-off links and cut them up into small pieces. Add them to the pot then reduce the heat to medium-low and continue to simmer.
Check the beans every 10-15 minutes to stir and add more water. The beans will continue to soak up the water as they soften. This recipe can take 2-3 hours to finish due to using dry black beans. Be sure to allow enough time so they will be ready by serving time.
Serve over white or brown rice and top with chopped green or yellow onions. This delicious side dish makes a great addition to your grilled skirt steak fajitas!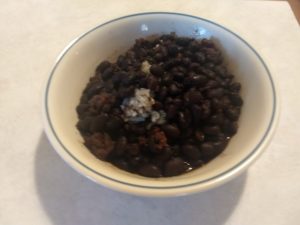 Grilled Steak Fajitas Wrap Up
If you have never grilled skirt steak before, relax and use the marinade method. There are many options to the marinade so do some experimenting while grilling this incredible cut of meat. The recipes above are also spicy too. If you or your guests prefer sissier fajitas, leave out the jalapenos. Whichever way you like it, just get grilling!