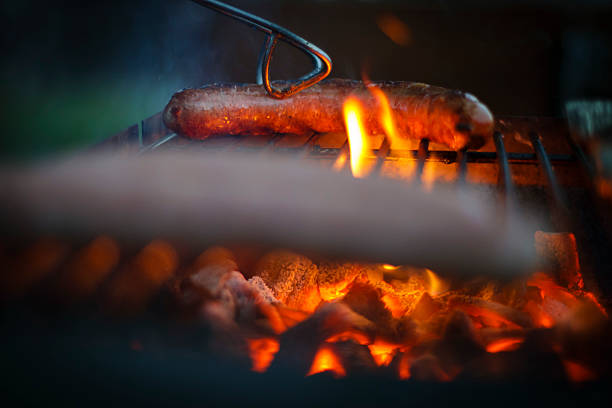 Our Game Day Menu this week brings you a delicious Oktoberfest feast. We have our feature sausage of the party the knackwurst leading off the show. We also have our incredible grilled "pork & kraut" recipe, the infamous German noodle dish "Spaetzle", and a list of our favorite German beers to help quench your thirst. This delicious Oktoberfest Feast menu will certainly knock the lederhosen off of your guests!
Oktoberfest Feast
It is late September which means it is Oktoberfest time. Oktoberfest is a German tradition that has become a huge part of our American culture. Adding in the fact that it is football season creates the perfect opportunity to host an Oktoberfest Feast tailgate party. We are bringing you a fairly easy menu you can create for your authentic German tailgate party.
Oktoberfest Feast Sausage
When it comes to sausage, the Germans have an immense variety available. For more on this huge assortment, check this out from tastessence.com:
"There are more than 1,000 different varieties of sausages in Germany! Beer, bread, and sausage; that's the perfect combination, we say!"
"Most sausages are made from pork, beef, or veal. Common seasonings include white pepper, salt, and mace. Other herbs and spices differ from region to region. The Germans savor their sausages with hot, spicy, or sweet mustard."
Today we are featuring the Knackwurst sausage. It is a delicious garlic-flavored sausage that looks more like a large hot dog. If you have a butcher that features fresh sausage, check their available meats for this delicious sausage. Knackwurst is also sold prepackaged in many grocery stores in case you do not have a butcher in your area. If you cannot locate any knackwurst sausage, substitute the old reliable bratwurst instead. In order to authentically serve these for Oktoberfest, you will need sauerkraut, spicy German mustard, and a sturdy sausage roll. You may also want to chop up some onions too.
Grill your knackwurst direct over your coals until they have that incredible grilled char look. Once grilled serve them on a platter alongside the sauerkraut, onions, spicy mustard, and rolls. Your guests who are leery of the effects or taste of sauerkraut can stick with just the mustard and onions. You will want to remind them that this is an Oktoberfest tailgate party and they really should fully immerse themselves into the event!
Grilled Pork & Kraut
Next up is our grilled pork & kraut recipe. It is a fairly easy recipe that involves your crockpot for most of the cooking.
Ingredients
One bone-in pork roast (boneless, if preferred)
One large package or jar of sauerkraut
Lawry's Seasoning Salt, pepper and granulated garlic
One 12-ounce German beer
The debate over bone-in versus boneless pork roasts involves taste and easiness of serving. The bone-in pork roast will be better tasting compared to the boneless version. However, the boneless pork roast doesn't require you having to remove any bones before serving. We'll leave it up to you on which pork roast you choose.
Grill Time
Grilling the pork roast only requires that you smoke it for a short time to add flavor. Grill it indirect for 2 hours using wet apple or cherry wood chips. That amount of smoking will deliver a much better flavor that your guests will notice. Once it is smoked, take the sauerkraut and place it at the bottom of your crockpot. Then place the grilled pork roast on top of the sauerkraut. Sprinkle your seasonings on top of the pork roast. Lastly, drizzle the German beer over the roast and sauerkraut.
Turn your crockpot on high for two hours, then low for four hours. Once done carefully remove the pork from the crockpot and allow it to rest for 15 minutes. If you used a bone-in roast, use this time to search the sauerkraut for any bones that may have been left behind. After 15 minutes, cut the pork roast into chunks and add it back into the crockpot. Set your crockpot on low and allow about 30 minutes to blend all of the flavors. Serve up your delicious pork & kraut and watch as your guests enjoy this authentic Oktoberfest dish!
Spaetzle
Ingredients
One package of spaetzle noodles
One stick of butter
Chopped chives or green onions
1 tablespoon minced garlic
Salt and pepper to taste
Boil the spaetzle noodles as directed on the package and drain. Using a large skillet, melt the stick of butter. Add the spaetzle to the skillet and simmer on low stirring continuously. Season with the salt, pepper, and minced garlic and toss in the chopped chives or green onions just before serving. Spaetzle makes a great side dish for your Oktoberfest celebration.
German Beer Suggestions
This next part is completely up to you. I advise taking a trip to a larger liquor store which will provide the biggest selection of Oktoberfest brews from around the world. Here are a few of my favorites:
Hacker-Pschorr
Spaten
Paulaner
Beck's
Lowenbrau
Hofbrauhaus
Warsteiner
You should be able to find a wide variety of Oktoberfest brews in stock right now. Get several six-packs and have a German beer tasting during your Oktoberfest tailgate!
Oktoberfest Feast Wrap Up
There you have an authentic German menu for your Oktoberfest tailgate party that your guests will enjoy. For more great tailgate menu ideas stay tuned as lwos.LIFE brings you our delicious Game Day menus throughout the NFL football season into the playoffs. Game on!
Main Image Credit:
Embed from Getty Images