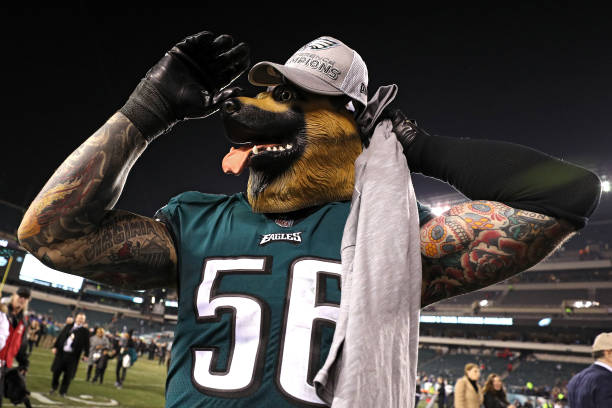 The concept of the underdog is crucial in the sports world. Fans love rooting for the underdog, and players use the label as fuel to push themselves to their peak. But what happens when a player once known as an underdog ends up actually being the best at what they do? How do they continue to stay motivated and keep pushing themselves? Sometimes players like Tom Brady are able to continually find ways to keep themselves in the underdog mindset. Others, like Antonio Brown, thrived on being an underdog early in their career, but let the mindset eat them alive later.
Antonio Brown, Tom Brady and Being a Successful Underdog in the NFL
Case Study
Antonio Brown a was sixth-round draft pick by the Pittsburgh Steelers in 2010. He was called too small and too slow. Brown is only five foot ten, small for an NFL receiver. Further hurting his draft stock, he did not have the best combine stats, especially his 40-yard-dash time of 4.56 seconds. Wide receivers have to be fast enough to outrun cornerbacks, or they'll never see the football.
But Brown knew that he was being overlooked. He was better than he was given credit for, and he used that as fuel to get even better. He made himself an underdog, set out to prove that he wasn't just the best wide receiver of his draft class, but the best in the NFL.
Emmanuel Sanders was also taken by the Steelers in that year of the draft but as a third-round pick. Players drafted in the first three rounds of the draft have a much easier path to seeing the field than "day three picks," or players taken through rounds four through seven. Brown found his first competitor in Sanders. Then, the two used each other to improve as players as fast as possible.
Rise to the Top
The Steelers were stacked with wide receivers in the 2010 season. Mike Wallace was the number one guy, with over 1,200 yards. Hines Ward and Heath Miller were the veterans, so naturally were second and third in targets, receptions, and yards. But Sanders, though he didn't play a ton, was fourth in those categories. Brown struggled to see the field, only managing 16 receptions for 167 yards.
He broke out in his second season, piling up over 1,100 receiving yards. His competitor, Sanders, missed most of the season dealing with a foot injury. Still, many were still expecting Sanders to come into the 2012 season and beat out Brown's production.
While that didn't exactly happen, Brown did have a down year by all accounts. He only managed 787 yards that year in an up-and-down season where he sprained his ankle week nine and missed three games afterward. Still, Sanders totaled just 626 yards despite playing all year. It looked like Brown won that battle.
From there he exploded as an undisputed top wide receiver in the game, rattling off six straight seasons with over 1,200 receiving yards. During that time he gained a reputation for being the hardest worker in the league, practicing hard, but continuing his own workout routines well after he left the field. He's not the biggest, or the fastest, but he used the fact that the odds were against him to become unstoppable in the NFL.
Differences in Motivation
Research has shown a significant difference between the motivating factors of underdogs versus non-underdogs, or favorites. Naturally, since they are favored to win, non-underdogs respond better to motivational messages that involve concepts of "not losing." Underdogs, on the other hand, prefer messages that emphasize winning.
Malcolm Gladwell further builds on this idea in his book David and Goliath. He emphasizes that "Traits that we consider to be disadvantages aren't disadvantages at all" noting that that the underdog is "capable of things the rest of us can't do [because] they look at things in different ways."
This aligns perfectly for a player like Brown. His height and speed were considered a weakness coming into the draft. But he looked at it differently. He knew that if he simply outworked his competition and found nuances in the game that would neutralize his height, those wouldn't be weaknesses anymore.
And what Brown did was become one of the best route runners in the game, something that is more difficult for bigger players. Running crisp routes also makes speed less important, as his cuts made him lose even the fastest of corners.
From a Spectator Level
Underdogs are fun to root for. Just like the title of Gladwell's book, there is a different sense of triumph in rooting for little David compared to the giant who everyone thinks will win in the first place. It's not just heresy either, but something consistently that is consistently proven through research.
In a study involving fictional basketball teams, participants rooted for the team that had less of a chance of winning about 88 percent of the time. But then things got even more interesting. When told that the team that came in as underdogs had won the first three games, most switched over to rooting for the new underdog. But why?
More Exciting
Watching the underdog is simply more fun. The reality is that more often than not, the Juggernaut Goliaths win out over the Puny-Ville Davids. This was seen recently with the New England Patriots demolition of the Miami Dolphins. The final score was 43-0. Only die-hard fans of both teams probably watched past the first half, if that.
But if a team that was not favored at least keeps it close, there is more reason to continue tuning in, even if they end up losing in the end. Psychologists Jimmy Frazier and Eldon Snyder attribute this to humans simply wanting to maximize excitement. In fact, some people even switch teams midgame – based on who is losing, just to try to feel the same emotional intensity as the team they are watching trying to catch up.
The silver lining of rooting for the underdog? When they win, the endorphins flow like mad. When they lose, it doesn't hurt as much, because they were supposed to lose anyway.
Schadenfreude
Another interesting reason that people root for the underdog is the concept of schadenfreude. This idea was developed by researcher Nadav Goldschmied of UC San Diego and is defined as the pleasure that is experienced as a result of the misfortune of others. It's the reason why people laugh when celebrities get into trouble, or their boss gets fired.
Call it jealousy, or resentment, the "everyman" naturally prefers to root against those at the top. It goes back to people relating to the underdog. They feel that when an underdog wins, it is a victory for all underdogs everywhere. Whether that is blue-collar workers in general, the sales employee who just can't catch a break, or the sixth-round draft choice.
When the Underdog is Suddenly Favored
Arguably the most famous underdog in NFL history is another sixth-round draft pick, Tom Brady. Brady is the quarterback of the New England Patriots and has established the greatest dynasty ever in the league. After taking over for Drew Bledsoe when he was injured, Brady has done nothing but win while paired with head coach Bill Belichick for two decades.
Brady has won six Super Bowls and holds countless NFL records, including being the all-time passing touchdown leader, being the oldest quarterback to lead the league in passing, and best touchdown-to-interception ratio in a single season. He helped his team to a 16-0 regular-season record and is still favored to win the Super Bowl even in his 20th NFL season.
But despite his success, Brady has continued to play with a chip on his shoulder. Instead of getting comfortable being on top, he constantly finds ways to keep himself in the mindset of an underdog. Winning in the NFL regular season is a cakewalk for him. So instead of going up against regular men in the NFL, Brady created a docuseries called Tom vs Time.
And time is undefeated, so what a better underdog story than that? Brady has been adamant about playing until he is 45, something no quarterback has ever done at a high level. Despite gaining the status amongst most as the Greatest of all Time, Brady still feels that he has something to prove:
Tom Brady we're still here pic.twitter.com/QzqZ5qO8pm

— CrypticVideos (@VideosCryptic) September 4, 2019
The Fall of Antonio Brown
Brady is able to perfectly balance being an underdog with being the at the pinnacle of performance for so long. For Antonio Brown, the scales have shifted. In his quest to keep up his image of being an underdog, he may have cost himself his NFL career. Like Brady, Brown has thrived in the "me against the world" philosophy. But where they differ is that Brady turned it into "us" whereas Brown kept it "me."
Brown forced himself off the Steelers when he felt that he was being unappreciated by the team. A new young, charismatic wide receiver Juju Smith-Schuster was drafted by Pittsburgh, threatening Brown's status as the go-to guy.
Brown still put together yet another season with over 1,200 yards and a Steelers wideout was top-five in yards for another year. But it was Smith-Schuster with 1,426 yards who led the led the team, not Brown. In fact, Brown found himself just outside the top ten for the first time in a while. Brown hadn't had that type of competition since Sanders was on the team, finding himself back in the underdog role once again.
When Being an Underdog Goes Wrong
Things went public when Brown missed the final game of 2018 by coach's decision. Brown had gone from underdog to favorite until then. He missed practice during the week but showed up to the game expecting to play, feeling that his status gave him preferential treatment. When he wasn't allowed on the field, he took to social media and began a smear campaign against what would become his former team.
At first, many gave him the benefit of the doubt. After all, it was common knowledge that Brown made himself into what he was by becoming an underdog. He felt he was being pronounced dead too soon. Now it wasn't that he was too small or too slow. At 31, he was too old. Too much of a diva. Too entitled.
When he was eventually traded to Oakland, many thought that he would use the criticism as fuel to show his new team, and the league, that he could still play. Instead, he could never turn the "me" into "us" against the world.
The media criticism towards Brown never ended. He hurt his feet in a cryotherapy mishap, forcing the star receiver to miss most of the training camp with his new team. Then, Brown decided to take on the NFL after they forced him to change to a newer helmet model. He also missed practice during his dispute. It seemed like the receiver was going out of his way to pull criticism his way.
Things came to a head when he was fined by the team for his missed practice time. Brown felt like his new team was against him, again taking to social media to get out of the situation, but also voiding his contract that had $30 million in guaranteed money.
Paths Cross
Interestingly enough, Brady and Brown ended up crossing paths. Just hours after Brown was released from Oakland, he signed with Brady's team, the New England Patriots. Unsurprisingly, Brady welcomed his new teammate into his home – immediately attempting to welcome the troubled wideout into his circle.
Brady, and most of the Patriots players and staff, probably bought into Brown's portrayal that the Oakland Raiders were against him. The Patriots have been dealing with controversy for years. This includes incidents dubbed "Spygate," "Deflategate," and more recently, owner Robert Kraft's "massage parlor" incident.
Brady and the rest of the team probably figured they could get Brown to relate to them, and get him on the right track again by taking him in. Unfortunately, Brown couldn't turn the "me vs the world" into "us," continuing to sabotage himself, and all but ruining his chance of seeing the field again this year, if ever. The Patriots released him after only 11 days.
The Legend of the Underdog
Chris Long played with Brady on the Patriots during the 2016 season, winning a Super Bowl. He emphasized how humble Brady is. Sure, Brady has won more Super Bowls than any other player, but he doesn't let his ego get to him. This probably helps him keep his mentality similar to what is what like when he joined the team as a sixth-round draft pick.
Long, consciously or unconsciously, also picked up the underdog mindset during his year with Brady, taking it with him next season to the Philadelphia Eagles. Philadelphia had never won a Super Bowl before Long got there. In fact, their last appearance was a loss to Brady's Patriots back in 2004. After losing their MVP candidate Carson Wentz at quarterback, the Eagles went into the playoffs as huge underdogs in every game.
Long was not the team's best player. However, he found a way to capitalize on the public counting the team out before the game. He donned a dog mask, embodying the underdogs that the team had become, using the label as fuel to overcome rather than a death sentence. Long and the Eagles met Brady in Super Bowl LII, coming out victorious.
The narrative then shifted back to Brady – was he too old? Was there a rift between him and his coach. Suddenly Brady was back where he belonged. Finding power in the title of the underdog.
For more sports articles from Ryan, check out his article on the Psychology of Injury in the NFL.
Main Image Credit:
Embed from Getty Images