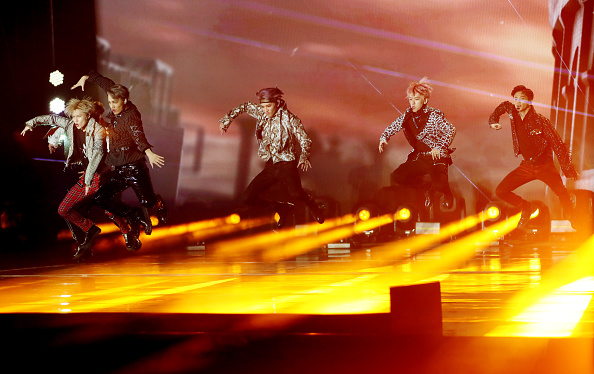 As K-pop has grown in recent years, there has been one thing that the media has focused on: crossing borders. Whether that be through more international concerts, performances on award shows or other activities, it was clear that K-pop was seeing a global boom. To further prove that point, SM Entertainment tried their most ambitious North American push this month. The label decided to throw together top names from all of their boy groups for what could be considered an SM Entertainment Avengers team. As a joint project with Capitol Music Group, SuperM was formed. The group includes Baekhyun and Kai from EXO, Taemin from SHINee, Ten and Lucas from WayV, and Taeyong and Mark from NCT 127. 
The goal of this group was to promote mainly in the American market. No doubt, they've done just that. They recently performed in front of Capitol Records, with the concert being streamed on Youtube. They appeared on the Ellen DeGeneres Show on Wednesday, and even had their sound used in MLB playoff commercials. Is the release all that it's made out to be, in its nearly unavoidable exposure? Let's check it out.
A Review of SuperM's Debut Mini-Album "SuperM"
Track Listing:
Jopping (Title Track)
I Can't Stand The Rain
2 Fast
Super Car
No Manners
Jopping – Instrumental
I Can't Stand The Rain – Instrumental
Track 1: Jopping
The first track of the EP is titled "Jopping." The logic behind the make-believe word is "cause when we jumpin' it's poppin' we joppin," according to the lyrics. I'll be honest, I was never 100% sold on the word. It sounds a little goofy, but hey, it's unique. The song itself is pretty good. Similar to the title of it, I wasn't a fan at first, but then I started to love it. The EDM-pop song is super energetic and is great if you want to get hyped up. Going back to the MLB Network ad, a scenario where the song was put with sports highlights felt fitting. It didn't seem shoehorned in the video. Instead, it felt natural. 
Can we talk about this video? This was like the stuff that NCT 127 has been doing except if it had a stupid high budget. Nearly every scene looked stunning in the video. Sure, the video doesn't have some type of plot or complex story, but that's not always needed. It made the idols look good and it properly accompanied the song, and sometimes that's all you need.
I don't think there were any doubts about the choreography of this song delivering. Everyone in the group is extremely talented and were given some great material to work with. 
I didn't realize this until someone else mentioned it, but in this song, they used Korean lyrics similarly to how English lyrics are used in Korean songs. The track is mostly English with dashes of Korean at points; for the most part though, the Korean is kept to a minimum. It makes sense for this release since they're targeting an English fanbase, and I personally don't mind either way.
Track 2: I Can't Stand The Rain
The second track on the mini-album titled "I Can't Stand The Rain" has a quieter buildup than "Jopping." The background beat which is mainly focused on drums offers a much more barebone sound than other songs. The song sort of feels like it falls flat, as the chorus builds up for something but then we just go back into the verses. It feels like it almost makes a breakthrough during the bridge, but fails. This song felt like a letdown after the exciting title track. The attention of a new fan checking out this cool new thing called "SuperM" might wane after hearing the second of six songs.
Track 3: 2 Fast
"2 Fast" feels like the follow-up track that "Jopping" deserves. It's much more relaxed, but at the same time has a fast pace to it. This song has more Korean than others. The bridge is easily my favorite part as it feels like a drastic change which is fitting nonetheless. It's 10 or so seconds of R&B. It's a fun track to listen to.
Track 4: Super Car
The fourth track titled "Super Car" takes a very aggressive approach at some points, but also mixes together the smooth vocals that this group presents. The change in the pre-chorus followed by the grunt-like opening of the chorus mix well. This song wasn't a large standout on the release although it is a fun listen.
Track 5: No Manners
The final track on the release was the rap focused song "No Manners." The very minimal beat mixed with bars from members. The best part has to be when Taeyong goes the vocal equivalent of 200 miles per hour for a few lines before switching back to the uniform flow for the song.
In Conclusion
While the bar was higher than most debuts since we know what all of these performers already offer, this release did deliver. The title track "Jopping" felt miles ahead of everything else on the project, although there were other great songs as well. The only real song that felt like it dragged the song down was "I Can't Stand The Rain," but besides that, it was solid throughout. For the potential new audience listening to this group, if they can get over the somewhat corny word "Jopping," they're in for a treat.