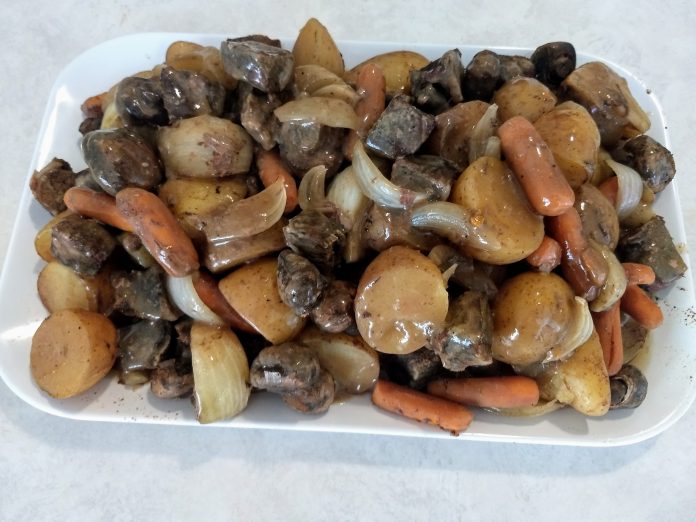 Crock Pot Party Time is bringing you some incredible recipes for your Crock Pot. We will feature some of our own classics as well as bring you some other recipes that sound incredibly delicious. Our top menu item is our Beef Short Rib Stew recipe, we also have our not yet famous Grilled Pork & Kraut and Easy Pulled Pork Crock Pot recipes.
Crock Pot Party Time
The term "Crock Pot Party" hearkens back to the '70s for those old enough to remember those days. The Crock Pot was a huge sensation when it was originally released. The fact that it is still highly popular today only confirms what a great invention it was.
For more on the origin of the Crock Pot, check this out from Alison Spiegel at huffpost.com:
"According to CNET Magazine, an inventor by the name of Irving Naxon applied for a patent for a food heating device in 1936. His device consisted of an insert, held up by a case that held a heating device, which facilitated even heating of food inside the insert. The device was also portable. By 1940, Naxon got his patent for the device he called the Naxon Beanery"
"In the early 1970s, Naxon sold his design to Rival Manufacturing, who rebranded his Beanery and put it on the market as the Crock Pot. It was marketed toward working mothers who could put food in the pot before leaving for the office and come home to a cooked meal; the Crock Pot sold millions through the '70s. The Crock Pot "cooks all day while the cook's away," a 1976 advertisement said"
For our purposes, we are celebrating this incredibly versatile cooking appliance during what should be called "Crock-tober" on the calendar. The weather has started to turn chilly and many backyard grillers are beginning to check weather forecasts before hosting their tailgate parties.
Where's the Grill?
While Grill Masters know no such weather limitations, there are still some reasons for them to host a Crock Pot Party. For one, it brings a great variety to a long football season. Inviting several guests to bring a Crock Pot dish can be both fun and tasty. It also gives the host a game day off from the grill. One other reason to Crock it up would be last year's brutal "Polar Vortex" that hit really hard. Any future game days similar to that should be spent indoors not freezing your apps off outside.
In addition, you will also need a multi-plug power strip if you've invited guests to bring a Crock Pot dish to share. Having three or four different options will definitely make your Crock Pot Party memorable.
Beef Short Ribs Stew
Beef short ribs are a fantastic cut of beef that does well in the Crock Pot. This recipe should be put together the night before to make the morning a lot easier. You will need about six hours in the Crock so adjust your start time to match your game time.
Ingredients
3-4 pounds boneless beef short ribs
12-14 Yukon gold potatoes washed/cleaned
2-3 large sweet onions
30-35 baby carrots
12-15 white button mushrooms (optional)
granulated garlic, Lawry's Seasoning Salt, black pepper, Cajun Spice
12 ounces of water or beef broth
2 heaping tablespoons of flour (for gravy)
your Crock Pot
Crock Pot basics are to put your heavy vegetables on the lower layers. Remember to season as you go with each layer. First, take your cleaned Yukon gold potatoes and cut them in half. Arrange the potatoes skin-side down on the bottom of the Crock Pot. Next in is the baby carrots. If you prefer to peel and clean 7-8 larger carrots, by all means, go ahead. Peel the sweet onions and cut them into eighths then place them onto the carrots. Lastly, wash the mushrooms and clip off the end of the stems. If they are small, leave them whole. If they are larger, cut them in half.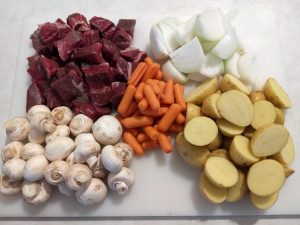 Your Crock Pot is now ready for the boneless beef short ribs. Remove them from their package and cut them into large cubes placing them into a large bowl as you go. Season the short rib cubes and stir them so they are covered all around. You are now ready to place the beef cubes in on top. Spread them evenly making sure to not block the Crock Pot lid from sealing properly. If you run out of space, remove some of the vegetables. Next up add in the water or beef broth.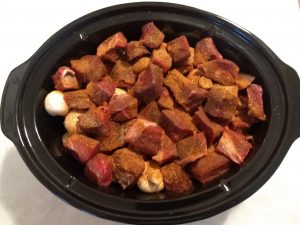 Crock Pot Magic Time
The beauty of using a Crock Pot is the ability to turn it on and walk away. The beef short ribs stew needs six hours on low in order to finish. Arrange your start time to fit in with your favorite team's pre-game, half time, or post-game.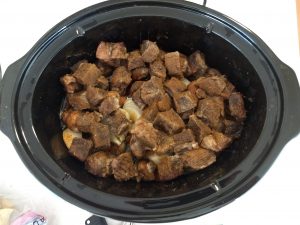 Once your stew is done, remove all of the items and place them on a large platter. Pour all of the Crock juices into a large skillet and turn it on medium-high. Once it starts to simmer, add in the flour and stir continuously with a whisk. Keep stirring while the flour begins to thicken up the juices. After the juices are thickened, lower the heat on the burner. The gravy will also thicken more as it cools.
For those of you who always make lumpy gravy, here's a suggestion. Get a small Tupperware container and add in the flour and some warm water. Close up the plastic container and shake it up. This will make what is known as a "slurry" which is used to make gravy. It takes the worry out of making gravy. Just follow the directions for simmering above and you will never ever again have lumpy gravy.
You now have choices on how to serve. The gravy can be directly drizzled over your stew items patiently waiting on the platter. You can also serve the gravy on the side by the platter, or you can return everything back to the Crock and pour on the gravy. Check with your guests on how they like it and hit the dinner bell!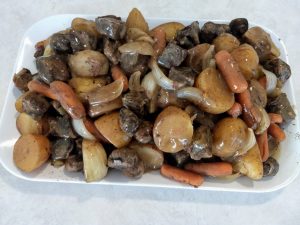 More Crock Pot Party Recipes
Here are two of our other recipes that use Crock Pots. Click on the links to view the recipes and directions for each of them.
Grilled Pork and Kraut recipe  From our Oktoberfest feature we have this delicious dish. You do not have to pre-grill the pork roast if you would prefer to only use the Crock Pot. The flavors and taste are as equally impressive going without the grill.
Easy Pulled Pork recipe  This recipe calls for two-plus hours of smoking time prior to using your Crock Pot. You can use just the Crock Pot but you should invest in some "liquid smoke" if you do. The flavor lost by not smoking the pork shoulder needs to be replaced. You will thank us for that one later.
Other Delicious Crock Pot Recipes
These five recipes sound delicious. Click on the link and you will be taken to the complete recipes and directions. If you do try any of these, please put a comment at the end of this piece letting us know how it turned out.
Crock Pot Party Wrap Up
There you have several incredible recipes for you to try for your Game Day tailgate party. Having several of your guests bring their favorite Crock Pot dishes will make your gathering one they remember!
lwos.LIFE will continue to bring you more Game Day Menus as the NFL season goes along. It is week six of the regular season so stay tuned for the next menus coming your way!