Grilled BBQ Pork Chops are featured in this week's Game Day Menu. Pork chops are a fantastic item to serve your tailgate guests. They are also quick and easy to grill. Along with the chops we have two side dishes that your guests will love. We have our Cajun Potatoes and Easy Cheesy Mac & Cheesy recipes that will be a huge hit.
Game Day on the Grill
Grilled BBQ Pork Chops
Ingredients
6-8 pork chops
Lawry's Seasoning Salt and black pepper
Your favorite BBQ sauce
Kaiser, Pretzel, or Sandwich Rolls (optional)
It is best to use boneless chops unless you're a fan of bone-in. Pork chops are available several ways at the store, so it's your call. Most grillers prefer to buy a whole or half pork loin and cut their own. This allows the cook to choose how thick the chops will be for their guests.
If cutting your own, it is best to not go thicker than two inches. Chops thicker than that can dry out as you try to get the chops cooked all the way through. You will end up with a chop dry on the outside and tender on the inside. For best results go with one inch to one and a half-inch thick chops. They tend to cook quicker and more evenly than the thicker chops.
Grill Time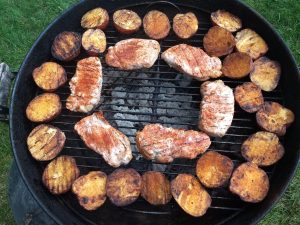 One word of caution, it is very easy to overcook BBQ pork chops. One inch thick chops can take 5-10 minutes to finish. You will want to follow the Grill Master's rule of thumb: "If you think they need another minute, take them off the grill!" Allow the chops to rest for 5-10 minutes then cut into the thickest one. If it is done, it's time to sauce the chops.
Return the chops to your grill after slathering on a healthy coating of BBQ sauce. Place the chops away from the coals and cook indirectly for 2-3 minutes. This will help caramelize the BBQ sauce and improve the flavor. Serve the chops with the rolls or on their own. Your guests will marvel at the great tasting grilled BBQ pork chops you created.
Cajun Potatoes
Cajun Potatoes are the perfect side dish to accompany your grilled pork chops. They are easy to make and taste delicious.
Ingredients
10-12 medium-size red potatoes
Olive oil
Lawry's Seasoning Salt, Cajun spice, granulated garlic, black pepper
Your first step is to wash and dry the red potatoes. Once they are dry, slice them in half lengthwise. Place them in a large bowl and drizzle in 3-4 tablespoons of olive followed by the seasonings. Take a sturdy spoon and stir the potatoes until they are covered in the oil and spices.
Grill Time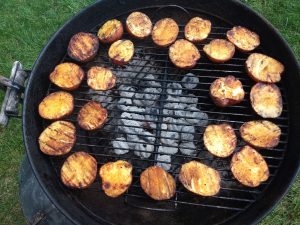 Set up your grill with 20-25 charcoal briquets piled in a pyramid in the center of your grill. You will be cooking the Cajun Potatoes indirect for 35-45 minutes. When the coals are ready, place the Cajun Potato halves around the outside of your grill skin-side down. You should flip the potatoes every seven to ten minutes until they get that beautiful grill char look all around.
Be sure to leave room for your chops because they will need to hit the grill about 30 minutes into your potatoes grilling time. You can move the potatoes to the outer edge of your grill grate when the chops hit the grill. Both items should finish around the same time just be careful not to overcook the chops!
Easy Cheesy Mac & Cheesy
To make incredibly delicious mac & cheese requires a little more work than using the numerous boxed brands alone. They are only the base for our fantastic side dish that your guests will think you made from scratch.
Ingredients
3 boxes Kraft Deluxe Mac & Cheese Dinner
8-10 ounces heavy cream
1.5 pounds shredded cheddar cheese
1 large sturdy foil pan or Corningware dish
The secret of the Easy Cheesy Mac & Cheesy recipe is its simplicity. We use the Kraft Deluxe Mac & Cheese Dinners which have a creamy cheese mix opposed to the powder mix. That alone makes these mac & cheese dinners so much better than the ones with the powdered cheese.
Easy Cheesy Time
Follow the directions and cook all three mac & cheese packages in a large pot on your stove. After mixing in the creamy cheese mix, leave the burner on low. Next up you will drizzle in half of the heavy cream and one-half pound of the shredded cheddar cheese.
Gently stir everything together as the cheese melts and mixes into your dish. After it is melted, add in the remaining cream and half of the remaining shredded cheddar cheese. Continue to stir as the added shredded cheese melts and joins the party.
After everything is melted and delicious, place it into your large foil pan or Corningware dish. Sprinkle the remaining shredded cheddar cheese across the top of the pan. Cover the mac & cheese pan with foil and bake it at 275 degrees Fahrenheit for 45 minutes. Remove the foil and bake for an additional 20-30 minutes until the cheese on top browns up a bit.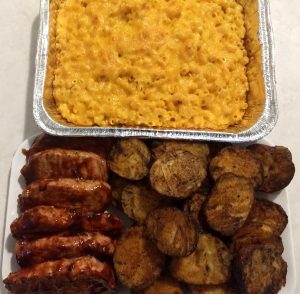 Remove from the oven and serve alongside your BBQ Pork Chops and Cajun Potatoes. Your guests will be amazed at how incredibly delicious your mac & cheese turned out. It is up to you if you want to share the recipe or not. Chances are you will be asked for it as they enjoy the cheesy goodness.
Your Grilled BBQ Pork Chops and Cajun Potatoes were a hit and you wowed them with the Easy Cheesy Mac & Cheesy. After that feast, your guests will probably be looking for a place to nap after your favorite team is done playing. It is ok, they deserve it!
Next on the Grill…
It is week seven of the NFL season and lwos.LIFE will be bringing your more Game Day Menus up through the playoffs and Super Bowl. Stay tuned while we're bringing it, and you're grilling it!