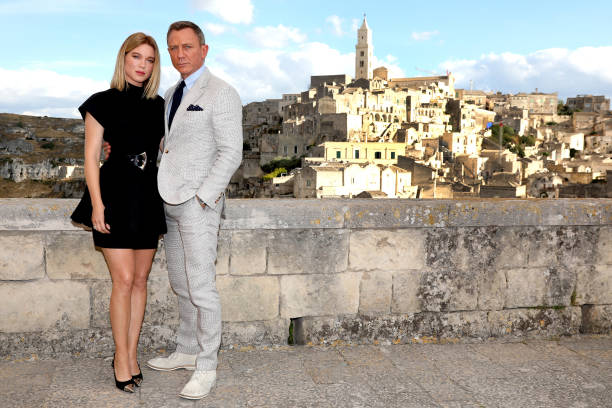 It's a good time to be alive, ladies and gentlemen. We finally got our first official trailer for the long-delayed and much-anticipated latest entry in the James Bond series, No Time To Die.
No Time To Die: Trailer
The Plot
James Bond has left the spy game having retired and settled down in Jamaica with Madeleine Swann. However, his retirement is disrupted when an old friend, CIA agent Felix Leiter asks for Bond's help. Soon enough, Bond is back at MI:6, ready to confront his deadliest foe yet. But times have changed. There's a new 00 in town, and Bond might not have it in him to complete this one last mission.
Old And New
It has been five years since Spectre, Daniel Craig's last Bond adventure. The film was met with a resounding "that's it?" from critics and audiences alike. This disappointment was exacerbated by the Sony email hack which revealed massive production troubles, including near-constant rewrites, and an exploding budget of nearly $300 million. On top of all that, when asked if he'd like to return to the franchise, Daniel Craig said he would rather slash his wrists, a colorful remark that was in no way misinterpreted by anyone.
And even when Daniel Craig did agree to come back, the movie was plagued by setbacks. Then director, Danny Boyle left the project late in development, leading to a last-minute scramble for the producers to find a capable director, before landing on Cary Fukunaga. And that was before Craig suffered an injury that delayed shooting mid-production.
And yet, after all those trials and tribulations, all those delays, we finally have our first look. So how is it?
It's awesome!
No Time To Die is pretty much everything I want from a Bond film. It is classy, modern, action-packed, familiar, and (most importantly) unexpected.
We get to see old familiars like the return of Felix Leiter (Jeffrey Wright), who has been MIA since Quantum of Solace though referenced by name in Spectre. We get the return of the MI:6 regulars like Ralph Fiennes, Naomie Harris, Ben Wishaw, and Rory Kinnear as M, Ms. Moneypenny, Q, and Tanner. And of surprise surprise, Blofeld is back! Hopefully, they give him something to do this time!
The trailer could have just been close-ups of the cast followed by Daniel Craig stepping out of the Aston Martin DB5 and ending the title and that Monty Norman theme and many a Bond fan would have died happily, but where this trailer really excels is in the unexpected.
The trailer opens with Bond physically and emotionally vulnerable, pursued by killers and betrayed by his wife (Lea Seydoux). No Bond Girl has ever made it to a sequel and many fans suspected that Madeline Swann was not long for this world, but this trailer suggests otherwise.
More interesting still is Bond's new sidekick Nomi, played by Lashana Lynch, who is not only willing to shoot James Bond if he steps out of line, but has also taken the title of 007 in his absence!
Recent Oscar lip-syncher, Rami Malek also makes a brief appearance as the film's primary baddie, Safin. Though not much is known about the character at this point, he is effectively creepy, though expect blog posts about his skin deformities to follow.
But the real stars of this trailer are cinematographer Linus Sandgren, production designer Mark Tildesley, and costume designer Suttirat Anne Larlarb, all of whom give No Time To Die its own identity in the series while simultaneously feeling 'classic Bond.'
So What Can We Expect?
Daniel Craig's tenure as James Bond has been very dynamic, full of high peaks and low valleys. With Casino Royale being released in 2006 and No Time To Die coming out in 2020, he will be the first Bond to have films in three decades. Craig will also tie with Roger Moore as the longest-running Bond at 14 years. However, while Moore had a whopping eight films in those 14 years, Craig only has five. Though to be fair, that's still more than Brosnan, Dalton, or Lazenby ever had.
Craig's era as Bond feels like high-stakes baccarat. He has been involved in two of the franchise's highest highs (Casino Royale and Skyfall). But he's also been involved in pretty abysmal lows (Quantum of Solace and Spectre). He doesn't make many but when they're good, they're like a gift from God.
When the series first began almost sixty years ago, Eon Productions released a film a year for the first four films. A film a year! Even Harry Potter needed a break between Chamber of Secrets and Prisoner of Azkaban. And even when they slowed down, they moved to a 'how about a new Bond film every two years?' routine.
That largely remained consistent until the 90s, when there was an inexplicable six-year gap between License to Kill and Goldeneye, and then it was back to the steady, reliable two-year formula.
That has not been the case for the Daniel Craig era. His run can best be described as quickly-made products and long-simmering stews. You can tell the quality of one of his films by how quickly the film was made after the last one…
Casino Royale (4 years since Die Another Day – Amazing)
Quantum of Solace (2 years since Casino Royale – Awful)
Skyfall (4 years since Quantum of Solace – Amazing)
Spectre (3 years since Skyfall – Not Quantum bad, but not great)
No Time To Die (5 years since Spectre – ???)
Following this pattern, NTTD has to be the best Bond film yet, right?
It's Good To See You Again, 007
I will never tire of going back and watching the old Bond greats (your Goldfinger's, Goldeneye's, and Casino Royale's) but it is always exciting to look to the future and see this team has in store.
Truth be told, it has been a long time since James Bond has been the apex of popular culture. The series often follows popular trends. There's a reason they made Moonraker after Star Wars. Craig's run has been no different. An argument could be made that Casino Royale, Quantum of Solace, Skyfall, and Spectre are basically Batman Begins, The Bourne Trilogy, The Dark Knight and Captain America: The Winter Soldier. And I'd be lying if I didn't get occasional Mission: Impossible – Fallout vibes from this trailer. But I don't go to see James Bond act as a narrative trailblazer. I go to watch handsome men and beautiful women fight bad guys in exotic locals. And if you can do that with swagger and style, and maybe throw in something new, I'm there.
In many ways, No Time To Die feels like it is covering similar ground to Skyfall. Both focus on an agent past his prime. Both make a point of showing his battle-scarred and weary frame, and both make a point of having characters point that out.
Daniel Craig has been the most brutal but also the most human Bond. He's also the first that we've seen from beginning to end since Casino Royale literally opens with him earning his status as 007. No Time To Die will also be the third time he has come out of retirement. While I think it is unlikely that he dies in the film (though not impossible), I hope it will feel like a glorious end for Craig's interpretation as the character.
Daniel Craig has been a phenomenal James Bond and he deserves closure.
And for all you men (and it is always men) crying that Bond is too "woke" and "007 can't be a guuuurl," I invite you to cry me a river.
And how bout that bit where the DB5 brings out the Gatling guns and does donuts around the bad guys, huh? That's what movies are for!
Main Image Credit:
Embed from Getty Images