The tasty holidays are upon us and it is time to wow your guests yet again with your grilling wizardry. We have a great menu offered up today, including Grilled Turkey Breast, Stuffing, Pinto Beans from scratch, and a triple threat option for Potatoes. It is that time of year when your "football family" deserves an extra-special meal. Our Tasty Holidays Edition menu has brought exactly that for you!
Tasty Holidays Edition
We are bringing you the traditional holiday meal of turkey today. The difference is that we are grilling the turkey breast as opposed to baking it in the oven. Grilled turkey breast has incredible flavor, especially if you add mesquite wood chips to the process. There is something about poultry and mesquite wood that make an incredible flavor when blended together. You can grab a small pack of Kingsford mesquite chips at most stores that carry charcoal and BBQ supplies. We will cover how to use these down below.
Grilled Turkey Breasts
Necessities
2 turkey breasts
Olive oil
Lawry's Seasoning Salt
Black pepper
Granulated garlic
Cajun spice (optional)
Meat thermometer
Take your turkey breasts out of their wrappers and rinse with water; then dry off with paper towels. If your bird has a pop-up timer installed, remove that and dispose of it. Place the turkey breast in a large foil pan and drizzle it all over with the olive oil and desired spices. At this time you should be soaking the mesquite wood chips in water for at least a half-hour.
Grill Time
You will be grilling the turkey breasts using the two-zone grilling method as seen in our learning grilling basics piece. You will be placing 25-30 coals on one side of your grill. This grilling method can take four to five hours to finish your birds. You will also have to re-coal at least once during the grilling process. To cut down your grilling time, use the three-zone method which provides more heat from coals on both sides of the breasts. They should require three to three-and-a-half hours grilling this way.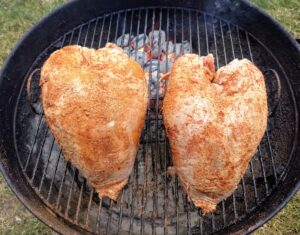 Once the coals are ready, place the turkey breasts on the opposite side of the grill from the coals if using the two-zone method. If using the three-zone method, the breasts will sit right in the middle of your grill. Place a handful of the water-soaked mesquite chips on top of the coals.
Check on your breasts every 35-40 minutes and rotate them 180 degrees each time. This will help grill them more evenly. Continue to monitor and rotate the turkey breasts every 35-40 minutes and re-coal as needed. You should be adding more wood chips, too.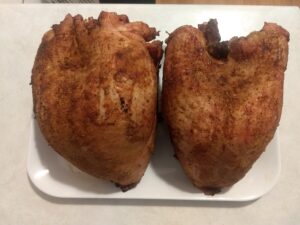 With turkey, as with all poultry, you will need to reach an internal temperature of 180 degrees Fahrenheit to be cooked through. When using the meat thermometer, always check the thickest part of the bird without hitting any bones. As soon as it hits 180 degrees, remove the bird and cover with a large foil sheet. Allow your turkey breasts to rest for 20-30 minutes before carving. Your guests will absolutely love the grilled flavor of your turkey and probably want seconds or thirds!
Game Day Stuffing
Stuffing is a required holiday side dish, especially alongside your grilled turkey. We have a delicious way to change up the usual stuffing your guests are familiar with at holiday time. This change involves using hot breakfast sausage instead of giblets. We are listing it as an optional ingredient below, but your stuffing will definitely stand out at your holiday tailgate party if you include it.
Ingredients
1 red or sweet onion chopped
1 red or yellow pepper chopped
5 stalks of celery chopped
1 pound package hot breakfast sausage (optional)
2 cups of water
32 oz box of chicken broth or stock
2-3 tablespoons olive oil
Season to taste with Cajun seasoning, Lawry's, granulated garlic, black pepper
2 bags of prepared stuffing mix
1 sturdy foil pan
Stove Top Instructions
Start with a large pot or stockpot. Sauté the breakfast sausage with the chopped pepper, onion, and celery in olive oil. Season to taste while everything is cooking. The veggies should be perfect once the sausage is fully cooked.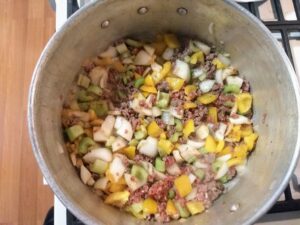 Slowly pour in the chicken broth and water then bring to a simmer for 10 minutes. Turn off the heat and add in the stuffing mixes then stir it all together. Take your stuffing and place it in the sturdy foil pan. Cover with foil and bake at 300 degrees Fahrenheit for one hour. Remove the foil and continue baking for another 30 minutes. Your stuffing will then be ready to amaze your guests!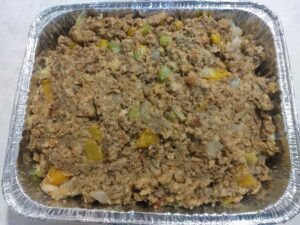 Pinto Beans From Scratch
Do you remember the "ham-a-palooza" Game Day Menu this past Thanksgiving? We had grilled ham on the menu all day and advised you to save the ham bone for the upcoming holiday tailgate party. This bean recipe is what the ham bone is a huge part of because it adds fantastic flavor to this down-home classic.
The recipe can be made with pinto beans, navy beans, or great northern beans. All of them are delicious, but my favorite bean is the pinto bean.
Ingredients
2 lbs of dry pinto beans
Lawry's Seasoning Salt
Granulated garlic
Black pepper
Chili powder or cumin
1 large stockpot
1 ham bone
Take the pinto beans and place them in a colander. Rinse the beans with water, making sure any rocks or twigs are removed. Even though most bags of dried beans say that "they are cleaned," be sure to check for anything that doesn't belong. Once the beans are rinsed and checked, place them in the large stockpot. Add in enough water to completely cover the beans about an inch above. Add in your spices and stir the beans.
Next, cover the bean pot and simmer on medium-high heat. You'll notice the bean pot beginning to boil, which means it's time to stir again.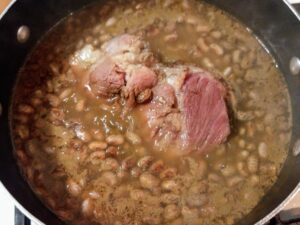 As the beans simmer, they will swell and meet the top of the water. This means it's time to add in the ham bone and two cups of water. Continue simmering on medium, being sure to stir every 10 minutes. As the beans simmer, they will absorb the water so be careful not to let the beans dry out. Add water as necessary.
After an hour, remove the ham bone and allow it to cool. Continue simmering your beans and adding water as necessary. After the ham bone has cooled, remove any remaining ham from the bone and place it back into your bean pot. The grilled ham pieces will add even more flavor to the beans while they finish.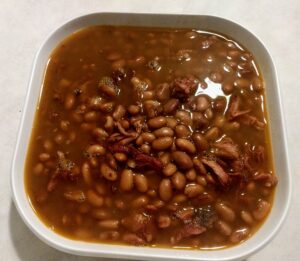 After an hour-and-a-half to two hours, the beans should be soft and the sauce thickened from the starches of the beans. Check the flavor of them and add additional spices as needed. Serve the pintos with cornbread or over rice. This classic side dish will be the perfect addition to your holiday tailgate party.
Games Day Potatoes
The Tasty Holidays Game Day Menu absolutely has to include potatoes along with the turkey, stuffing, and beans. We have three killer potato recipes for you to choose from today. Simply click on the link below to go directly to the recipe and directions. Any of them are delicious additions to the holiday tailgate party!
Tasty Holidays Wrap Up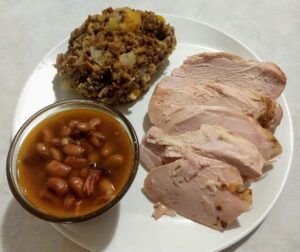 It is nearing the end of the NFL season and hopefully, your favorite team is having a good year. This time of year is also when most fantasy football leagues are wrapping up their championships. Whether you have a playoff-bound NFL team or a fantasy team still alive, lwos.LIFE has you covered with great grilling ideas. These delicious Game Day Menus can even help take your mind off your teams if they have become "Dumpster Fires" in front of your eyes this year. Stay tuned as we will be bringing you more menus up to and including the Super Bowl!