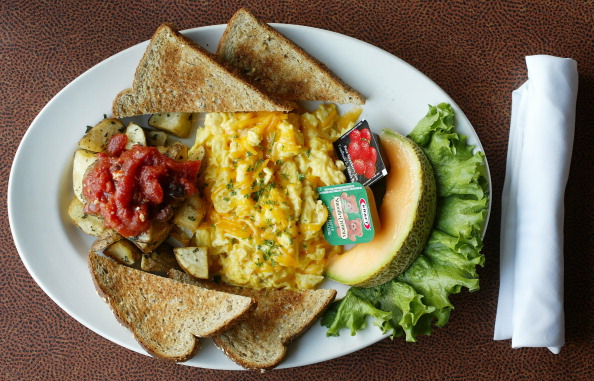 Mother's Day is this Sunday, May 12th. It is a day to take care of all of the moms by making them some incredible meals on Mother's Day. After all, it should be a day for them to relax and avoid the kitchen! We've got an incredible breakfast skillet to start off her day. That will be followed by a delicious dinner straight from the grill.
We have chosen our Perfect Grilled Chicken recipe for the main course. We will also have our Cheesy Garlic Smashed Potatoes and Premium Pasta Salad for your sides. Due to the varied culinary tastes of our moms, we will also have a list of alternate grilled classics. Mom should be allowed to pick her meal and we have you covered with a tremendous list to show her.
Mother's Day Grilling Recipes
History of Mother's Day
The origins of Mother's Day go back to the ancient Greeks and Romans. It has evolved throughout time with many cultures celebrating moms everywhere. The modern day celebration is tied to two women: Julia Ward Howe and Anna Jarvis. For more on this check out from MothersDayCelebration.com who writes:
"Julia Ward Howe suggested that June 2 be annually celebrated as Mothers Day and should be dedicated to peace. She wrote a passionate appeal to women and urged them to rise against war in her famous Mothers Day Proclamation, written in Boston in 1870."
"Anna Jarvis is recognized as the Founder of Mothers Day in the US. Though Anna Jarvis never married and never had kids, she is also known as the Mother of Mothers Day, an apt title for the lady who worked hard to bestow honor on all mothers."
Moms everywhere can appreciate both of these women, who helped create the modern Mother's Day celebration. To honor Mom, we have you covered with delicious means, below!
Mother's Day Breakfast Skillet
Start off your mom's day the right way by creating an incredible skillet. It is a pretty easy recipe to make and she'll appreciate the delicious breakfast.
Ingredients:
Bacon, breakfast sausage patties or links, or ham chopped up
3-4 large potatoes chopped into cubes
Your favorite add-ins chopped into cubes: onions, red/green peppers, mushrooms
6-8 jumbo eggs
Your favorite shredded cheese
Olive oil
1/4 stick of butter
Salt & pepper to taste
Salsa or hot sauce to taste – optional
Get a large skillet and drizzle it with olive oil. Place the potatoes and any of your "add-ins" into the skillet on medium heat. Add in half of the butter and your seasonings. Sauté the mixture until the potatoes are about half-done. Add in the chopped meat you chose and sauté until the meat is cooked through. Add in the salsa or hot sauce at this point if you choose.
While the meat is cooking in the skillet take the 6-8 jumbo eggs and scramble them up in a bowl. Take another skillet and warm it on medium heat with the remaining butter. Once the butter is melted, add in the eggs and seasonings. Cook the eggs through until they are done breaking them up as they cook.
Once the scrambled eggs are ready spread them onto the ham skillet then add the shredded cheese on top. Turn off your burner and allow the skillet to rest and the cheese to melt. Serve up your Mother's Day skillet with toast or English muffins.
Mother's Day Perfect Grilled Chicken
Our incredible Perfect Grilled Chicken recipe is one to sure please Mom. The chicken turns out amazing when grilled this way. This dish also involves one of the most awkward-sounding cooking/grilling terms ever created: spatchcocking. It's the secret to the chicken remaining juicy, but be careful using that term around Mom as you may get a strange look or worse!
Spatchcocking Your Bird
The term "spatchcocking" refers to the method of splitting a chicken in half and grilling it opened and flat. This method keeps all the parts together and helps keep the juices in the bird while it cooks. You will need some sharp kitchen shears or a sharp knife to get your chicken ready to grill. For more info on the spatchcocking process check out this from The Spruce:
"Scholars are unsure of the exact origin of the term, but most agree it dates back to 18th-century Ireland. The word is used as a verb, (ie., to spatchcock a chicken), as an adjective, (as in spatchcocked chicken), and as a noun on its own (like in "the finished spatchcocked bird")."
Ingredients needed:
1 whole chicken
Olive oil
Lawry's Seasoning Salt
Granulated garlic
Black pepper
Cajun seasoning (for spicier chicken)
Grilled Chicken Prep Time
Take the knife or shears and cut along next to the backbone on one side. You can completely remove the backbone if you choose, or leave it in the bird. Rinse the chicken in water and dry with paper towels.  Give the chicken a light coating of olive oil and your seasonings, inside and out. Set up your grill to cook indirectly with 30-35 briquettes on one side of your grill. Light the charcoal and wait for that "perfect grey." Once your coals are ready, place your chicken on the opposite side of the grill away from the heat. Cover the grill with the lid making sure to leave the vents open above the chicken.
Smoking Option
You can also use wood chips to add smoke flavor to your chicken as another option. Mesquite or apple wood chips work really well with all poultry.
Grilling Time
After the grilling begins, be sure to check back on the chicken every 30-40 minutes to "make the flip". Turning the bird over as you go will ensure even grilling, and it also is a good time to add more wood chips if you're smoking. Grilling time will vary but should take 2-3 hours tops. Use a meat thermometer to check the thickest part of the chicken. You will want to take the bird off the grill as soon as it reaches an internal temperature of 180 degrees Fahrenheit.
Serving
Allow your bird to rest for five minutes and then carve it up into halves or quarters. Serve with our tasty side dishes: Cheesy Garlic Smashed Potatoes and Premium Pasta Salad.
Mother's Day Alternate Recipes
Here are some other options for a main course for Mom:
Cheesy Garlic Smashed Potatoes
Potatoes are a great side dish to serve with your chicken. Our Cheesy Garlic Smashed Potatoes recipe will be a huge hit with Mom as she celebrates her day.
Ingredients
3-5 pounds of golden potatoes
1 full garlic clove
1/2-1 cup of milk
1 stick of butter
1 pound shredded cheddar cheese
Sturdy foil pan
Salt & pepper to taste
Take the garlic clove and separate each piece of garlic and remove all of the skin, exposing the yummy garlic pieces. Chop up the golden potatoes into small cubes with the potato skin still on. Place the potato cubes and garlic pieces into a large pot of water with 2 tablespoons of salt. Boil the potatoes and garlic until the potatoes are done, then drain. Add in the stick of butter and allow to melt.
Use a potato masher or electric beater to smash the potatoes, adding the 1/2 cup of milk as you go. Once you have the potatoes ready, add in a half pound of the shredded cheddar cheese. Stir in the cheese so it's spread evenly throughout, then season to taste with the salt and pepper.
Next, take the potato mixture and place into the sturdy foil pan. Take the remaining shredded cheddar and sprinkle it on top of the potatoes, and cover with foil.
Bake for 30 minutes at 350 degrees Fahrenheit; then remove the foil cover. Bake for an additional 15-20 minutes to "brown up" the cheese. I usually serve my cheesy garlic smashed potatoes with gravy from Popeye's. They are absolutely delicious without gravy too, so it's your call.
Premium Pasta Salad
Our recipe for pasta salad includes many ingredients that when combined make the Premium Pasta Salad an incredible side dish. You can choose all of them for the maximum flavor or leave some out if you want.
1 pound bag of tri-color pasta
Your favorite Italian dressing, lite or fat-free
Green onions (chopped)
Pepperoncinis (chopped)
Red onion (chopped)
Yellow or orange pepper (chopped)
Black olives (halved)
Cherry tomatoes (halved)
Dry salami (cubed)
Pepper Jack cheese (cubed)
Mozzarella cheese (cubed)
Seasonings to consider – salt, pepper, pepper flakes and grated parm
Cook pasta, then chill in cold water rinse and drain. Add all ingredients, add in dressing, then toss the salad. Chill for a couple of hours or overnight. Add in additional dressing, then toss again before serving.
Last Word On Mother's Day
For one day every year Moms are supposed to be honored and cherished, despite deserving many more days each year than they actually get. In honor of these wonderful women, we are happy to share our recipe suggestions for what to serve Mom on Sunday. Treating Mom to a fantastic breakfast and dinner is just one way to show Mom how much you care. Now get grilling!