Italian Beef and Sausage Combos are the perfect way to celebrate the last week of the 2019 NFL football regular season. We are also adding in our Baked Mostaccioli recipe which is the absolute perfect side dish to the combos.
The term combos may not be familiar to you, but the sandwich is historic in the Chicagoland area. Combos are a tradition that blends two of the more popular food items in the Windy City; Italian beef and sausage. Many of you are unable to get these items fresh, but there are options available. As seen in our Road Trip To K.C. piece, tasty Italian beef & sausage are very sought after items outside of Chicago.
Game Day From Chi-Town
Italian Beef and Sausage Combos
3-4 pounds Italian sausage
3-5 pounds Italian beef with au jus
Italian bread or rolls
Jar of giardiniera (hot/mild or both)
12-15 slices of provolone cheese
Italian beef and sausage combos are a vintage "Chicago way" to amaze your tailgate guests. There are several steps to creating your combos involving the beef, the sausage, and the peppers & onions. They eventually all end up in the pool together where your guests will be able to pick out whatever they want on their sandwich.
Italian Beef
Many butchers and delis carry fresh Italian beef and au jus. If yours does not, our condolences to you. Luckily there are several pre-packaged Italian beef products available. One of the more popular ones is Papa Charlie's Italian Beef which is available at most supermarket chains. It does not come close to fresh Italian beef, but it will do.
First up is to place the Italian beef and au jus into a large foil pan on your stovetop. Turn the burners on low and cover the pan with aluminum foil. Remember, you are not cooking the beef, only warming it up. Also, do not boil the beef because it can become tough.
Italian Sausage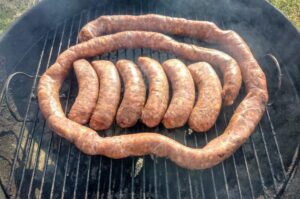 You will want to buy your Italian sausage in "the rope" if possible. If you do not have access to a deli or butcher that carries fresh Italian sausage, you will have to use the frozen links sold by most grocery stores. It will not be as delicious and fresh-tasting, but your guests will still love it.
You will be grilling your Italian sausage semi-indirect, making sure to get that impressive char on the outside. Place 20-25 charcoal briquets in the center of your grill and light them up. When the coals are ready, you then place your Italian sausage around your grill grate starting near the center.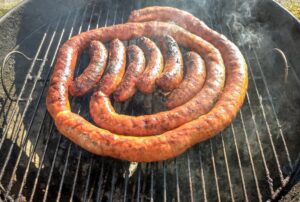 You will want to turn over your sausage every 10-15 minutes. Your sausage should look done on the outside while still being juicy on the inside. When your sausage is done, cut it into three to four-inch-long pieces. Take the sausage links and add them to the foil pan of beef gently mixing everything together to blend the flavors.
Peppers & Onions
6-8 large red or yellow sweet peppers
1 large sweet onion
1 clove of garlic chopped
Salt, pepper, Lawry's Seasoning Salt, granulated garlic, grated parmesan cheese
3-4 tablespoons olive oil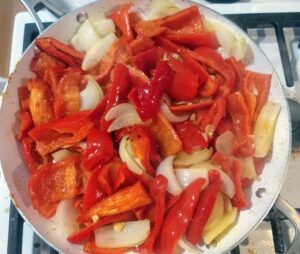 While the sausage is grilling, it's time to saute the peppers and onion. Cut the peppers into one-inch wide strips from top to bottom. Do the same with the sweet onion. Drizzle the olive oil into a large skillet, and then add in the peppers, onion, chopped garlic clove, and seasonings. Be sure to save the grated parmesan cheese for the end. Gently toss the peppers and onions so that they are completely covered in the olive oil and seasonings. Saute the peppers and onions until they are cooked through but not caramelized. When they are done, add them to the foil pan of beef & sausage.
Creating The Classic Chicago Combo
Allow the Italian beef, sausage, peppers and onions to steep in the foil pan for 30-45 minutes. This will meld all of the flavors together making for a more tasty combo. Just before serving cut the bread loaf into three-inch-long pieces.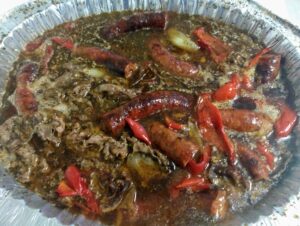 Take your roll or bread and open it up while placing a layer of beef on the bottom. Top that with a link of Italian sausage along with some peppers and onions. Place a slice of provolone cheese on that layer and add a drizzle of giardiniera. After the cheese melts a bit, your combo will be ready to enjoy along with our baked mostaccioli found below.
Baked Mostaccioli
Ingredients
2 jars of your favorite pasta sauce
1-2 pounds of mostaccioli
1 pound ground Italian sausage or beef
1-2 pounds shredded mozzarella cheese
1/2 cup grated parmesan cheese
Making baked mostaccioli is one of the easiest side dishes ever. It is also the perfect side dish when serving your Italian beef and sausage combos!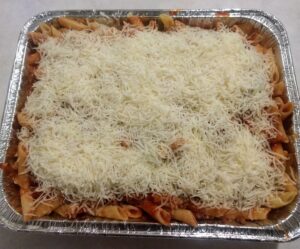 Start by sauteing the ground Italian sausage or beef in a large skillet. When that is done, add in the two jars of pasta sauce and stir. While you are preparing the meat sauce, boil the mostaccioli noodles as directed on the package and then drain. Combine the noodles with the meat sauce in a large bowl adding in half of the grated parmesan and shredded mozzarella cheeses. Place the mostaccioli mix into a sturdy foil pan and top with the remaining parmesan and mozzarella cheeses. Cover the foil pan tightly with aluminum foil.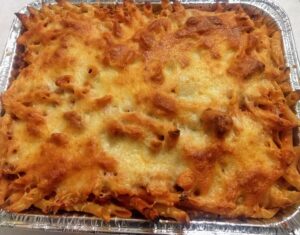 Place the foil pan into your oven set on 325 degrees Fahrenheit and bake for one hour. Carefully remove the foil and bake for an additional 30-45 minutes. You will want the cheese on top to get "browned up" a bit before serving. Your guests will be drooling as the baked mostaccioli comes out of the oven!
Game Day Wrap Up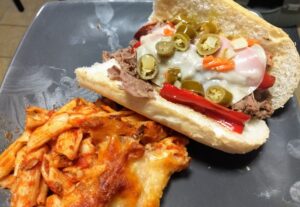 It has been over 20 weeks of football counting all of the pre-season and regular-season games and your guests deserve a delicious menu this week. Our combos and baked mostaccioli are going to be a huge hit with your guests. Stay tuned as lwos.LIFE will be bringing you more delicious Game Day Menus every week of the playoffs and Super Bowl!