Ever since he was a youngster, Bruce Swinden has understood and appreciated the importance of choosing the right footwear.
"As a kid I grew up playing basketball which almost guarantees you to be a sneakerhead. Your shoe was critical since it was the only piece of equipment you could buy for yourself to wear on the court in a game," pointed out the 30-year-old entrepreneur.
"A shoe is one of the first physical cues the brain registers when meeting someone. Whether we are cognizant of it or not, we are registering a profile of the person we are meeting and making judgement," he added.
Ambitious Businessman Bruce Swinden Eager to Make his Mark in the Footwear Industry
Bringing a Creative New Look to the Market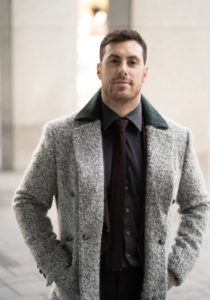 These days Swinden's focus is on higher-end men's shoes.
"Approximately three years ago, I began working in the men's fashion industry for Garrison Bespoke. This was when I started taking more notice into formal shoes and what styles were being worn with suits and to the office. I quickly realized how boring and repetitive most options were," he noted.
For his creative-type clients who wanted a unique shoe, Swinden had to shop online for brands in Europe.
"I did this for a couple of years and used that research to learn about the leather shoe industry and what Canada had to offer. I learned there were no brands who offered truly unique styles or colours. I wanted to bring an exciting brand to Canada for the creative buyers and casual dressers to enhance their wardrobe," he pointed out.
And to realize this objective, Swinden created Crossover Footwear.
"The purpose of Crossover Footwear is to create stylish shoes for every man's existing wardrobe to help enhance their personal look," he explained.
"The idea for Crossover is a shoe that is meant to be worn casually or formally since most industries have gone more casual. You can crossover from formal to casual while wearing the same footwear."
Getting His Business Off the Ground
Swinden graduated with a business degree from Bishop's University in Sherbrooke, Quebec and then obtained a postgraduate diploma in digital marketing from George Brown College in Toronto.
With an educational background in marketing and a strong interest in footwear and sales, Swinden has been working hard to take his new business idea off the ground.
"As any entrepreneur will tell you, it's just about getting the idea off the ground and keeping yourself accountable with tasks to make sure you don't lose momentum," he said.
"For the last 20 or so months, I've been meeting with different mentors in the industry who have successfully established shoe companies to learn about their brand, process, and mistakes. I've had other business experts help me from an international business standpoint regarding where to have the shoes made, what some of the challenges are and where it is most important to spend your time and energy," Swinden continued.
"I had to explore options in Italy, Spain, Germany, and China regarding manufacturing and production. Since it is a tricky style there was a lot of difficulty in communication and risk in investment."
Invaluable Mentorship
Swinden specifically points to the invaluable mentorship he's received from Mike Nguyen, the founder of Garrison Bespoke.
"Mike has helped introduce me to some great business experts and given me plenty of help and feedback himself. Garrison has a very impressive book of clients including many celebrities and professional athletes. Some of our most enthusiastic clients are Auston Matthews and Freddy Andersen from the Maple Leafs. While styling some of their wardrobe pieces for this season we mentioned footwear and agreed on a couple of boots," said Swinden.
"I'm also working to create a nice navy boot for Canada's space veteran Chris Hadfield. Listening to their opinions along with Mike's input has been great for designing new looks."
Fuelled by Ambitious Goals
Swinden says his 2020 resolutions involve growth through e-commerce channels.  Crossover Footwear currently has a shoe line and a boot line, and the ambitious entrepreneur has plans to release a formal shoe – typically worn to formal dinner parties, galas and weddings.
"In the summer, I will be adding a unique line of loafers since there is such a great demand for them now," he revealed.
The 30-year-old entrepreneur approaches the future of his company with the same play-to-win mindset and competitive approach he's had since his days as an athlete on the basketball courts.
"If you don't set goals you won't go anywhere. So the goal by 2025 will be that Crossover Footwear is the most influential shoe brand in Canada."