The NFL Conference Championships are here and many fans will be hosting a doubleheader on Sunday. There are two games back to back that to prepare for this coming weekend if you are grilling. We have two fantastic dishes that will make your grilling day easy and also provide one of your healthier tailgate parties ever. We have our Grilled Chicken Tortilla Salad to kick off your day and also our Grilled Chicken and Pasta to finish up.
NFL Conference Championships Game Day Grilling
The second round of the NFL playoffs is over and now four teams remain to battle in the NFL Conference Championships this weekend. Listed below are the two games this Sunday:
On this day your guests may do a double-take on your menu selections at first. They may even feel your forehead to see if you are well. Your long-time regulars may even step outside to check the address on the house they are standing inside. They will probably not believe that you are serving a salad dish to start the day. They will likely check the grill or fridge for something more normally served by you at your tailgate parties.
On this day you can tell them that you are giving them a break after that decadent leg of lamb you served them for the NFL Wild Card games. Today you will provide two meals consisting of healthy grilled chicken and several high powered vegetables also. Do yourself a favor though and do not tell them that there are broccoli and asparagus in your pasta dish. Let them find out on their own as it will be funnier that way. Despite any early complaints, they will thoroughly love both dishes. You can also assure them that your Super Bowl tailgate party menu will get them back on track "to the chair" in just two short weeks.
Grilled Chicken Breasts & Red Peppers
Ingredients
8 boneless chicken breasts
4-6 large red peppers
2-3 tablespoons of olive oil
granulated garlic, black pepper, and Lawry's Seasoning Salt
You will be grilling the chicken breasts and red peppers indirect on your grill. Take 25 charcoal briquettes and place them in a pyramid in the center of your grill. Light your grill and wait for the coals to turn grey.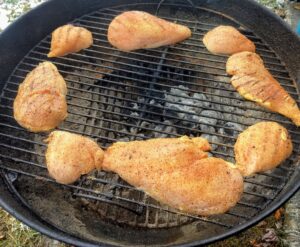 When the coals are ready, place the chicken breasts around the outside of your grill grate and season to taste on both sides. Close the lid and head inside to prepare the peppers. Cut the tops off of the peppers and then cut them in half lengthwise while removing the seeds. Place them in a sealable baggie and drizzle in the olive oil and seasonings. Then toss the peppers so they are completely covered in oil and spices.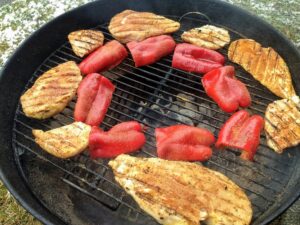 Allow your chicken breasts to grill undisturbed for about 15 minutes. Open the lid and flip over the breasts to their other side. It is at this point that you add the red peppers to the grill. Let them grill for another 15 minutes and turn over the peppers and chicken breasts. Be sure to check the smaller breasts to see if they are done. Use a meat thermometer and check for 180 degrees Fahrenheit internal temp. Remove any chicken breasts that are ready and close the lid.
Grill everything for another 10 minutes and recheck the breasts. They should all be ready at this point, along with the peppers. Remove everything and place it on a large platter to cool. These delicious chicken breasts and peppers will be the base for your two healthy dishes today.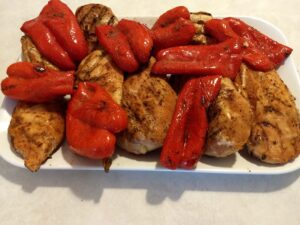 Grilled Chicken Tortilla Salad
You will be using the grilled chicken breasts and red peppers as described above as part of this dish. The grilled flavor adds so much to the salad that your guests will be sure to notice.
Ingredients
1 large head of your favorite lettuce
5 stalks of celery chopped
2-3 grilled red peppers chopped
25-30 baby carrots chopped
2-3 large tomatoes diced
2-3 grilled chicken breasts cut into thin slices
tortilla chips crumbled into small pieces
1/2 cup shredded cheddar cheese
your favorite salsa
Your first steps are to wash and chop all of the veggies that go into this incredible dish. You will want everything chopped into small bite-size portions especially the carrots. The lettuce can be shredded by hand into small pieces too. If you choose you can substitute any of the popular pre-packaged bags of lettuce instead. One of the more popular is by Fresh Express who has numerous lettuce options available.
Combine the lettuce and veggies in a large bowl and toss until everything is spread around evenly. Next, take a large plate or platter and place a thick layer of salad. On top of that, place a thin layer of the tortilla chip pieces followed by the sliced grilled chicken. Sprinkle on the shredded cheddar cheese and serve with your salsa on the side. This will make the perfect healthy start to your tailgate party!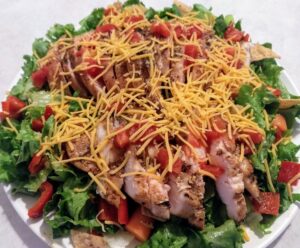 Grilled Chicken & Pasta
1 large onion cut into one-inch slices
4-5 grilled red peppers sliced
2-3 cups of chopped fresh broccoli florets
12-15 stalks of fresh asparagus cut into one-inch pieces
3-4 tablespoons olive oil
1/2 stick of butter
3-4 grilled chicken breasts cut into thin slices
1/2 cup grated parmesan cheese
1-2 pounds of your favorite pasta (angel hair works best)
1/2 cup shredded mozzarella cheese
Season to taste with Cajun seasoning, Lawry's, granulated garlic, black pepper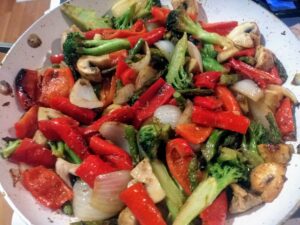 Use a large skillet and sauté the red pepper, onion, broccoli, and asparagus with seasonings in olive oil until they're almost soft. Add the sliced grilled chicken breasts and red peppers then toss everything as it warms through.
While the veggies are cooking in the skillet, prepare the angel hair pasta per the directions on the package. (You can also use wheat pasta to make this meal healthier.) When the pasta is done, drain and return it to the pot. Turn your burner on low and add in the butter and a drizzle of olive oil. Stir the pasta until the butter is melted then place it in a large bowl.
Take your cooked veggies and grilled chicken breasts and place them in the same bowl as the pasta. Add in the grated parmesan cheese and a good-sized drizzle of olive oil. Gently toss everything together until it is mixed through. Place your grilled chicken and pasta onto a large platter and then sprinkle on the shredded mozzarella cheese. Your guests will definitely forget the focus on healthy when they get one look at your chicken and pasta dish. One taste and they will be extremely forgiving!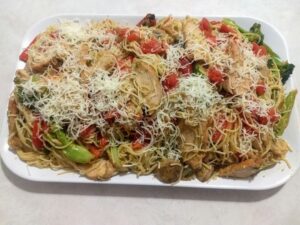 NFL Conference Championships Wrap Up
At the conclusion of these two games, there will be two teams left heading to the biggest sporting event in the world; The Super Bowl. The upcoming Super Bowl Game Day Menu will be a massive one provided to you by lwos.LIFE so stay tuned for that coming soon!