Illvibe is a respected Canadian rapper and entrepreneur. This year the Toronto native will be performing at a showcase in California during Grammy week.
Canadian Rapper Illvibe to Perform in Grammy Week Showcase
A Great Opportunity
The talented Canadian is eager to speak about his upcoming showcase out on the west coast.
"I'm performing at Bronson Bar on The Sunset Strip in Hollywood, California. I know the area really well and have performed at the venue in the past. Hollywood and L.A., in general, is such a hub for artists and creative entrepreneurs," says Illvibe.
According to fellow Canadian rapper, D.O. Gibson, performing in L.A. during Grammy weekend presents a big opportunity.
"I think showcasing during Grammy week is going to be great for Illvibe. The thing about the Grammys is that you have no idea who might be in the building but the one thing about Illvibe is that he knows how to seize an opportunity," says Gibson.
Gibson will be hosting his fourth annual Northern Hospitality event on Saturday, January 25th which will see talented Canadians artists such as Illvibe featured.
Celebrating the 62nd Annual Grammys
The 62nd Annual Grammy Awards ceremony will be held at the Staples Center on Sunday, January 26 and it will be hosted by Alica keys.
Leading the way is Lizzo who has a total of eight nominations. She is followed by Billie Eilish and Lil Nas X – both received six each nominations.
"To be honest, I'm not really a heavy award show follower but I'm always happy to celebrate excellence and certainly I participate when someone I support wins an award as a prize for their talent and hard work," Illvibe points out.
A Passion for his Craft
Illvibe currently has an album out now called Love Among Thieves which is available on all streaming platforms. The album features records such "Never Gone" with Cryptic Wisdom and "Another One" with Veronica and has received several hundred thousand streams.
"My music is unfiltered, raw and truthful. I write and sing about the things that keep me up at night and make me smile in the morning." He adds, "I think and feel deeply and then write that into the record directly."
"I also love the kinds of records that are singable and memorable. So I couple the intense truths with infectious melodies and breakdowns that I dare a crowd to not love just a little bit."
Illvibe will be touring parts of the U.S. at the beginning of March with his first show held at the Marquis Theater in Denver, Colorado on March 6th.
Success as an Entrepreneur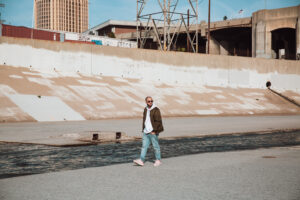 Besides finding success as an artist, Illvibe has also found success as a music entrepreneur.
"My animation studio LyricVids.com is the web's #1 Lyric Video company, and we've produced nearly 1,000 videos for artists such as Bob Dylan, Wiz Khalifa, French Montana, Zac Brown, Missy Elliott and the list goes on for quite a while," he says.
"I also run a record label and songwriting company, Heavy Aux Records writes and produces about 150 songs per year out of our Toronto studio. We write with some of Canada's top talents, and most inspiring up-and-coming voices. There are so many records coming out in 2020 written and produced by the Heavy Aux team."
As a long time friend, Gibson speaks about the drive that has propelled Illvibe to success in the industry.
"The thing I love about Illvibe is his hunger and drive to become better. It's been great seeing him evolve over the last few years. I've worked with dozens of artists and many tell me about what they want to do, but few actually follow through like Illvibe," he points out.
Planning to Make Connections on West Coast Trip
Illvibe is excited about his upcoming trip out to the West Coast and plans to make the most out of his time in Los Angeles during Grammy week.
"When I'm in L.A., I'm always building relationships in my areas of interest. I've made a ton of friends in the comedy industry there and that's been a fun addition. Getting to hang and talk with comedians who help shape the culture of the country, and build relationships there opens up great opportunities for the writing I do to potentially grow into a comedic direction through jokes and scripts etc.," he says.
"I am really looking forward to performing, and getting to connect with inspiring artists and behind-the-scenes types who share my passion for creating art and releasing it to the world."