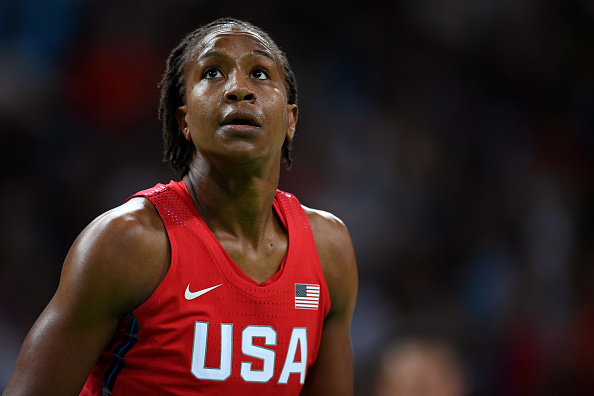 As a basketball player and a person, Tamika Catchings has enjoyed success at every level.
Given her impressive accomplishments on the basketball courts, it was announced over the weekend that the 40-year-old former WNBA superstar has been selected, along with NBA legends, such as the late great Kobe Bryant, Tim Duncan, and Kevin Garnett to enter the Naismith Memorial Basketball Hall of Fame this summer.
WNBA Legend Tamika Catchings to Enter Basketball Hall of Fame
Class of 2020 Inductees
Catchings, Byrant, Duncan, and Garnett will be entering in the player category while Rudy Tomjanovich, Eddie Sutton, Kim Mulkey, and Barbara Stevens will enter in the coaching category.
The late Patrick Baumann has been selected based on his contributions to the sport of basketball from an international standpoint.
The nine new members will be enshrined into the Basketball Hall of Fame as the class of 2020 in a ceremony held on Saturday, August 29th.
A High School and College Standout
During her time in high school, Catchings became the first player, male or female, to be officially credited with recording a quintuple-double, in which a player accumulates a double-digit number total in all five statistical categories.
While playing as a senior for Duncanville High School in Texas, Catchings scored 25 points, 18 rebounds, 11 assists, 10 steals and 10 blocks in 1997. Catchings would also lead Duncanville to a state title in her senior year of high school.
In her freshman year of college, she helped the Tennessee Lady Volunteers win the 1998 NCAA Championship. After completing her four years at the University of Tennessee, the All-American was selected to the WNBA with the third overall draft pick by the Indiana Fever.
Connected Through Greatness
During her 15 year WNBA career, Catchings was a 10-time All-Star and was named the WNBA MVP in 2011. In addition, she was part of four Olympic gold medal teams and also led Indiana to their first WNBA title in 2012, while earning finals MVP.
Given that both her father and Bryant's father played professional basketball together in Italy, Catchings – who wore the number 24, just like Bryant – spoke about the significance of entering the Hall of Fame with her childhood friend.
"Just grateful for the opportunity that our parents and our families had to spend that time in Italy. Over the years, if you looked at our careers it's crazy to see how many things overlapped," said Catchings on an ESPN interview about her bond with Bryant, who was killed in a helicopter crash in late January.
First Lady Volunteer to Enter Basketball Hall of Fame
The 40-year-old former University of Tennessee standout will be the first Lady Volunteer to entered the Naismith Memorial Basketball Hall of Fame.
"Just very thankful and grateful that I had the opportunity to go to the University of Tennessee and to be the first," she said.
Catchings credits her late former college coach, Pat Summit, for teaching her the importance of pursuing greatness both on and off the basketball court.
"I think the biggest thing she always talked about is that we're not only going to be great on the basketball court. We're going to be great on the court, we're going to be great in the classroom, we're going to be great in the community, and we're going to be great people," said Catchings.
The Pursuit of Greatness Off the Basketball Court
Since retiring from the WNBA in 2016, Catchings has made her presence felt within her community.
Catchings has been actively involved with her charity, Catch the Stars Foundation, which serves to enable youth to achieve their dreams and potential by providing goal-setting programs that promote fitness, literacy and youth development.
In 2017, the retired WNBA superstar purchased a small business in Indianapolis; and later that year, she was named Director of Player Programs and Franchise Development for Pacers Sports & Entertainment.
Currently, she is the VP of Basketball Operations and General Manager of the Indiana franchise where she spent her entire 15 year WNBA Career.