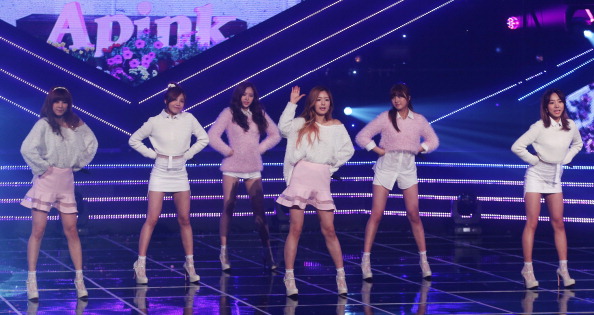 This upcoming week of K-pop has some small releases from groups throughout. The list of names this week includes Apink, Monsta X, the debut of CRAVITY and more. Let's look at the upcoming week of K-pop releases.
Weekly K-pop Preview
1/13: Apink – LOOK
The high point of the week comes early, with girl group Apink coming back with new mini-album LOOK on Monday. The seven-track release is headlined by the title track "Dumhdurum." A medley of all seven songs that will come out was released on Friday.
This mark's Apink's first release in 2020. The group had the first big release of 2019 when they put out mini-album PERCENT, including titled track "%% (Eung Eung)." Later that year the group came back one more time, presenting single "Everybody Ready?" in April, the soundtrack for their eighth anniversary.
A teaser for the music video can be viewed now.
Teaser Chart
1/14: CRAVITY – HIDEOUT ; REMEMBER WHO WE ARE
Starship Entertainment, the label known for acts like Monsta X and WJSN are launching a new boy group. CRAVITY, the nine-member boy group will put out their debut mini-album HIDEOUT ; REMEMBER WHO WE ARE. The EP includes seven songs. A high quality "Prologue Film" was put out in late March as part of the promotional run.
Looking at the interactions online, it seems like CRAVITY has already garnered a fair amount of attention before their debut. The music video teaser came out on Saturday.
Teaser Chart
1/14: GIRLKIND – Future
On the same day of the CRAVITY release, girl group GIRLKIND will be set to have their third digital single release "FUTURE." The comeback was crowdfunded through website Makestar. As of writing this article, the fundraiser achieved over $4,100 US dollars with the help of 40 supporters. A teaser for the music video was released on Friday.
Teaser Chart
1/20: Monsta X – Wish on the Same Sky
Monsta X is a group of the world. So far this year, the boy group put out their very first fully English album All About Luv. The album went to fifth place on the Billboard 200 charts after it's release in February. Now, the group looks to put out their seventh Japanese single titled "Wish on the Same Sky."
Like Japanese releases tend to go for Korean groups, the music video has been on Youtube for a while despite the actual release date.
Looking Ahead
After this week of K-pop music releases passes by, the next week has to offer GOT7, April, the solo debut of MAMAMOO's Solar and more.