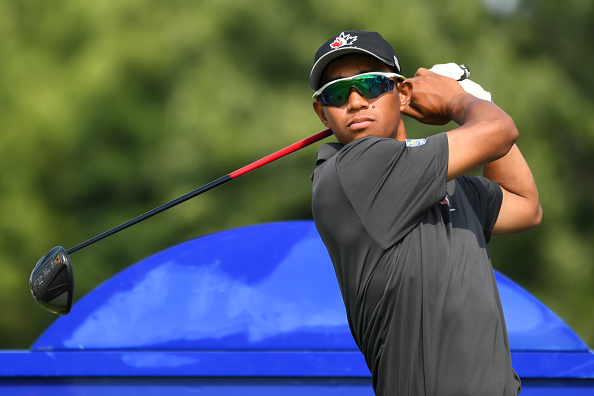 Having turned professional in August of last year, this was not the start that Canadian golfer Chris Crisologo envisioned for his first full year as a pro.
Normally, around this time of the year, the golf season is starting to get into full swing. But this year has been anything but a normal year. Given the COVID-19 Pandemic, golf courses are closed and most tournaments have been canceled or postponed.
In fact, golf's most iconic tournament, The Masters – originally set for this past weekend – was postponed, and rescheduled for later this year in November.
Rookie Pro Golfer Chris Crisologo Staying Optimistic During COVID-19 Pandemic
High Standards on the Golf Course
As part of Golf Canada's Young Pro Squad, the talented 24-year-old Chris Crisologo is eager to join a long list of past alum to make it through the Mackenzie Tour, the Korn Ferry Tour, and then eventually onto the PGA Tour.
According to the Canadian National Team head coach, Derek Ingram, Crisologo has what it takes to get his game to that next level.
"Chris is very explosive off the tee. He's not a big guy but he is surprisingly long off the tee and also very accurate," said Ingram of Crisologo, who goes by the nickname Logo or C2.
"Chris is smart and patient and has really improved his iron game over the past few years," Ingram added.
Looking to Get to the Next Level
While there are a few technical aspects that Ingram believes the 5′ 9″ first-year pro needs to address in order to excel at the highest level, he also stresses the importance of being able to get more playing time under his belt.
"Chris has to get used to the daily grind of being a professional and the travel that goes with it. The ladder comes from experience," Ingram said.
In order to reach his goals and get to the next level in his development, Crisologo needs to get out on the golf course and compete regularly.
The Bigger Picture
While there is undoubtedly disappointment about the cancellation of tournaments and the restrictions of practicing outdoors on actual golf courses, the former amateur standout and his coach fully understand that health and safety come first.
Having to stay indoors, Crisologo is making the most out of the social and physical distancing requirements by addressing various areas of his golf game.
"With the extra time I have due to COVID-19, I've been able to read more books to pass the time. One specific book was given by Derek called 'Pound the Stone' written by Joshua Medcalf, and I've really enjoyed taking a few notes, working on the mental side of both sport and life," said Crisologo.
Those who follow the sport closely understand the importance of keeping mentally strong out on the golf course; and Crisologo knows that putting good information and knowledge into his mind will only benefit his overall golf game in the long run. He is also doing his best to work on the physical aspects of his craft as well.
"On the physical side, I've done a lot of body-weight exercises, as well as, some band work specific for golf mobility. I've also worked on tempo and rhythm, as well as path with the putter," Crisologo noted.
Keeping an Optimistic Outlook
Having first been introduced to the sport by his dad, Lorenzo Crisologo, at the age of six, the talented 24-year-old Mackenzie Tour golfer is well aware that his journey is not a sprint, but a marathon.
Crisologo is hopeful that things will return to normal sooner than later. And when it does, he will be ready.
"I'm trying to make the most of this time to strengthen myself and make improvements for when the season starts up again," said Crisologo with optimism.