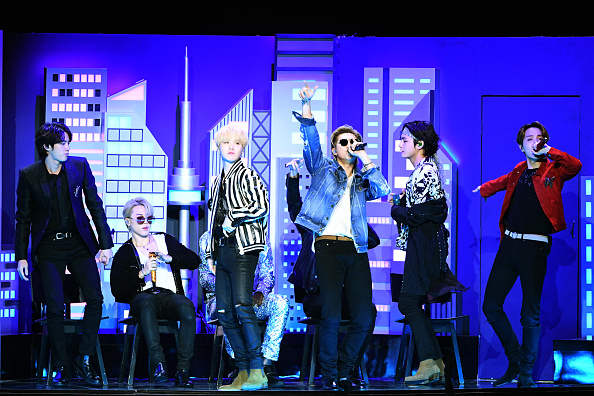 Despite K-pop being such a small scene, it moves fast. It's hard to follow everything that happens, and even harder to remember it as the next thing comes flying at you. Before we spiral out of control with the hectic release schedule that February of 2020 brings, let's reflect one last time on the outstanding artists and pieces of art that were presented in 2019. Thanks for everyone's patience, finally here's The 2019 lwos.life K-pop Awards.
The 2019 lwos.life K-pop Awards
Group of the Year – TWICE
BLACKPINK

BTS

EXO

ITZY

Red Velvet

Stray Kids

TWICE
TXT
It's always hard to pick the best group of a year. You could make a strong case for every nominee, and at the end of the day, a lot of people will. However, one group stood out last year not only musically but in the headlines. That group was JYP Entertainment's TWICE.
Let's talk strictly music first. In 2019, TWICE was most known for title track "FANCY," which saw the group put a unique spin on the tropical pop sound which the industry so loves to use in excess. In the fast modern news cycle, this song seemingly survived a much longer lifespan than what most hits get.
Part of what gave TWICE the award this year was adversity. They went through a lot, but the group and their management always made the right choices. Member of the group Mina was pulled from promotion earlier this year after it was announced she was suffering from anxiety and insecurity. The label was praised for being patient with the process, allowing her to put herself first.
In an industry that loves to glorify and make controversies out of dating "scandals," TWICE was able to nonchalantly prove that they date and that's okay. Confirming that Momo and Jihyo are dating felt like a precedent for other labels to allow their idols to live a normal life (looking at Cube Entertainment, who kicked out Hyuna and E'Dawn in 2018).
TWICE's "TWICELIGHTS" tour saw expansion for the group, traveling throughout the world. The group debuted in America as the headlining act for a show.
To cap off the year of events, TWICE came back with mini-album, Feel Special, with the identically named title track. The seven-track EP was fantastic and further proved the group's start-to-finish worth on an album. The music, just like what was heard on Fancy You, felt like a much-welcomed change in sound for the group.
Whether it was through headlines or through music, everything that TWICE did in 2019 felt like a step in the right direction.
NOTE: Winning the "Group of the Year Award" also makes TWICE the winner of the 2020 "Girl Group of the Year Award."
STAT: This award makes TWICE the winner of the lwos.life "Girl Group of the Year Award" two years in a row.
Boy Group of the Year – BTS
BTS
EXO
Stray Kids
TXT
BTS continues to be the poster-boys for K-pop on a worldwide scale. Being now quite present in North American media, BTS is no longer just an act in Korea. Indelible proof of this is 2019 EP Map of the Soul: Persona reaching the top of the Billboard 200 after it's release. That project, headlined by the title track "Boy With Luv" which featured Halsey was one of the biggest highlights of the year.
Continuing their worldwide expansion, BTS did a world tour which saw the group not only play arenas around the world but also stadiums. The group will continue to grow in 2020, with their even bigger world tour and their much anticipated full-length album on the way. There arguably isn't a better representative of the genre than BTS.
K-Pop Awards Song of the Year – TWICE – Fancy
Chungha – Gotta Go

EXO – Obsession

TWICE – Fancy

Stray Kids – MIROH
TWICE's Spring song "FANCY" is the "often duplicated, never replicated" of what tropical pop in K-pop should sound like. Everyone in K-pop has tried for a tropical pop type of song, but nobody has hit the nail on the head better than TWICE's song "FANCY," which has an infectious chorus. This song felt like an unexpected but welcome change to TWICE's sound. While the chorus is often what gets attention, I'd like to use this platform to praise Dahyun and Chaeyoung's rap verse, which is maybe the best part of the song (apart from the chorus).
K-Pop Awards Album of the Year
DAY6 – The Book of Us: Entropy

EXO – Obsession

MAMAMOO – reality in BLACK

Red Velvet – The ReVe Festival: Finale
The culmination of Red Velvet's 2019 work happened when they released the album The ReVe Festival: Finale. The two projects before, which were the first two installments of The ReVe Festival, presented the first 12 songs of what would be repackaged with four more songs in December. The album continued to show Red Velvet's versatile talent, doing well-received music in the pop and r&b style. "Psycho" was the album's clear best song, although there are countless songs on the album that are amazing. The only real point of divide the album saw was "Zimzalabim," which lead the Day 1 EP.
Stat: This makes Red Velvet the winner of the K-pop awards "Album of the Year" for two straight years.
K-Pop Awards
Mini-Album/EP of the Year – BTS – Map of the Soul: Persona
BOL4 – Two Five

BTS – Map of the Soul: Persona
GWSN – The Park in the Night Pt. 3

TWICE – Fancy You
There is no doubt that BTS put out the best EP this year, making it an obvious choice for the K-Pop awards. Their biggest work in 2019, Map of the Soul: Persona was start to finish a polished project. The title track "Boy With Luv" featured a collaboration with American artist Halsey, and was a great song. I still find myself going back to the chill songs "Make It Right" and "HOME." Or, if I'm in more of a rap mood, the intro track or "Dionysus" is still worth listening to.
K-Pop Awards
Music Video of the Year – BLACKPINK – Kill This Love
BLACKPINK – Kill This Love

EXO – Obsession

NCT 127 – Superhuman

TWICE – FANCY
BLACKPINK's presence in 2019 was brief but strong. When they came back with title track "Kill This Love," the group was not only musically shining but visually. The video for the song was easily the best one this year (not to discredit the others). The many sets and scenes within the video told many stories for all of the members. It's hard to not look like a badass when your chorus dance routine starts while an explosion of debris happens behind you. Start to finish the video saw so many changes of scenes which all had great attention to detail, and it all fit. BLACKPINK's look is meant to be a strong female image, and it's undeniable that this is achieved through "Kill This Love."
K-Pop Awards
Rookie Girl Group of the Year – ITZY
BVNDIT

Cherry Bullet

EVERGLOW

ITZY
Through their mini-albums IT'z Different and IT'z ICY, JYP Entertainment girl group ITZY stood out as the rookie girl group of the year. While their music was sometimes met with criticism for its unique sound, it was something that would grow on you as you listened. Title tracks "DALLA DALLA" and "ICY" had this weird effect of growing on you until you had to admit that "I see that I'm ICY." Under the fantastic management of JYP Entertainment, the group should be able to further flourish in 2020. Having a small discography, the group is currently on a "showcase" tour throughout the United States.
K-Pop Awards
Rookie Boy Group of the Year – TXT
AB6IX

CIX

ONEUS

TXT
Coming from the ever-so successful BigHit Entertainment, if TXT didn't have a strong first year they would disappoint. As expected they showed up, putting out two projects in 2019. The first was The Dream Chapter: STAR, featuring music video "CROWN." Their light and bright image radiated lovable energy with this song. In the fall, they returned with The Dream Chapter: MAGIC, a full-length album including "9 and Three Quarters (Run Away)." Their limited work in their first year has etched them their own loyal fanbase that anticipates what they will do next.
Male Soloist of the Year – Kang Daniel
DEAN

Kang Daniel

SHAUN

Taemin
After his limited-edition boy group Wanna One split up, Kang Daniel sprung onto the soloist scene in Korea with EP color on me. As part of the five-track release which he put out under his independent label KONNECT Entertainment, Daniel put out "What are you up to." The song stuck out as one of the top releases of the year. In November, Daniel came back with two more songs, including "TOUCHIN'." Fans await Daniel's first full-length album, after showing twice that he could deliver greatly in smaller projects.
Female Soloist of the Year – Sulli
Chungha

IU

Rothy

Sulli
Before her tragic passing in October due to an apparent suicide, former f(x) member Sulli had her debut project as a soloist titled Goblin. The title track "Goblin" and two other songs, "On The Moon" and "Dorothy." The three-track project went under the radar of many and was one of the most underrated projects of the year. The drum and bass influenced "Dorothy" was easily one of the best b-sides of the year. While Sulli's story ended in a tragic way, her music through f(x) and her short work as a soloist left a legacy that will live on for a long time.
K-Pop Awards
Subunit of the Year – JUS2
EXO-SC

JUS2
JUS2, which came from JYP Entertainment boy group GOT7, was one of the surprises this year that was great. Featuring JB and Yugyeom from the group, JUS2 put out EP Focus in 2019. The deep house-focused album produced many great songs. Title track "FOCUS ON ME" unsurprisingly emerged as the most enjoyed song, although other tracks like "LOVE TALK" are worth listening to as well.
K-Pop Awards
Collaboration of the Year – Chungha & Rich Brian – These Nights
BTS & Halsey – Boy With Luv

Monsta X & French Montana – Who Do U Love?

Chungha & Rich Brian – These Nights
Before I give out this award, I want to put in a correction. Horribly robbed of a nomination for this award was BLACKPINK and Dua Lipa's song "Kiss and Make Up." Not sure how I missed that one.
What makes "These Nights" stand out from its fellow nominees is it's people. Chungha and Rich Brian are "pop stars," but their popularity borders that of people like BTS, BLACKPINK and Monsta X that are selling out huge venues. Chungha and Rich Brian respectively hold a bit of a cult following currently, but continue to grow with each release. With that in mind, it almost made sense that they collaborated or a track. The strictly English track was catchy and relaxing.
Best International Song – SuperM – Jopping
SuperM – Jopping

TWICE – Breakthrough

TWICE – Fake & True
In 2019, one of the many thousands of memes spread online came from the idea that movie Avengers: Endgame was the "most ambitious crossover event in history. Well, if you want a case for what could be a more ambitious crossover, take SM Entertainment's project SuperM. Taking members of all of the company's boy groups, SuperM was created to be a North American-based group. Their debuting track titled "Jopping" had a weird name, but was catchy and had a cool music video. We still await SuperM's return, not counting songs made for airline ads. This made them an easy choice for the Best International Song at the K-Pop Awards.
Main Image:
Embed from Getty Images