Chicken Breasts Double Feature Recipes Day is here! We are using boneless/skinless chicken breasts for both of these dishes. They are by far one of the more popular cuts of meat sold. Chicken breasts are easy to buy and have countless uses in your kitchen recipes or on your grill.
They are the base for our infamous Chicken Fajitas recipe and also a key part of our delicious Jambalaya recipe. Chicken breast-based recipes can be found by the hundreds online. Today we are bringing you our Chicken Stir Fry and Chicken and Pasta recipes. Both are easy to make and your family will devour them quickly before your eyes.
Chicken Breasts Double Feature Day
Chicken Stir Fry
Making chicken stir fry is an easy meal for your family. All it takes is some basic ingredients, some chopping, and rice. You don't have to have a wok to make this incredibly easy dish, either.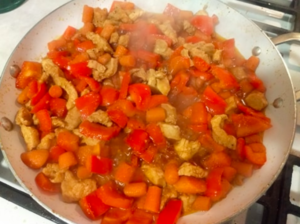 Ingredients
2-3 boneless chicken breasts chopped
granulated or minced garlic
black pepper & salt
chopped red peppers, sweet onions, asparagus, broccoli, green beans, carrots
water chestnuts
olive oil and/or sesame oil
soy sauce
cooked white or brown rice
Chopping Time
You want to get all of your ingredients chopped before you get your skillet hot. The suggestions above are not all-inclusive and can be adapted to your family's tastes. It is best to use fresh vegetables, but frozen can be used too. Chop up everything you have for the dish and be sure to get your rice underway on the stove before heading to the skillet! Brown rice does take longer than white rice so remember to allow enough time for that.
Saute Time
Drizzle in two to three tablespoons of olive oil and sesame oil then turn the burner on medium to medium-high. You will want the veggies first, as they take the longest to saute. Broccoli, peppers, asparagus, and green beans should be your first layer. Cook those for five minutes then next up should be the chopped chicken breasts and any other ingredient joining the party.
Season to taste as you go when adding the ingredients to the skillet or wok. You may also need to add some more oil to the skillet as the skillet gets full. A dash or two of soy sauce will help flavor everything as it cooks too. Continue to stir as it cooks until everything is done. Reduce the heat on the skillet if your rice still has some time left.
Serve up your chicken breasts stir fry mix along with your rice. A tasty addition to this meal is egg rolls or potstickers. These can be found in most frozen food sections at the grocery store. Popular brands available are La Choy and P.F. Chang, both of which are available on Instacart.com for easy delivery. Do not forget the sweet & sour sauce and hot mustard if you are adding egg rolls to the dinner!
Chicken and Pasta
Chicken breasts and pasta tossed together is another incredibly easy meal for your family. The options are limitless and will depend on your family's tastes. This recipe is a simpler variation of our Cajun Pasta recipe, and your family will love it.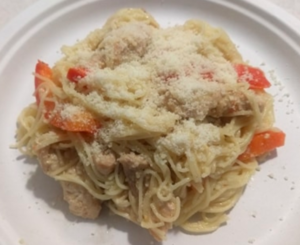 Ingredients
1 sweet onion cut into thin slices
2 red peppers cut into thin slices
chopped asparagus (optional)
2-3 tablespoons olive oil
1/4 lb. stick of butter
2-3 chicken breasts cut into thin slices
1 cup of grated parmesan cheese
1 lb. package of your favorite pasta (penne or angel hair work best)
Season to taste with Lawry's, granulated garlic, and black pepper
Skillet Time
This dish involves your skillet and of course, preparing your pasta. First, get your water boiling to cook the pasta. Follow the directions on the pasta as to what level of doneness you want. The skillet time involved will be around 15-20 minutes, so time your pasta to come off at the right time.
Drizzle in the olive oil and turn on the burner to medium to medium-high. Add in the sliced veggies and chicken breast then the season to taste. Give everything a good stir, so it is all coated in the oil and spices.
Continue to saute until everything is done. Turn your burner to low and add in the butter and half of the grated parmesan cheese. As the butter melts stir occasionally to get that buttery goodness spread around.
Remove the cooked pasta from the stove and drain. Once drained, take the pasta and place it in a large bowl. Empty the skillet into the same bowl and toss gently until everything is completely coated. Serve up the chicken and pasta on a large platter or straight out of the bowl. The remaining grated parmesan cheese can be sprinkled on as your dish gets plated. As a delicious side, you can serve toasted garlic bread or a warmed loaf of Italian bread and butter.
Shelter At Home Culinary Creations
As the shelter at home situation continues into May, we will continue to bring you some tasty recipes that will help the family cope together. Serving the family these delicious meals will help take their mind off of being homebound at least for a little while. Providing you some recipes that are easy and tasty will hopefully make your life easier in the kitchen too. Please stay safe and healthy, order using curbside pickup or delivery when you can, and keep yourself socially distanced when you are out!