Fajitas are an incredibly delicious meal you can prepare for your family. Normally we would be showcasing our nearly famous Grilled Fajitas Recipe. Today we are bringing you Fajitas On The Stove Top. This fajitas recipe is easy to do and almost as flavorful as our grilled ones. It is also very similar to our recent Cinco de Mayo Feast which introduced you to our Skillet Tacos. In these trying times, we need easier meals to prepare for our families. Using your skillet instead of your grill helps you save some time and still provides incredible flavor and a little spice.
Skillet Fajitas = Easy Dinner
We are using chicken for these fajitas. Chicken breasts make a delicious choice for the recipe but you can substitute beef or pork if you choose.
Ingredients
2-3 large boneless chicken breasts
3-4 red or yellow peppers (green is ok too)
1-2 jalapenos (optional)
2 large sweet onions
1/2 cup chopped garlic
granulated garlic, cumin, red chili powder, Cajun spice, black pepper
olive oil
large tortilla wraps
shredded cheddar cheese, salsa, and sour cream (optional)
6 ounces of your favorite beer
Take your chicken, peppers, jalapenos, and onions and cut them into one inch wide strips. Chop up 4-5 cloves of garlic and set it aside.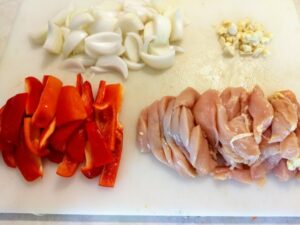 Fajitas Time
Take the chicken strips and chopped garlic and place them into the skillet. Drizzle three to four tablespoons of olive oil onto the chicken and garlic then mix until covered in oil. Now it is time to season. The spices we have listed are a suggestion and can be added to with any of your favorites. The two bigs ones you cannot leave out are red chili powder and cumin. Those two spices are a must but the rest is up to you. Sprinkle the spices liberally until the chicken is covered, then give it a good toss to spread the spices evenly.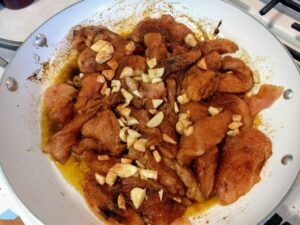 Turn on your stove to medium/medium-high. You will begin to see the sizzling start in a minute or two. After a few minutes add the peppers and onions strips on top of the chicken strips. Drizzle two to three more tablespoons of olive oil and sprinkle on the second dose of spices. Give all of the fajitas ingredients a good stir making sure everything is coated in the oil and spices. The amount of spices is always a question we get. This recipe is by your taste and should be adjusted accordingly. If at the end you want more spice, then add the third sprinkling.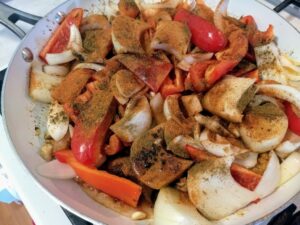 Sizzle all of the ingredients until the meat is cooked through and the peppers and onions are soft. This can take 15-20 minutes so be sure to stir often. Don't forget to add in the six ounces of beer when the fajitas are almost finished. The beer adds a unique flavor and makes it juicy.
Serving Your Fajitas
Once you have the fajitas finished serve them on a large platter alongside the shredded cheese, salsa, and sour cream.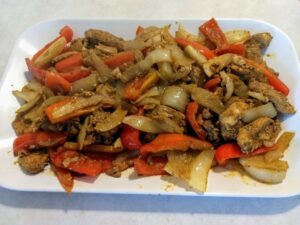 You can warm the tortilla wraps either on the stovetop in a separate skillet or in your microwave. This helps them soften up and makes wrapping your fajitas even easier! In addition to the fajitas, you can cook up rice as a side dish. One of the better retail rice mixes available is by Goya who has several to choose. Their Yellow Rice or Mexican Rice is a perfect side dish for this meal.
Fajitas Leftovers Salad Suggestion
We have a tremendous recipe idea for your fajitas leftovers if any survive the feeding frenzy.
Ingredients
warmed up fajitas
chopped romaine lettuce
crushed tortilla chips
salsa
shredded cheddar cheese
Take your chopped romaine lettuce and place a layer on a plate. Add on a thin layer of crushed tortilla chips. Follow that with three to four tablespoons of salsa spread around. Take the warmed up fajitas and layer them on top of the salsa followed by a sprinkle of shredded cheddar cheese. This tasty day after salad idea is a great way to use up any leftover fajitas!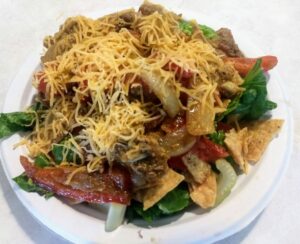 Shelter At Home Culinary Creations
As the shelter at home situation continues into July and possibly beyond, we will continue to bring you some tasty recipes that will help the family cope together. Serving them these delicious meals will help take their mind off of the problems facing society today at least for a little while.
We will continue to provide you recipes that are easy and tasty and will hopefully make your life easier in the kitchen too. Please stay safe and healthy, order using curbside pickup or delivery when you can, and keep yourself socially distanced when you are out!