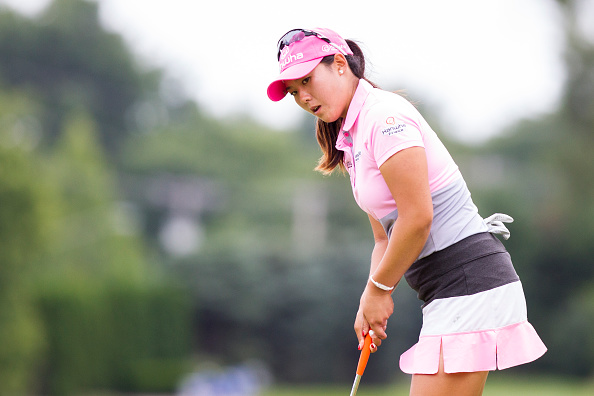 There's a saying in sports that the journey to success is not a sprint, but rather it's a marathon – and that's something that resonates with Rebecca Lee-Bentham. After making the decision to return to competitive golf in 2019, the former amateur standout was looking forward to big results in 2020.  But given the COVID-19 pandemic, that goal is on hold for now.
Canadian Golfer Rebecca Lee-Bentham Takes Long Haul Approach
Return to Competitive Golf
After retiring from competitive golf in the summer of 2016, Rebecca Lee-Bentham decided in early 2019 that she was going to make a comeback.  One of the highlights on her comeback included a victory at the DCM PGA Women's Championship of Canada last July.
The CHAMP, @RLeeBentham pic.twitter.com/qJS5rvJjxP

— PGA of Canada (@pgaofcanada) July 5, 2019
The victory scored her an exemption to compete at the CP Women's Open – the only LPGA tournament played in Canada. Lee-Bentham made the difficult decision to skip the event because it conflicted with stage two of LPGA Qualifying school.  While she missed out on gaining her LPGA Tour card in 2019, she did secure status on the Symetra Tour – the official developmental golf tour of the LPGA Tour.
Former Amateur Standout
The former Canadian national team member was an amateur standout who won the Ontario Women's Amateur title at the age of 15. A few years later, she would go on to win the Canadian Junior Girls' title, and then the Canadian Women's Amateur title.
Her childhood golf coach D.H. Lee recalls her passion and dedication as an amateur.
"She would practice from early in the morning until late into the night. You could see she was very passionate about golf; and it was great that her family really supported her," he noted.
Competing At The Highest Level
With the goal of competing at the highest level, Lee-Bentham decided to leave the University of Texas after her freshman year; and would go on to secure full status on the LPGA Tour in December of 2011 at the age of 19.
Lee-Bentham's most successful year came in 2013, and subsequently, she was honored by Canadian golf writers as the 2013 Female Professional of the year. However after three years on the LPGA Tour, Lee-Bentham was running on empty and dealing with nagging injuries, and as a result, she decided to retire from competitive golf.
Lee-Bentham's comeback bid in 2019 would see her secure status on the Symetra Tour.  The former Canadian standout had a very respectable showing in her first tournament of 2020 as she finished in a tie for the 13th spot at Florida's Natural Charity Classic in early March.
Coping with Challenges of the COVID-19 Pandemic
Given the COVID-19 pandemic, the Symetra Tour season was suspended shortly after Florida's Natural Charity Event.
"The first couple of months were tough, physically, and mentally. Not being able to go out to train or play was tough but it forced me to get creative and make the most of what I had," Lee-Bentham admitted.
"As players we were left with a lot of extra time in the day that we wouldn't have had on Tour playing our regular scheduled events."
The 28-year-old talks about her struggle to overcome negative emotions.
"Mentally I felt like I had to fight a lot of negative thoughts throughout the months, with the combination of crisis headlines in the news, living in such unknown circumstances, and guilt of feeling unproductive," she said candidly.
"But I realized the importance of being more kind to myself in these types of situations and to focus more on the things I can control, rather than stressing over all the noise around me."
Lee-Bentham says her current focus is to make the most of the extended time away from the grind of competitive golf.
"I've started to keep myself really busy. Since places have slowly been reopening, I've been able to practice and play with some restrictions in place," she pointed out.
"I've also used this time to work on some side projects. I will be launching a website soon, and offering online lessons which I am really excited about."
Given the nagging injuries that caused her to retire back in 2016, Lee-Bentham has also used the time to work with a specialist to address body strength and conditioning.
"I'm trying to use this off time to get stronger and healthier for the next full season. I've had a few minor injuries that I want to take care of and it's always good to work towards building more speed in my swing."
Still Undecided on 2020
While the Symetra Tour is set to restart this month, Rebecca Lee-Bentham is not in any rush and is still undecided if she will tee it up again this year given safety concerns.
"My goal is to be back playing the full Symetra Tour season next year and finishing in the top 10 money list to make my way back on the LPGA Tour for 2022," she said when asked about her comeback goals.
Naturally, she will be keeping a close watch on the restart of the 2020 Symetra Tour season, and how it plays out.
The 28-year-old from Toronto adds that she will also be keeping a close watch on the return of the NBA season and her favorite team – the Toronto Raptors.
She's quick to point out that one of her highlights away from the golf course in 2019 came from watching the Raptors capture the NBA title.
"One of my best memories of 2019 is watching the Raptors win the NBA finals. To me, it was so inspiring and meaningful to me," she said.
"Obviously with COVID-19, this season for all sports has been different and challenging. I think we're all looking forward to getting things back to where we all feel safe doing what we love."
Main Image:
Embed from Getty Images