Grilling Chicken Leg Quarters provides one of the tastiest cuts of chicken to be found at a BBQ. They are readily available and are usually on sale for less than one dollar a pound. That is good news for families juggling a tight budget these days. Combine the chicken leg quarters with our Grilled Potato Slices and you have a fantastic inexpensive meal your family will love.
Chicken Leg Quarters Grilled
The first order of business is to pick up some chicken leg quarters. Check your local groceries for sales to narrow down your search. If you cannot find chicken leg quarters on sale, you should still be able to get them for around a dollar a pound. They are widely available and are usually sold in bulk family packs. Pick up as many as you want and freeze whatever won't be grilled on this day. Chicken leg quarters freeze well and will survive 3-4 months in your freezer. What a great meal to grill during the upcoming NFL season we say with fingers crossed!
Ingredients
3-6 chicken leg quarters
Lawry's Seasoning Salt, black pepper, granulated garlic
your favorite BBQ sauce
As you can see, grilling chicken leg quarters does not require much in order to create this delicious meal.
Grilling Chicken Leg Quarters
You will want to set up your grill with a pile of 20-25 charcoal briquettes in the center. You will be grilling the chicken leg quarters indirectly for two-plus hours. Be sure to allow yourself time because these cannot and should not be rushed.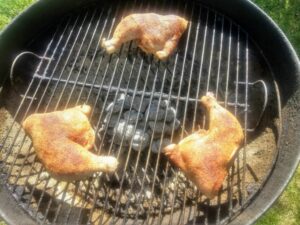 Season your chicken leg quarters and place them around the outside of your coals. Close your lid and wait 20 minutes. Your next steps are to flip the chicken over every 20-25 minutes so it cooks evenly. You should also rotate the chicken 180 degrees every other time you flip.
When you turn the chicken over for the first time, you will want to add your potato slices to your grill. Follow the directions below to prepare the potatoes. They will need 90 minutes or more to finish so do not forget them!
As the chicken grills, you will see that tasty BBQ color developing all over. When you reach the two-hour mark, brush on your favorite BBQ sauce on both sides of the chicken. Grill the chicken 15 more minutes then turn it over one last time. Allow it to grill another 15 minutes then remove it from your grill.
If you are searching for a favorite BBQ sauce, we recommend Sweet Baby Ray's who has a huge selection available at most stores. The Honey Barbecue or Sweet & Spicy sauces both go fantastic on chicken.
Grilled Potato Slices
This is one of the easiest side dishes you can grill up for your family.
Ingredients
6-8 potatoes (reds work best)
Olive oil
Lawry's Seasoning Salt, pepper, granulated garlic, Cajun spice
Slice your potatoes into long wedges and place in a large bowl. Drizzle them with olive oil and toss until covered on all sides. Season to taste with the spices listed and toss again making sure all sides are seasoned.
You will want to add these to your grill alongside the leg quarters above. The slices will grill indirectly on your grill and can take 90 plus minutes to finish. Follow the schedule for flipping your chicken and do the same with the potatoes. When they are done, all sides will have that incredible grilled look to them. You can serve them with dipping sauces such as ranch or Bleu cheese dressing or just plain. If you're feeling decadent, serve them with melted cheese sauce.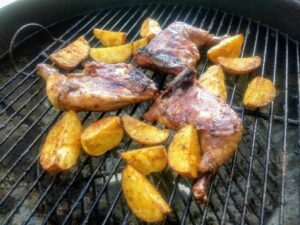 If you want to attempt our classic Grilled Potato Salad recipe, this is the start of that incredible recipe. You will never make regular potato salad again after trying this dish. The directions were last seen in our Road Trip to Denver piece last fall. For those instructions click HERE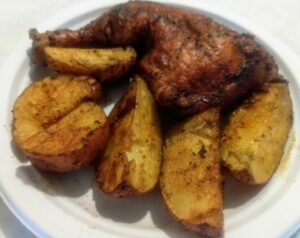 Shelter At Home Culinary Creations
As the shelter at home situation continues, we will continue to bring you some tasty recipes that will help the family cope together. Serving them these delicious meals will help take their mind off of the problems we are facing these days. Even though most restaurants are open for outside dining, delivery, or carry out, we will continue to provide you recipes that are easy and tasty. Please stay safe and healthy, order using curbside pickup or delivery when you can, and keep yourself socially distanced when you are out!