Our Oktoberfest Double Feature will include two of our popular German-themed meals from our Game Day Menu Collection. Today we bring you our nearly famous Brat Tub and delicious Grilled Pork & Kraut recipes. Both are easy to make and will go great as part of your weekly tailgate party honoring Oktoberfest.
Oktoberfest Double Feature
It is late September which is normally Oktoberfest time around the world. Unfortunately, this year's infamous German celebration has been canceled due to the COVID-19 Pandemic. Oktoberfest is a German tradition that has become a huge part of our American culture. Adding in the fact that it is NFL football season creates the perfect opportunity to host an Oktoberfest tailgate party.
Oktoberfest Double Feature Part One – The Brat Tub
In order to bring out the best in brats, you should use our brat tub method. It involves a multi-step process that is worth every bit of the effort. We have cut back the recipe for our Brat Tub from our normal amounts assuming you will be hosting fewer people or maybe only your family. If you are still hosting a large group, just double or triple the ingredients.
Brat Tub Necessities
3 sturdy foil pans
8-12 brats (Johnsonville, of course)
3-4 large sweet onions
Olive oil
1/4 stick of butter
6 pack of your favorite beer
8-12 brat rolls
Regular mustard and spicy mustard
1 jar of sauerkraut (optional)
Granulated garlic, salt, pepper (optional)
To begin the Brat Tub experience, take your brats out and place them in one of the sturdy foil pans. I recommend poking several holes in the brats with a sharp fork before placing them in the pan. This method is debated among brat enthusiasts. On one side the thought is that you don't want the holes because they let out the juice. Our opinion is that the holes let out the juices and allow them to mingle with the beer and onions while simmering. The brats will then absorb all of that goodness while cooking in the brat tub. You will taste the difference, and trust me, you achieve a better flavor in the end by poking the holes in the brats.  
Next, chop up two of the onions into large chunks. Add them to the pan along with as many of your beers needed until the brats are barely covered. You can simmer the brats on your stove or outside on your grill. This is entirely dependent on whether you want your house smelling like beer brats or not.  
To serve the perfect brat, you have to simmer them in beer & onions until they are completely cooked. This can take 60-90 minutes to accomplish, and be sure you rotate the brats as you go. You can also do this the night before the game in order to save time! Once you have them finished in their beer bath, it is time to grill.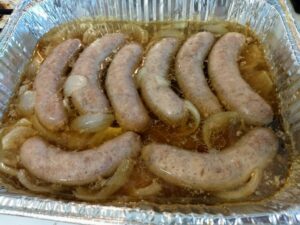 Grill Time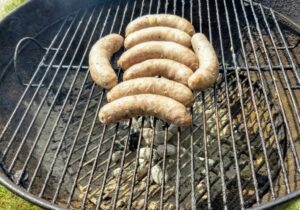 You will only grill the brats until they get that perfect grilled char. While grilling them up, take the remaining onions and cut them up into big chunks. Place the onions in a large skillet and drizzle olive oil onto them. You can add the granulated garlic, salt & pepper at this point if you choose. Sauté the onions until they are almost caramelized. Add in the 1/4 stick of butter and continue to simmer the onions until they are done. You will be adding the onions to the Brat Tub later on.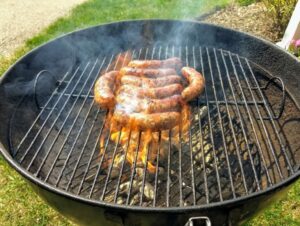 Next up take one of the foil pans and place about 1/2 inch of water in the bottom. Place the other foil pan containing the beer and onions on top and then add in the caramelized onions. Give it all a good stir then add in your grilled brats. Be sure to almost cover the brats with the yummy beer/onion liquid. Seal the pan with foil and allow the brats to simmer in the brat tub for 1-2 hours before serving, stirring them up every 15 minutes. Serve your brats alongside the rolls, mustards, and warmed up kraut. Your guests will be amazed at the incredible flavor the brats acquire from the Brat Tub.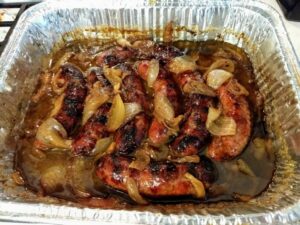 Oktoberfest Double Feature – Grilled Pork & Kraut
Next up is our grilled pork & kraut recipe. It is a fairly easy recipe that involves your crockpot for most of the cooking.
Ingredients
One 2-3 pound bone-in pork roast (boneless, if preferred)
One large package or jar of sauerkraut
Lawry's Seasoning Salt, pepper, and granulated garlic
One 12-ounce German beer
The debate over bone-in versus boneless pork roasts involves taste and easiness of serving. The bone-in pork roast will be better tasting compared to the boneless version. However, the boneless pork roast doesn't require you having to remove any bones before serving. We'll leave it up to you on which pork roast you choose.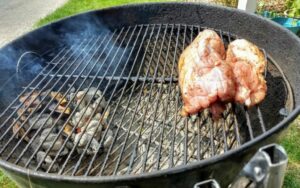 Grill Time
Grilling the pork roast only requires that you smoke it for a short time to add flavor. Grill it indirect for 1-2 hours using the two-zone method with coals on one side and roast on the other. Adding wet apple or cherry wood chips will get you that yummy smoke flavor. That brief amount of smoking will deliver a much better flavor that your guests will notice.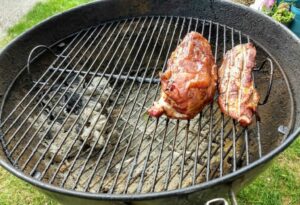 Once it is smoked, take the sauerkraut and place it at the bottom of your crockpot. Then place the grilled pork roast on top of the sauerkraut. Sprinkle your seasonings on top of the pork roast. Lastly, drizzle the German beer over the roast and sauerkraut.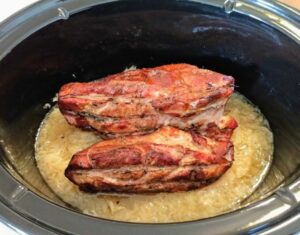 Turn your crockpot on high for two hours, then low for four hours. Once done carefully remove the pork from the crockpot and allow it to rest for 15 minutes. If you used a bone-in roast, use this time to search the sauerkraut for any stray bones that may have been left behind. After 15 minutes, cut the pork roast into chunks and add it back into the crockpot. Set your crockpot on low and allow about 30 minutes to blend all of the flavors. Serve up your delicious pork & kraut and watch as your guests enjoy this authentic German dish!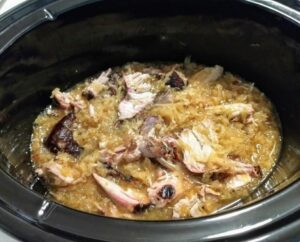 With these two Oktoberfest Double Feature recipes, you will definitely wow your family and guests. Be sure to raise a stein and have a toast in memory of this year's canceled Oktoberfest, Próst!! As with most things these days, celebrating in 2021 has got to be better, right?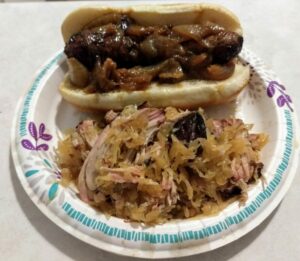 NFL GameDay Menus 2020
This NFL season will not be easy for those of us who host weekly football viewing parties. No matter how many people you plan on hosting, we will be bringing you delicious menu ideas each week this season. Let's be safe people, maintain social distancing, and use curbside pickup whenever possible!