Our Fiery Chili is here just as summer turns to fall during the 2020 NFL season. As many areas of the country feel the crisp fall air arriving, it is the perfect time to break out our Fiery Chili recipe. The heat in this delicious dish will also be welcome if you are hosting your tailgate party outdoors due to the COVID-19 Pandemic. Your guests may need to warm their innards while cheering on their favorite NFL team. We also have another great option for your guests, Chili Dogs!
Fiery Chili Arrives In Time
By now your guests are very familiar with your Game Day chili that is based on our prize-winning chili recipe. It has brought joy to your guests in the past and when you present them our Fiery Chili they will certainly appreciate the heat provided. Even the wimpy guests will want to eat it in order to stay warm!
Fiery Chili Ingredients
The recipe and ingredients are for a two-gallon pot. You will need to adjust the recipe to fit the size of the pot you're using. This batch is around medium-high on the heat scale. If you want to turn it way up, add in more ground cayenne pepper. If you do turn it up, you had better have sour cream available to soothe the mouths of your wimpier guests. I am listing sour cream as an optional ingredient below, but it will be needed if you go nuclear. Enjoy!
Ground beef – 3 lbs.
Chuck roast – 2 to 3 lbs., cut into small cubes
Large/jumbo can of crushed tomatoes
Large can of diced tomatoes
Brooks chili hot beans – 3 large cans or one jumbo one
Red kidney beans – 2 cans
7

jalapenos,

 chopped
7

serranos,

 chopped
1 large onion, chopped
Chili powder, Granulated garlic, Cumin, Lawry's seasoning salt, Pepper
Ground cayenne pepper for the heat
Sour cream (optional)
One 12 ounce beer
Get Chopping
The first order of business is to get chopping on your peppers and onions. In this batch of Fiery Chili, you will not de-seed the peppers before chopping. The seeds and fleshy inside of the peppers add more heat to your chili. This is your goal so leave the seeds and flesh in while chopping.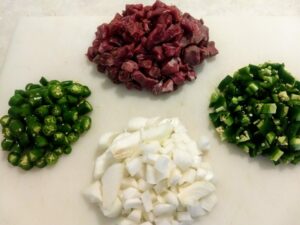 Once the peppers and onions are ready, take a sharp knife and cut the chuck roast into small cubes. You should then have four nice sized piles of goodness ready to go.
Drizzle two tablespoons of olive oil to the pot and sauté the chuck cubes seasoned with all spices. Put in all of the peppers and onions after the chuck cubes are halfway done. Add more seasonings as they sauté for 10 minutes, and then add in ground beef and some more seasonings, mashing it as the beef cooks.
If you are lucky enough to own a meat masher, you will thoroughly enjoy how easy it makes this process. If not, you can use a potato masher or a large sturdy spoon. Mash your ground chuck into little pieces and stir it in with the rest of the pot.
Seasonings Question
We always get questioned about the amount of seasoning to use. It is all based on experience and taste. Give the ingredients a good dusting of spices the first time you season. Every time you season after that, give everything a good stir and then taste. Be sure to wait until the meat is cooked before sampling, please.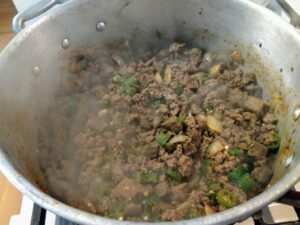 Simmer Time
Once everything is cooked, add crushed tomatoes, diced tomatoes, and all beans. (I don't drain the fat, some people do, your call) Taste and re-season as needed, then add in the bottle of your favorite beer and simmer for an hour.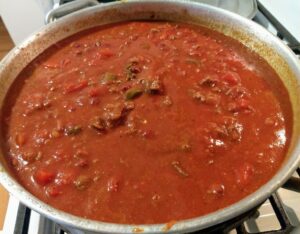 Take a sample taste and add more seasoning if needed. If the heat level needs a kick, add in some more ground cayenne pepper. Serve with chopped onions, oyster crackers, sour cream (for the wimps), and shredded cheese.