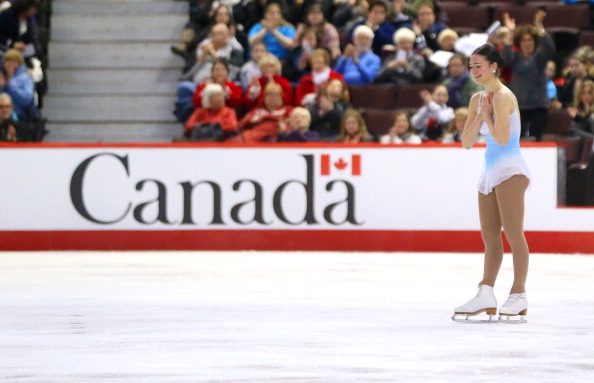 During her early childhood, Alexandra Najarro would skate on the ice by herself while her mother taught the older kids the fine art of figure skating. As Najarro grew older, she would find her passion in the sport and would go on to become one of the best figure skaters in Canada.
Today, the former Canadian novice girls champion and Canadian National Team member is retired from competition, and as Najarro looks back, she does so with nothing but gratitude for everything she's experienced and learned.  The 27-year-old says her journey to success on the ice has taught her the importance of hard work, mental toughness, and sacrifice – and she believes these lessons have prepared her well for the next chapter of her journey off the ice.
Alexandra Najarro Eager To Take On Next Big Challenge
Humble Beginnings
Eva Najarro was a talented figure skater who represented Poland in international competitions before immigrating to Canada; and she fondly remembers her daughter Alexandra Najarro's first moments on the ice.
"I remember Alexandra when she was about 18 months old and we went family skating with her for the first time," she recalled.
"Alexandra could barely stand on her skates, but with my help, she was freely walking on the ice and waiving to everybody around. It was really cute."
With her mother commuting to teach students at various ice rinks across the Greater Toronto Area, young Alexandra would often tag along.
"I started skating because of mom, because she was coaching. We really didn't think much of it at the beginning. I was there because she was there.  So I would basically skate around by myself," Najarro recalled.
"I actually started first skating at the Woodbridge Figure Skating Club, and I also skated at the Iceland arena in Mississauga," she continued. "Over time I really started liking it and then other people started to see potential in me."
Learning From One of the Best
By the time she was seven years old, Alexandra Najarro was showing potential and had started skating in competitions.
Najarro was nine years old when her family moved from Mississauga to Richmond Hill and soon her new home away from home became the York Region Skating Academy. At the YRSA, Najarro was mentored and coached by former Canadian figure skating champion, Tracey Wainman.
Besides learning the technical and artistic elements, Najarro says Wainman taught her a lot about the mental aspects of becoming a champion.
"Knowing that she was a two-time Canadian champion was motivating and inspiring. She taught me to be very resilient, to be super tough, and to have thick skin," said Najarro about Wainman. "She definitely knew how to mentally prepare her students."
The Highs and the Lows
Like any sport, competitive figure skating involves highs and lows. And while landing the jumps in practice, and especially in competition, can be rewarding and exhilarating, the falls could sometimes be excruciatingly painful. Alexandra Najarro says learning to deal with falls and injuries was part of the journey.
"I had a really bad fall in a competition when I was 12 and hurt my hip. Dealing with injuries is a big part of life as a competitive figure skater," she said.
"But even with injuries and not being able to compete for long stretches I learned to stay calm and keep working and do the little things. I learned a lot about discipline and that hard work will eventually pay off."
Despite her injuries, Najarro's passion for figure skating combined with her natural talents and work ethic would soon lead to a breakthrough.
In 2008, as a 14-year-old, Najarro would capture the Canadian girl's novice title.
"After winning the novice title, I obviously felt really proud, but for me, it was an unexpected win. I didn't have the greatest skate in the long program and that's why finding out that I had won was a surprise for me," she said.
"I trained very well that year and I guess my work had paid off even though I didn't have the perfect skate that day. Still, I was really happy with the win, and I was happy I brought that win for my club, coach, and my parents."
Eva Najarro speaks about the qualities of her daughter which contributed to the breakthrough success on the ice.
"Alexandra is a very disciplined, focused, and determined person. She is goal-oriented and very hard working. She is not afraid of hard work when she wants to accomplish something. She puts in it her heart and soul. Alexandra is respectful of her coaches and trainers – always trying her best to follow their corrections and advice."
Breakthrough at the Senior Level
After winning the 2008 Canadian novice girls title and enjoying success while competing internationally as a junior, Alexandra Najarro would soon transition to the senior level.
In 2011, at the age of 17, Najarro enjoyed a breakthrough performance at the Canadian Nationals when she skated a flawless short program and found herself in second place entering the long program. Najarro would follow up with a clean free skate program and would finish fourth. That was good enough to earn the then 17-year-old a spot on the Canadian National Team.
"Looking back, that was one of my biggest highlights. I was there with the best in the country and was second after the short program which was surreal. Finishing fourth and earning a spot on the national team was just amazing."
Najarro would follow up with another top-five finish in 2012 to maintain her spot on the Canadian National Team for a second consecutive year.
Alexandra Najarro Hanging Up Her Skates
Recurring injuries would prevent Alexandra Najarro from rising further at the senior level. These injuries forced Najarro to miss valuable training and competitions and would ultimately lead to her decision to hang up her skates in 2015.
"I was only about 22 years old when I decided to retire.  Going back to the injuries, it was a huge problem.  I was dealing with a bad ankle and was doing a lot of rehab but it wasn't getting better and I lost the desire to keep pushing."
Having given her everything to figure skating, Najarro needed some time to figure out what her next big challenge was going to be.
"I kind of felt lost afterward," she said candidly.
"I started coaching and doing choreography which was great because it allowed me to stay involved with figure skating, but deep down I felt something was still missing."
To fill that void and to fulfill another childhood passion, Najarro decided to enroll at York University in the Performance Creation program – formerly called the Theatre Studies program.
The Next Chapter
Today, the retired figure skater is focused on the pursuit of another one of her childhood passions – acting.  Najarro, who is a big fan of Natalie Portman, says she's had a strong interest in an acting career since her childhood years when she was cast for a small role on the American figure-skating film, Ice Princess.
The Disney film hit the theatres in 2005 and starred Michelle Trachtenberg, Joan Cusack, Kim Cattrall, and Hayden Panettiere.
"The movie was shot in Toronto and I was about nine at the time of filming. Being on set for the filming of Ice Princess was a really fun experience," she recalled.
"I had my own trailer and felt so much adrenaline and energy during my time on the set."
Najarro says that up-close experience with some of Hollywood's heavy hitters left a lasting impression on her.
"Since then I've wanted to do theatre and performance off the ice. I just couldn't allocate a lot of time to it while I was skating. So I'm excited to have the opportunity now to pursue this," she said.
Having enjoyed the performance and artistic element of figure skating, Najarro believes these skills can translate to her new profession.
"As a competitive figure skater, I was putting on a performance in that I was taking on the role of a character on the ice and now I look forward to doing that on stage or on set."
Currently, Najarro is in the final year of the Performance Creation program at York and is itching for the opportunity to put the theory from her studies into practice. In addition to her studies, she's joined a studio in downtown Toronto where she's working with acting coaches and is actively seeking various roles to apply what she's learned.
As she prepares herself for an exciting new chapter ahead, the former Canadian National Team member believes everything she's experienced and learned from the previous chapter of her journey can only serve her.
"I've learned the importance of patience, hard work, and dedication. Also learning how to deal with setbacks and disappointments and how to overcome them and that's something necessary in this industry."
Knowing that when her daughter is focused on something and really wants it, she can achieve amazing things, Eva Najarro believes she will find success and make a similar impact in the new chapter ahead.
"Alexandra was always serious and very passionate about her work. Also, she always wanted to stay educated about everything: she would research topics of her interest to help in achieving her goals," she said.
"I think that one needs focus, hard work to pursue one's dreams. Her discipline to work hard and strive for the best will help her to accomplish what she puts ahead of herself."
Main Image:
Embed from Getty Images