Grilling Meatloaf is on tap for today's NFL Game Day Menu. It is by far the most delicious way to make meatloaf. The grilled flavor enhances it tremendously compared to baking it in the oven. Your guests will also thoroughly enjoy your meatloaf after getting over their initial curiosity. "You're grilling meatloaf?" will be one of several questions your guests will have for you. Once they taste it, they will not want their meatloaf any other way. We also have our incredible Smashed Potatoes that are a perfect side dish.
Grilling Meatloaf
Meatloaf has been an American Classic going back decades. When your guests discover you are grilling meatloaf, they may wander over to the grill to get a look. Just remember to prevent them from opening the lid while you are creating this masterpiece. Grilling meatloaf requires time and patience. Tell the curious ones that they will have to wait until it is ready!
Grilling Meatloaf Ingredients
2-3 pounds of ground chuck
3-4 eggs beaten
1/2 cup of milk
1/2 cup of your favorite BBQ sauce
1 cup of ketchup (optional)
2-3 cups of uncooked dry oatmeal
1 cup of chopped onions (optional)
2 tablespoons 

Lawry's

 Seasoning Salt
1 tablespoon black pepper
1/2 tablespoon granulated garlic
Large foil pan
Meat thermometer
Creating Your Loaf
In a large bowl, add in the ground chuck, eggs, BBQ sauce, onions, and seasonings. Thoroughly mix all the items together making sure to spread the seasonings all through. Next up, add in the milk and mix everything thoroughly. You should now have very moist meatloaf ingredients.
Now it is time to add in the oatmeal. We recommend you use Old Fashioned Oats by Quaker Oats as they work magic. Sprinkle in 2/3 of the oats and stir everything together. Your goal is to get a semi-solid and "moldable" meatloaf that will hold together. You may need to add in more oatmeal to get the meatloaf to where it needs to be. 
When it is ready, dump the meat mixture into the large foil pan. It's now time to form the meatloaf. You will want to shape the meatloaf into a long cylinder trying to achieve a consistent thickness from end to end. This shape helps the meatloaf cook evenly on the grill.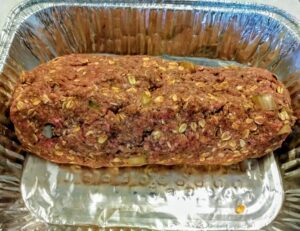 Grilling Time
Set up your grill in the three-zone method as described in our Grilling Basics piece. Place around 20-25 charcoal briquettes on opposite sides of your grill and light them. Once they are ready, it's time to grill your meatloaf. Take the foil pan to the grill and gently raise one side so that your meatloaf slides/rolls slowly onto the middle of your grill grate. Use caution when placing the meatloaf on the grill — you don't want to split your delicious meal into multiple loaves.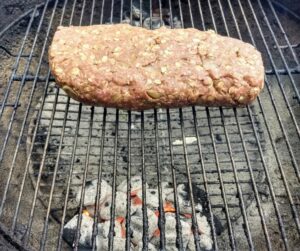 A word of caution for you gas grillers. DO NOT grill your meatloaf over an open flame. If you can place the meatloaf over a section of your gas grill that is not lit, give it a try. Use low temps with a gas grill, and stick close by while it cooks. It may take a bit longer than using charcoal, but the flavor is worth it. 
Let the meatloaf grill undisturbed for 45 minutes, then open the lid and see how it looks. It is now time to roll your meatloaf over so it grills evenly. Grab two sturdy spatulas and gently begin to pry up the bottom of the meatloaf. Once you have freed it, use the spatulas to slide it over to one side. After this step, roll the meatloaf onto its other side using your grill tongs. It needs to be back in the middle of the grill grate to ensure even cooking and also better appearance. Close the lid and let the meatloaf grill for 30-45 more minutes. 
After the additional grilling time, check the meatloaf temp with the meat thermometer. Your target temp is 160-170 degrees Fahrenheit. If your meatloaf is at 160, you can brush the ketchup on top if you choose and then grill it for five more minutes.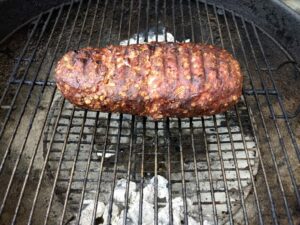 Serving Time
It's now time to remove the meatloaf and plate it for your guests. Take the spatulas and pry up the meatloaf bottom so that it's free from the grill grate. Place the platter next to the meatloaf and carefully place it onto the platter.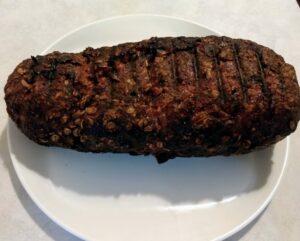 Allow your meatloaf to rest 15-20 minutes before slicing. You will be serving your meatloaf with our Smashed Potatoes recipe below and your guests will be amazed at the improved flavor you achieved by grilling meatloaf.
Smashed Potatoes
3-5 lbs of golden potatoes cleaned
1/2-1 cup of milk
1 stick of butter cut into eighths
salt & pepper to taste
your favorite gravy (optional)
Chop up the golden potatoes into small cubes leaving the potato skins on. Place the potato cubes into a large pot of water with 1-2 tablespoons of salt. Boil the potatoes until they are done, then drain. Return to the pot or a large sturdy bowl and add in the butter and allow to melt.
Use a potato masher or electric beater to mash the potatoes, adding a 1/2 cup of milk as you go. If the potatoes are too thick, add in another 1/4 to 1/2 cup of milk and continue to mash/stir. Season the potatoes to taste with the salt and pepper during the mashing process. These tasty potatoes do not need gravy, but you can use store-bought gravy if you want it. Heinz makes numerous pre-made gravies in jars readily available at your local grocery store. There are also numerous gravy mixes by McCormick that will work fine.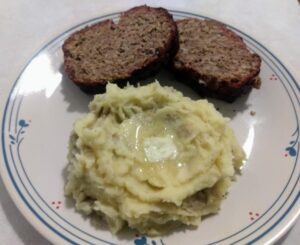 Once your guests get a serving of the meatloaf and Smashed Potatoes, they will certainly be demanding seconds!
NFL GameDay Menus 2020
This NFL season will not be easy for those of us who host weekly football viewing parties. No matter how many people you plan on hosting, we will be bringing you delicious menu ideas each week this season. Let's be safe people, maintain social distancing, and use curbside pickup whenever possible!