Bacon Cheeseburgers are one of the most iconic burgers ever created. When you roll these beauties out to your guests, they will begin to drool immediately. In addition to our Bacon Cheeseburgers, we are bringing you, Tater Tots, as the perfect side dish. This NFL Game Day Menu will be one to remember!
Bacon Cheeseburgers Day
Today's menu has Bacon Cheeseburgers leading the way. They are easy to create and one of the more popular burger choices in America. Your job today is to bring your guests what would be called a "build your own burger bar." Your bacon cheeseburgers are the base and your guests will get to choose their toppings and build their burger from the bottom up. You grill up the bacon cheeseburgers and let them do the rest.
Bacon Cheeseburgers Creation
Here are the ingredients needed:
2 pounds 80/20 ground chuck
1/2 tablespoon granulated garlic
1 1/2 tablespoons Lawry's Season Salt
1 tablespoon black pepper
4 ounces of your favorite BBQ sauce

1/2  tablespoon of Cajun Spice and Montreal Steak Seasoning (optional)
Combine all the ingredients in a large bowl and mix them together gently. Two pounds of ground chuck should equal about six 1/3 pound burgers. If you need more than six burgers, simply follow the three burgers per pound math.
Press out each 1/3 pound portion into a burger patty being careful not to stretch the meat too much. Less stretching means less burger shrinkage on the grill! 
Grilling Bacon Cheeseburgers
You will be grilling your burgers direct over the coals today. Set up your grill with 20-25 charcoal briquettes piled in the center. Light up the coals and wait for them to turn grey. Once they are ready, spread them out in the bottom of the grill. You gas grillers can create these fantastic burgers too! You will just need to be careful while grilling them on medium-low to low.
Place the patties onto the grate and close the lid. You will see and smell that incredible smoke beginning to rise from the grill. You may even get some of your neighbors checking out what is grilling today!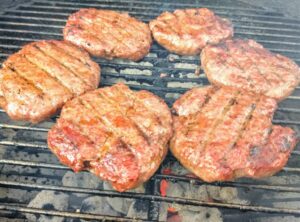 Allow the burgers to grill undisturbed for 3-4 minutes then flip them over. Wait 3-4 more minutes and check the burgers for how done they are. You should see clear juices beginning to drip which means they are close. It is at this point that you will be placing the slice of cheese onto the burgers. A tip on the cheese is to fold in the four corners of the slice so it is smaller. This will prevent the cheese from melting off of the burgers which is such a waste!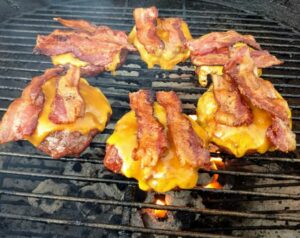 Place one or two slices of cheese onto the burgers along with your precooked bacon strips. Once they are set up, close the lid for 2-3 minutes. This will allow the cheese and bacon to settle onto the burger patties properly.
Remove the bacon cheeseburgers from your grill and serve them on a platter alongside your toppings and buns.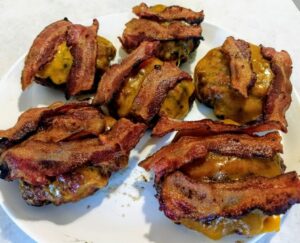 The Burger Toppings
your favorite sliced cheese – cheddar, American, Swiss, pepper-jack
thinly sliced tomatoes, onion, and pickles
ketchup, mustard, mayo, and BBQ Sauce

sautéed mushrooms and c

aramelized onions (optional)
Tater Tots Time
Tater Tots are the most decadent form of fried potatoes ever created. They are even better with a sprinkle of Lawry's Seasoning Salt after coming out of the deep fryer. For those of you that do not have a deep fryer or a small Fry Daddy, Tots can also be baked in the oven. This is definitely more convenient and less messy but frying the tots versus baking the tots wins hands down every time. We are sure your guests will agree!
Tater Tots come in many varieties in the frozen food section of your grocery store. They are known by many names from tots, to buds, to puffs, and crowns. Whichever type you can find will be wonderful for your guests!
Tater Tots take very little time in the oven and even less time to deep fry. Try and save them until just before serving your bacon cheeseburgers so they are hot and fresh. Sprinkle on a little Lawry's when they are just out of the oven or fryer too. Your tailgate guests will appreciate the extra flavor as they dig into one of their favorite childhood treats! Serve them with ketchup or ranch dressing for more dipping decadence.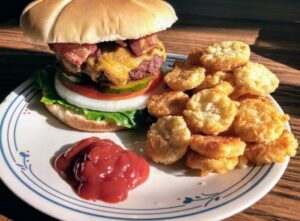 NFL GameDay Menus 2020
This NFL season will not be easy for those of us who host weekly football viewing parties. No matter how many people you plan on hosting, we will be bringing you delicious menu ideas each week this season. With the COVID-19 pandemic raging again let's be safe people! Be sure to maintain social distancing, and use curbside pickup whenever possible!