Grilled Meatball Subs are the feature this week for our NFL Game Day Menu. Our Grilled Meatball Subs are a new item to this space and will be thoroughly enjoyed! Along with the Grilled Meatball Subs, we have another delicious side dish, Grilled Potato Wedges. They are a simple and tasty side dish and are also very versatile.
Grilled Meatball Subs
Subs are a fan favorite at many NFL tailgate parties. They are limitless in their variety and options for your hungry guests. Today, our Grilled Meatball Subs are featured and they are outstanding. Meatballs are a fan favorite, and grilling them brings an even bolder flavor to the classic meatball sub. Who doesn't like meatballs, am I right?
Meatball Options
Making meatballs is a fairly easy and very tasty process. Options for your meatballs are endless as far as content. Many cooks swear that combining two or more kinds of ground meat adds more complexity to the flavor. These include ground beef, veal, chicken, turkey, or Italian sausage. Our opinion is that no matter what meat mixture you use, it has got to be grilled!
Grilled Meatball Subs Ingredients
2 pounds of 80/20 ground chuck
Lawry's Seasoning Salt, black pepper, granulated garlic, Cajun spice.
1 cup Italian seasoned bread crumbs
1/4 cup minced onions
1/4 cup minced garlic
1 egg beaten
6-inch sub rolls
1 jar of marinara sauce or your favorite pasta sauce
sliced mozzarella or provolone cheese
a large skillet
Combine all of the ingredients in a large bowl and mix gently. You will want the meat consistency to be similar to our grilled meatloaf where it binds together and doesn't crumble.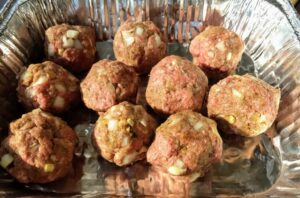 The size of the meatballs is up to you. We suggest basing them on the size of the rolls you are serving. You want the meatballs to fill the sub rolls but leave room for the sauce and cheese. We are going somewhere between the size of a golf ball and a baseball. Two pounds of meat will make 10 perfectly sized meatballs.
Grilling Time
Pile up 20-25 charcoal briquettes in the middle of your grill. Once they are ready, leave them in a pile and add on the potato wedges as detailed below. The wedges take longer than the meatballs and need to hit the grill first. While your meatballs and potato wedges are grilling, put the marinara or pasta sauce into your skillet on low.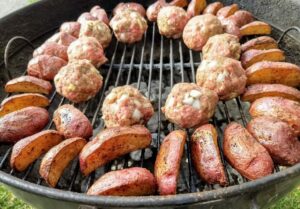 When it is time for the meatballs, place them near the middle of the grill slightly away from the coals. Grill them for 10 minutes, then roll them over gently. Continue this process until the meatballs are grilled evenly and ready to remove. You can use a meat thermometer if you want. The target internal temperature should be 160 degrees Fahrenheit.
Remove the grilled meatballs and place them into the skillet with the marinara or pasta sauce. You can simmer them on low while your potato wedges are finishing if needed.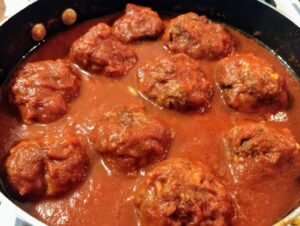 Building Grilled Meatball Subs
Take your meatballs with sauce and gently place them onto the sub rolls. Add on the mozzarella or provolone cheese slice and allow them to melt a bit before serving. A word to the wise. These incredible subs can be a bit messy so have plenty of napkins on hand!
Your guests are going to love the flavor of the grilled meatballs compared to those baked in an oven. There is no comparison in flavor between the two, grilling is always better!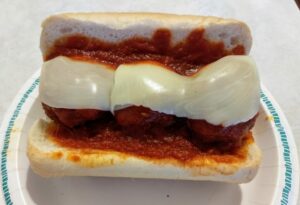 Grilled Potato Wedges
This is one of the easiest side dishes you can grill up for your friends and family and they go perfect with our Grilled Meatball Subs.
Ingredients
6-8 large potatoes (reds work best)
Olive oil
Lawry's Seasoning Salt, pepper, granulated garlic, Cajun or Italian spice
Slice your potatoes into long wedges and place them in a large bowl. Drizzle them with olive oil and toss until covered on all sides. Season to taste with the spices listed, and toss again making sure all sides are covered with those delicious seasonings.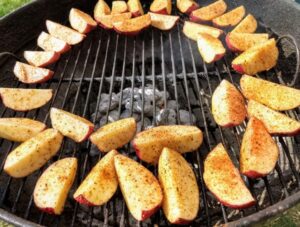 You will want to add these to your grill first before adding the meatballs. The slices will grill indirectly in a circle on your grill and can take 60-90 minutes to finish. You should start with the potatoes on the grill and then add on the meatballs after about 35-45 minutes.
Once on the grill, turn the potato wedges every 10-15 minutes. When they are done, all sides will have that incredible grilled look to them. You can serve them with dipping sauces such as ranch or Bleu cheese dressing, ketchup, or just plain. If you're feeling naughty, serve them with melted cheese sauce.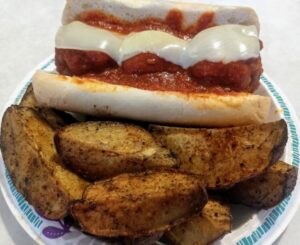 NFL GameDay Menus 2020
This NFL season will not be easy for those of us who host weekly football viewing parties. No matter how many people you plan on hosting, we will be bringing you delicious menu ideas each week this season. With the COVID-19 pandemic raging again let's be safe people! Be sure to maintain social distancing, and use curbside pickup whenever possible!