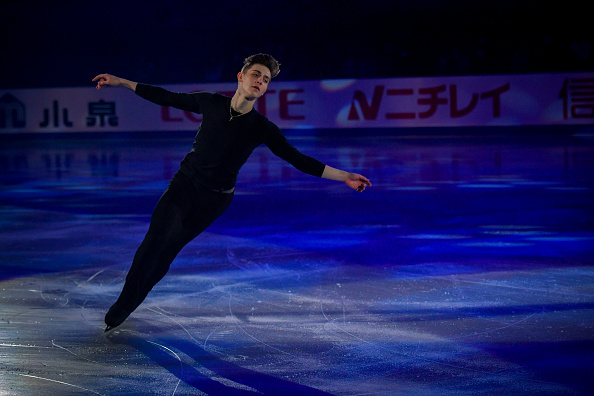 Today, 21-year-old Roman Sadovsky is the reigning Canadian men's figure skating champion.  The talented young skater acknowledges the ups and downs throughout the journey.
But with a strong support team in his corner, the dedicated and hardworking champion has persevered through the challenges.  And as Sadovsky and his team look ahead, they are confident the best is still yet to come.
Roman Sadovsky Preparing For Bigger and Better Things Ahead
A Dream of Playing Hockey
The journey for Roman Sadovsky on the ice began during his early childhood with the notion of playing ice hockey.
"I remember I was five years old and my mom put me into skating lessons. Like many Canadian boys I wanted to play hockey," he recalled.
"One of my skating coaches suggested that I should try figure skating as it would be beneficial if I wanted to go into hockey…..But once I started taking figure skating lessons, I didn't want to play hockey anymore."
When Sadovsky was eight years old, he starting working with Tracey Wainman, a former two-time Canadian women's figure skating champion.
It was evident to Wainman from the time she first started working with Sadovsky at the York Region Skating Academy in Richmond Hill that he had a strong passion for the sport.
View this post on Instagram
"Roman started part-time, coming here to the YRSA twice a week and then three times a week, and within a year he was coming here full time.  He was very natural with his skating and his movements and also an extremely hard worker," noted Wainman.
"It was easy to tell that skating was a love for him and you could see it in his work ethic and he was so focused and dedicated to getting better and improving."
Sadovsky is thankful that his parents made the decision to relocate from Mississauga, Ont., to Vaughan, Ont., so he could be closer to the YRSA.
"To be able to train in Richmond Hill with Tracey, it put me in a more competitive skating environment which my parents knew would help with my development."
Focused On Figure Skating
While he had a strong interest in swimming and gymnastics, Roman Sadovsky decided to focus his attention entirely on figure skating at the age of nine following the move from Mississauga.
Since dedicating himself, Sadovsky has followed a regular schedule centered around his training.
"I would skate half an hour in the morning then go to school. And then after school, I would go back to train at the rink for a few more hours. So basically I ended up living at the rink," said the 21-year-old champion about his busy training schedule growing up.
"My school was right next to the rink. So right after school, I would go straight to the rink," he continued.
"It was a big commitment as I was basically away from home from early in the morning until 7 pm or 8 pm every night during the week."
Young Roman's natural talent and dedication to the sport would soon see him thrive at the junior level competitions.
First Big Breakthrough For Roman Sadovsky
While he enjoyed success competing at the junior ranks, Sadovsky's first big breakthrough came in January of 2014 as a 14-year-old when he finished eighth in the senior men's event at the Canadian nationals.
That was an impressive feat considered he was competing in a star-studded field which included three-time world champion, Patrick Chan.
Sadovsky recalls what was going through his mind as he competed against the Canadian figure skating legend for the first time in Ottawa.
"When Patrick won his first national title I was probably eight or nine years old. So you grow up watching him on TV every year and all of a sudden you're not watching him on TV anymore but instead, you're on the same practice rink with him," said Sadovsky.
"Just watching Patrick skate was slightly distracting in practice. He's so good and you're trying to match that. It was both intimidating and inspiring at the same time."
Growing Pains
At the time, the then 14-year-old was one of the shortest skaters in the field but that was about to change as he entered puberty and would grow more than half a foot over the next five years. Today, the 21-year-old is six feet and half an inch tall – becoming one of the tallest figure skaters competing in Canada.
Sadovsky acknowledges the challenges of growing over half a foot through that five year period.
"Over time consistency would go down and development of new jumps would slow," he noted.
"I was getting frustrated with myself but in reality my body was changing whether I liked it or not.  As you get older you are supposed to get stronger but when you grow a lot you lose the rhythm you use to have," Sadovsky added.
"It wasn't like restarting from scratch but I just had to adjust what I've already learned to the changes in my body. I would say that I didn't feel fully comfortable with my body until 18 or 19."
Having seen Sadovsky through the growing pains, Wainman is proud of his perseverance through it all.
"That was not easy for him. For some people growing that much would be the end of their skating. Roman did a really good job just staying in there. And during that time he was still making it to some junior finals." she said.
"Seeing him training through that growth spurt and to see the confidence coming back once he stop growing was great to see. It just shows his dedication, perseverance and hard work."
View this post on Instagram
Sadovsky sees subtle parallels with Wainman's journey as a skater and his own and is grateful to have his coach provide guidance and support during those difficult years.
"Tracey has a lot of experience going through her own development as a young skater. She was the Canadian champion at 12 years old and she didn't win again until she was 18. She knows a lot about perseverance and she knows the ups and downs of the sport, so her experience definitely helped me a lot."
Triumph at the 2020 Canadian Figure Skating Championships
Today, Sadovsky's coaching team includes Wainman and Grzegorz Filipowski.  The trio enjoyed their greatest triumph earlier this year at the Canadian nationals in Mississauga when Sadovsky was crowned the Canadian men's national champion.
Senior men final results / Résultats finaux les hommes senior :
🥇Roman Sadovsky (ON) 260.57
🥈Nam Nguyen (ON) 243.51
🥉Keegan Messing (AB/NWT/NT) 241.79#CTNats20 #CreatingHistory #Créerlhistoire pic.twitter.com/PpnRhr8iyB

— Skate Canada / Patinage Canada (@SkateCanada) January 19, 2020
"I had some international success but not a lot of national success leading up to nationals and I was sort of chasing after it," Sadovsky noted.
Less than two weeks before the Canadian nationals, Sadovsky recorded an impressive third-place finish at the NHK Trophy competition in Japan behind Kévin Aymoz of France and two-time Olympic champion Yuzuru Hanyu of Japan.
"It wasn't totally unexpected but I wasn't anyone's first choice to win the competition. But still, winning was the goal and that was what I was training for. So to have everything line up in Mississauga, and to be at home was really cool," he said about his victory at the Canadian nationals in January.
Sadovsky was grateful that the competition was held in Mississauga because it meant both of his parents could be in attendance.
"One of the perks of the event being held so close to home was that both my parents could be in attendance to provide support. They knew how much I wanted it and were both in the stands hoping for the best. They were on a different roller coaster than I was," he said.
"They must have been pretty relieved afterwards," Sadovsky continued with a laugh.
"Now I look back at it, I see it was that really big step that I had to take.  There's a lot of other goals that I want to accomplish and that was a stepping stone to bigger goals that I want to accomplish."
Grounded Due to the COVID-19 Pandemic
While he is eager to build on his success from the Canadian nationals, Roman Sadovsky has been grounded because of the COVID-19 pandemic.
"I remember doing a competition in Korea back in February and at the time there were only like 12 cases in Korea but still there was a high level of concern about it. They were doing a lot of temperature checks in the competitions," recalled Sadovsky about the first time he became aware of the seriousness of the COVID-19 pandemic.
After returning to Canada from the ISU Four Continents event in Korea, Sadovsky started seeing local skating rinks shutting down because of the pandemic.
"I was expecting just one or two rinks here and there to shut down but didn't really expect everything to shut down. It was something you couldn't have prepared for," he recalled.
"The most common obstacle for a skater is dealing with injuries so if you're hurt you're off for a couple of days in order to do some rehab, but the pandemic just straight up shut everything down, including competitions."
While the lockdown restrictions kept him off the ice for over two months, Sadovsky managed to stay productive during that time.
"I was teaching some off-ice classes through Zoom. I also did a lot of working out by myself at home. I knew it would be important to stay in good shape so I don't get injuries when I return to skating," he pointed out.
Roman Sadovsky Growing His Audience on YouTube
The talented young figure skater also made use of the time away from the ice to grow his YouTube channel and grow his following on the popular online video-sharing platform.
"I always had an interest in technology, computer, and cameras. And I always enjoyed filming things. Also, growing up I was a fan of Casey Neistat, who sort of revolutionize that whole vlog genre," he revealed.
Sadovsky's YouTube channel is called Romsky and it centers around his life as an elite level figure skater.
.@_romansadovsky shares his love for figure skating and how he has overcome obstacles during this challenging time in his short film Grounded https://t.co/BwBeDyzBgV

— Skate Canada / Patinage Canada (@SkateCanada) April 23, 2020
"Skating is big part of my life so I start this channel to sort of fill fans in on what happens behind the scenes. It's a way to connect with fans and give younger generations a chance to see what it's like – maybe it might inspire them," he said.
"There's reality TV, but it's not really reality. Vlogging is a lot more personal and your viewers feel more connected to you," Sadovsky continued.
"Honestly, I'm not sure how the channel is going to progress or transform over the next few years, so for now I'm really just taking it video by video."
Having first started his YouTube account back in April of 2016, today the 21-year-old Canadian national champion has over 17,000 subscribers today and has visions of getting that to 100,000 and beyond.
The Best is Yet to Come
Roman Sadovsky knows that growing his YouTube subscribers is directly tied to success on the ice, which he says is his main focus.
"Skating wise I definitely want to be able to qualify for a world championships and the Olympics and to have more international success. The potential is there, I just have to continue to work hard and get better each day," said the well-spoken 21-year-old champion.
"I just have to use the confidence from winning Canadian nationals to keep going."
Wainman believes the best is still yet to come for her long time student.
"Prior to winning Canadian nationals, Roman won the bronze medal at the NHK event so he's proven that he can be one of the best skaters on the international stage also," said the two-time Canadian women's champion.
"I know Roman works very hard to get better each day. As his coach, I've seen how much he's overcome and I can see that he's improving year after year," she continued about the reigning Canadian national men's champion.
"Roman's still only 21 and he's got the potential to be one of the top skaters internationally also – he definitely hasn't reached his peak yet."
Main Image:
Embed from Getty Images