Thanksgiving Recipes for your Holiday NFL Game Day will bring you several of our delicious recipes as well as some side dish options that will help you create the perfect Thanksgiving menu. The Thanksgiving holiday is a day when families gather to spend time together and also watch NFL Football. We definitely have you covered this holiday season!
Thanksgiving Recipes Celebration
Our Thanksgiving Recipes has everything you need so that you and your guests do not go hungry while watching the NFL games on Thursday. This year we have our Grilled Turkey, Stuffing, and Baked Beans plus more.
The two longtime hosts of Thanksgiving games have always been the Lions and Cowboys. The third game on Thanksgiving was added to the NFL schedule several years ago. This is because obviously, two games weren't enough for the rabid fans of the NFL. Unfortunately, the third game scheduled for Thursday night this year has been postponed due to COVID-19. Stayed tuned for when the Baltimore Ravens vs Pittsburgh Steelers game will be played.
The two games this Thursday are as follows based on CST start times:
You will need to choose your dinner serving time and adjust your grilling and cooking times accordingly. We are also adjusting our recipes due to the impact of the COVID-19 Pandemic and its effect on gatherings. If you are limiting the number of people invited, go with the smaller amounts listed in the recipes.
Thanksgiving Recipes – Grilled Turkey
1-2 turkey breasts
2-4 turkey legs
olive oil
Lawry's Seasoning Salt
black pepper
granulated garlic
Cajun spice (optional)
meat thermometer
mesquite wood chips for smoking (optional)
Take your turkey out of the wrappers and rinse with water; then dry off with paper towels. If your turkey breast has a pop-up timer installed, remove that and dispose of it. Place the turkey in a large foil pan and drizzle it all over with the olive oil and desired spices. If smoking your turkey, you should be soaking the mesquite wood chips in water for at least a half-hour. You can grill the turkey without the chips and the flavor will still be incredible.
Grill Time
You will be grilling the turkey using the three-zone grilling method as seen in our learning grilling basics piece. You will be placing 20-25 coals on each side of your grill. This grilling method can take three to four hours to finish. You may also have to re-coal at least once during the grilling process. Once the coals are ready, place the turkey in the middle of your grill. If using wood chips, place a handful of the water-soaked mesquite chips on top of the coals.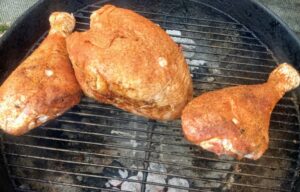 Check on your turkey every 35-40 minutes and rotate it 180 degrees each time. This will help grill it more evenly. Continue to monitor and rotate the turkey every 35-40 minutes and re-coal as needed. You should be adding more wood chips, too.
Turkey Time
With turkey, as with all poultry, you will need to reach an internal temperature of 180 degrees Fahrenheit to be cooked through. When using the meat thermometer, always check the thickest part of the bird without hitting any bones. As soon as it hits 180 degrees, remove the turkey and cover it with a large foil sheet.
Your turkey legs will finish sooner than the turkey breast(s) so be prepared to remove them when they are done. Allow your turkey breasts to rest for 20-30 minutes before carving. The turkey legs can be fought over by your guests who crave them. They will absolutely love the grilled flavor of your turkey no matter which part they choose.
Thanksgiving Recipes – Stuffing
Stuffing is a required holiday side dish, especially alongside your grilled turkey. We have a delicious way to change up the usual stuffing your guests are familiar with at holiday time. This change involves using hot breakfast sausage or ground Italian sausage instead of giblets. We are listing them as an optional ingredient below, but your stuffing will definitely stand out at your holiday tailgate party if you include it.
Ingredients
1 red or sweet onion chopped
1 red or yellow pepper chopped
3-5 stalks of celery chopped
1 pound package ground hot breakfast or mild Italian sausage (optional)
1-2 cups of water
32 oz box of chicken broth or stock
2-3 tablespoons olive oil
Season to taste with Cajun seasoning, Lawry's, granulated garlic, black pepper
1-2 bags of prepared stuffing mix
1 sturdy foil pan
Stove Top Instructions
Start with a large pot or stockpot. Sauté the ground sausage with the chopped pepper, onion, and celery in olive oil. Season to taste while everything is cooking. The veggies should be perfect once the sausage is fully cooked.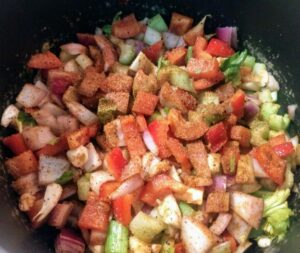 Slowly pour in the chicken broth and water then bring to a simmer for 10 minutes. Turn off the heat and add in the stuffing mixes then stir it all together. Take your stuffing mix and place it in the sturdy foil pan. Cover with foil and bake at 300 degrees Fahrenheit for one hour. Remove the foil and continue baking for another 30 minutes. Your stuffing will then be ready to amaze your guests!
Thanksgiving Recipes – Baked Beans
You'll need one to two large cans of your favorite baked beans, 5-6 slices of bacon cut into small squares, a small chopped red onion, brown sugar, and honey. Take a Corningware dish or sturdy foil pan and place the beans on the bottom. Sprinkle the chopped red onion across the top of the beans, then add the bacon almost covering the beans. Spread out a thin layer of brown sugar and then drizzle the honey across the top.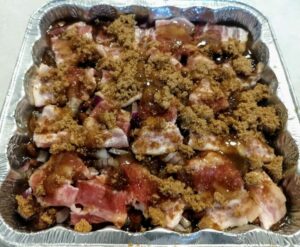 Cover the pan with foil and bake at 250 degrees Fahrenheit for two hours. Uncover the pan and bake for an additional one hour. Right before serving give the beans a good stir to mix in all the flavors. This baked beans recipe will be appreciated by your guests for sure! 
Thanksgiving Recipes – Side Dish Options
Here are a couple of additional side dish options to choose from. Just click on the links below to check out these recipes and directions.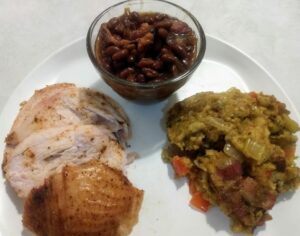 NFL GameDay Menus 2020
This NFL season has not been easy for those of us who host weekly football viewing parties. No matter how many people you plan on hosting, we will be bringing you delicious menu ideas each week this season. With the COVID-19 pandemic raging again let's be safe people! Reduce your guest list to a safe number, be sure to maintain social distancing, and use curbside pickup whenever possible!