Wing Fest is up next in our NFL Game Day Menus. We took a pause last week to highlight the Poverty, Pandemic, and Hunger facing the world now. During this difficult holiday season, there are thousands of people in need of food for their families. We hope you took the time to read and also donate to one of the worthy causes listed, especially one of the ones that help veterans in need.
Wing Fest Menu
This week we are back with our Wing Fest NFL Game Day Menu that is guaranteed to make your guest's mouths water, and maybe bring some sweat to their brows. The normal sides with wings are celery and carrot stalks along with ranch or bleu cheese dressing. We are kicking things up for our Wing Fest with our grilled Cajun Carrots. They are incredible and have just the right amount of heat for your dipping pleasure.
While I normally prefer fried chicken wings, today we are featuring our grilled chicken wings. They are incredibly delicious and are one of our "healthier recipes" on the grill, so be sure to pass that along to your guests!
Ingredients
5-10 pounds of chicken wings, whole
Lawry's Seasoning Salt, black pepper, cayenne pepper & Cajun spice (both optional)
BBQ sauce, Frank's Hot Sauce, garlic parmesan sauce, or Teriyaki sauce
celery stalks
grilled Cajun carrots (see below)
ranch and bleu cheese dressings
The secret to grilling deliciously juicy chicken wings is in the prep work. First, you should rinse the chicken wings in cold water then dry them with paper towels. Next up cut off the tips of the wings leaving the two meaty parts in one piece. Do not cut the wings any more than that. Leaving the two parts whole is the secret to keeping the wings juicy when grilling.
Wing Fest Grill Time
Set up your grill with 25-30 briquettes in the center piled like a pyramid. Light the grill and get your wings ready. Once the coals are hot, place the wings around the outside of the grill grate. Season one side of the wings with the spices then turn over and season the other side. Close your lid and allow the wings to grill for 10-15 minutes.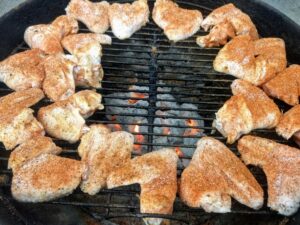 It is at this point you will want to add the carrots to the grill right over the coals in the middle. See below for the directions on preparing the carrots. The carrots should finish about the same time as the wings if they are large. Thinner carrots will not take as much time so be careful that you do not burn them.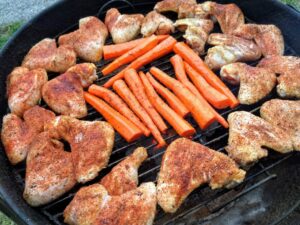 Next up, take the wings and give them a flip to their opposite side. Grill them 10-15 minutes longer and check on them again. It is at this point that the wings will be almost ready. You will want a good char on the skin all over the wings but be careful not to burn them. Remove the wings when done and allow to rest for five to 10 minutes. Check the pan for clear juices from the wings. If the juices appear bloody, back to the grill to finish up.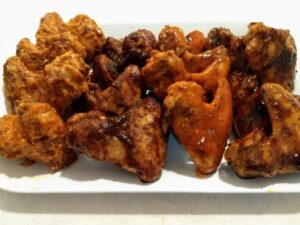 Sauce Time
Once your grilled chicken wings are cooked through, you are going to sauce them up in a large bowl using your favorite sauces. Our favorite Wing Fest sauce is Frank's Hot Sauce. Their flavor options for sauces are incredible, and who isn't a fan of their "I put that $#*T on everything!!" ad campaign? In addition to Frank's sauce, choose your favorite BBQ sauce. The BBQ wings are a nice change of pace for your guests who may not enjoy the heat as much as you do.
Another option is a Garlic Wing sauce doctored up into a garlic parmesan sauce. We tested out a new garlic wing sauce made by Soloman's BBQ Products for this week's Wing Fest. We took one cup of their garlic wing sauce and added a 1/2 cup of grated parmesan cheese to create the perfect garlic parmesan wing sauce. If you want to leave a lasting impression on your guests, add 1 tablespoon of minced garlic to the sauce the night before. Anyone trying those babies will be hunting for breath mints after eating those wings!
Another great flavor option as a Wing Fest sauce is teriyaki. There are dozens of teriyaki sauces and marinades available that can be used for these delicious wings. Check your local grocery for what options are available.
You will be serving your wings alongside the celery sticks and Cajun Carrots. Bring out the ranch and bleu cheese dressings for dipping options. Your guests will be amazed at the incredible flavor of your grilled chicken wings compared to fried. The wings are juicy and have that delicious grilled flavor that cannot be beaten.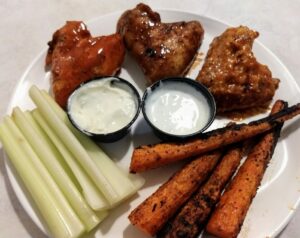 Grilled Cajun Carrots
Grilling Cajun carrots is one of the more pleasant surprises for BBQ enthusiasts. They are also the perfect addition to your wings and will make your guests wonder how you came up with them. Once they try it, they will love the grilled flavor that the carrots get. Adding in the spices is also the perfect way to bring some more heat to your Wing Fest!
What You'll Need
10-12 large carrots
3-4 tablespoons Olive oil
Lawry's Seasoning Salt
Pepper, Cajun spice, Granulated garlic, Cayenne pepper (optional)
Take the carrots and shave off the outsides with a vegetable peeler, then cut off both ends. Cut the carrots in half and then cut them again lengthwise into halves. This will leave one side flat and the other side round. If the carrots you have are thin, grill them without the lengthwise cut down the middle.
Place the carrots into a large plastic baggie and drizzle in the olive oil. Take the baggie and toss the carrots so they're all covered with oil. Sprinkle in the seasonings and re-toss the carrots so they are all seasoned evenly.
You will want to grill the large carrots with direct heat for 20-25 minutes making sure to turn them every 4-5 minutes. After the carrots have a nice grilled look, take them and move them away from the direct heat. Grill them another 5-10 minutes until they are done. They should have a nice BBQ char on them but should not be blackened. Serve the Cajun carrots with the celery stalks along with ranch or Bleu cheese dressing for dipping. Your guests are going to enjoy these tasty carrots!
NFL GameDay Menus 2020
This NFL season has not been easy for those of us who host weekly football viewing parties. No matter how many people you plan on hosting, we will be bringing you delicious menu ideas each week this season. With the COVID-19 pandemic raging again let's be safe people! Reduce your guest list to a safe number, be sure to maintain social distancing, and use curbside pickup whenever possible!